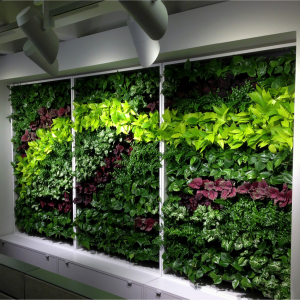 It seems that everywhere you turn, people are talking about going green. One incredibly simple yet often overlooked way to be kind to the environment is to literally invite it indoors by bringing plants into your home. Perhaps surprisingly, one of the best places to do just that is in your bathroom.
It makes sense when you think about the things that many plants need to thrive – moisture and humidity – which are ever-present in most bathrooms. While you can always place a small plant on a vanity, a far more effective way to bring nature indoors is to plan to incorporate plants when you are thinking about a remodel.
Begin by thinking about lighting. Natural light is always best for plants, but you may not want a wall of windows next to your bathtub. There are still ways to bring in daylight. Thoughtful planning of window placement that maximizes both privacy and light is key. Transom windows, tall narrow windows or circular windows placed high on a tall wall are all good options. If you want plants to be a true focal point in the center of a spacious master bath, you can opt for a skylight. If windows and skylights simply aren't an option in first floor or interior rooms, opt for lighting choices that will help your plants thrive, such as compact fluorescent lights.
Next, consider plant placement. A bathroom remodeling project provides the ideal opportunity to make a dramatic statement. Consider building in a place for plants on the design end. A long planter that runs the length of the tub, a dramatic vertical planter next to the shower, or a niche beside the vanity are all elegant options. Tile, stone and copper are all favorite choices for built-in bathroom planters since they naturally stand up to water and humidity. (Just be aware that copper will patina over time, a look that many people desire.)
One of the most dramatic options is a living wall, which is a wall completely covered in plant material. You might have seen these beautiful creations popping up on Pinterest and in home and garden magazines. Surprisingly, they've actually been around since the 1930s – and much longer if you count the ivy-covered walls of English cottages. These walls are actually panels of plants grown vertically in a wide variety of materials ranging from panels to pots that take irrigation needs into account. There are DIY plans available, and commercially made kits as well as options that should be professionally installed. As for the plants you choose to fill them with, it all depends on the level of light and moisture in your space. Many varieties of ferns and mosses are ideally suited to this application in bathrooms and look particularly dramatic on a focal wall.
If you don't want a built-in look, consider making window ledges large enough to accommodate planters or plan for the placement of plant stands in strategic places. No matter how you choose to incorporate plants in your bath, they will help purify the air and bring a fresh and inviting touch to your room.