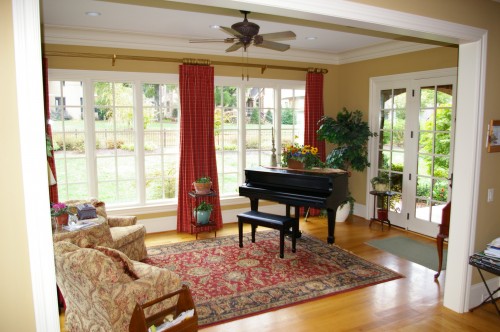 In today's rapidly changing climate, it seems that homeowners are taking a realistic approach to design. That doesn't mean that people are cutting corners – to the contrary, wise homeowners are investing in the things that really matter to them. That's because they are no longer looking to "flip" a house after living in it for a year or two but are looking to make the house they build or renovate today their home for years to come. The result of that change in perspective seems to be a desire to invest strategically in the areas that matter most to them. Here are a few of the trends we've noticed among our customers.
Less form(al); more function.There's a definite focus on making the square footage in a home really matter. That means functional spaces like roomy and dirt-resistant mudrooms, graciously sized pantries designed around a family's needs and spacious closets packed with practical organizing tools, all are becoming a priority instead of an afterthought.

Casual everydays. There's been a move away from formal living areas for years, and that trend is definitely continuing to hold. Separate formal living and dining areas are a thing of the past and open great room / kitchen / dining areas are the norm. The flexibility of these spaces works for everyone from large families that want to spread out while feeling connected to empty nesters who finally have the chance to entertain.

Let the light shine in. No matter how contemporary or traditional a homeowner's design taste might be, they all are embracing a light-filled and uncluttered design aesthetic. That applies to everything from streamlined expanses of windows that bring views inside to covered porches and outdoor living areas that put people into the landscape. Interiors follow this same, cleaner look and feel.

Comfort is king. The days of building bigger just for the sake of size or image seem to have passed, and people are balancing size with livability. They don't hesitate to add square footage when needed, but they are making every effort to build smarter and make the space they add feel comfortable and connected to the existing areas.

Passing trends are passé. Because they are not concerned about flipping a home in a year or two, homeowners are incorporating all those things that real estate advisors told them not to do "for the sake of resale value" in the past. Adding that specialized hobby area, scrapping the large jet tub and small adjoining shower and replacing both with a larger, more functional master bath shower; adding pools, outdoor hot tubs and screened and covered porches to expand living areas outdoors and make the space more functional, and a whole host of other things that weren't considered fashionable but which homeowners really wanted to do, are now becoming the norm. This is mainly because homeowners have made the mental switch from looking primarily at their house as a short-term investment to looking at it as a long-term resource for their family's enjoyment – in other words, as theirhome!