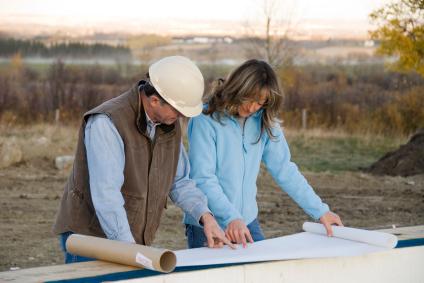 Would you hire a lawyer to defend you in traffic court and not tell him
that someone else was driving your car on the day in question? Or would you go to a doctor with a broken arm and not describe your injury, but instead let him run a battery of tests just to discover what was wrong?
As silly as these circumstances sound, all too often homeowners begin a major renovation project without divulging critical information to their contractor.
Most often, homeowners withhold information unintentionally; they simply forget to mention a previous condition that they believe has been repaired. Why is that information important? Since a contractor can't see through a finished wall, any background a homeowner can provide allows him to make a more informed guess as to what's really going on behind that lovely finish. Knowing that a ceiling once was repaired due to water damage lets him know that he may discover undetected damage when he removes the wall in an adjoining room. This knowledge prepares him for what may be ahead and allows him to build sufficient time to deal with it into his schedule. That's important because there's a natural progression to a renovation project, with materials and the craftsmen needed to install them arriving on site in well-planned and orchestrated manner. Any delay therefore can mean rescheduling not just a single material delivery, but the work schedules of dozens of professionals throughout the remainder of the project. These types of delays can stretch out a project and raise costs – two things that homeowners fear most.
Perhaps the largest "honest" mistake people make is not being upfront about their budget. There is a natural reluctance on the part of some homeowners to give a contractor their real "number." That may be because a homeowner genuinely does not know what a project will cost, or they could fear that an unscrupulous contractor will "find a way" to make their project hit that maximum amount. That fear is unfounded if you have done your due diligence and selected a reputable, professional contractor. Just like a doctor or a lawyer, your contractor will work with you to achieve your desired result. Yet just like any other professional, they need critical information going into the project. Does your kitchen renovation budget allow for and do you want custom cabinets, which can take much longer to arrive and may cost more? If so, your contractor needs to order them early, so they don't cause delays, and you need to budget for custom cabinetry. Do you want to include new appliances or work with an existing range or refrigerator that may not have the same counter depth needed for an updated kitchen design? Knowing that on the front end allows for some creative designs and budgeting, while discovering it after a countertop or cabinets are ordered may result in a more costly or unattractive solution and scheduling delays. Understanding what you want and knowing what you can afford will allow your contractor to create a project that fulfills your desires and meets your budget.  A professional contracting company will carefully guide you through the process of making good design decisions and product selections, while working within a realistic budget with which you both feel comfortable.