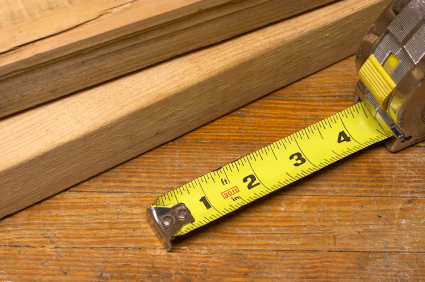 Measure twice, cut once. Do it right the first time. Pay me now or pay me later. We've all heard these phrases before and know they resonate because of the common sense behind them. Yet when it comes to home renovation projects and particularly, minor repairs, homeowners sometimes throw logic and caution out the proverbial window in an effort to "get a good deal."
Unfortunately, saving a dime by hiring a discount contractor who doesn't know how to properly do the work ends up costing consumers millions each year, according to the Better Business Bureau. If you've watched HGTV's latest sensation, Holmes on Homes, you've seen the Canadian contractor spend weeks trying to correct the damage done by supposedly "minor" repairs as well as major renovations that were performed incorrectly. Hundreds of square feet of tile that had to be ripped up and replaced due to improper underlayment, entire basement upfits torn down when plumbing pipes were installed by cutting through structural members, roofs removed due to improperly placed vents that caused water damage. The list goes on and on.
Here in Charlotte, we at Palmer Custom Builders often are called in to correct the substandard work of unlicensed handymen and the subsequent damage it causes. We've seen incorrectly constructed dormers cause unbelievable damage to exterior and interior walls, "minor" water leaks that result in entire floors having to be replaced, and dangerous wiring that presents a very real fire hazard.
It generally starts with a well-intentioned homeowner who is trying to save a few dollars of their hard-earned money, sometimes on a minor project. For example, one Charlotte homeowner we've since worked with initially hired a questionable contractor to install a closet in her bedroom. When that turned out okay, she had him build a downstairs closet as well. Things started to go downhill when she retained him to create a basement bathroom. There were some peculiarities with the plumbing license, but the homeowner really noticed that something was awry when she happened to look at the packaging of the water pump that was delivered to her home. "I was paying for a really good one, but the pump that was actually delivered to my house was not rated to be used below grade," she relates. "I decided then and there that I wasn't going to do this to my house, so I hired a licensed electrician and plumber. Unfortunately, I already had paid the first guy $3,000 for the downstairs bathroom." Instead of refunding her money, "he worked it off by doing other projects, like my basement steps, but he wasn't happy about what he had to do, and his work showed that."  The homeowner then hired a second contractor the plumber recommended to complete the jobs that the first contractor didn't finish, like building a basement staircase, but unfortunately, that didn't happen. "He did a good job, but he just didn't finish. He never came to do the final trim; he kept saying he was going to come back, but he never did," the homeowner relates.
By the time she found, researched and hired Palmer Custom Builders, this homeowner had a list of about 60 items that needed to be corrected in her home. When we brought our team of professionals in to look at the house, the results of dealing with unlicensed people were apparent. A smoke detector had been completely sheetrocked over. When we looked into the electrical work, we discovered that a lamp cord had been used inside the ceiling, instead of the construction-grade interior wiring that code requires and common sense dictates. The wiring was so poorly thought-out that it actually required flipping two separate switches to get the light over the pool table to turn on. In the bathroom, fans were not vented to the outside, and GFIs were not in place. Structurally, a new wall wasn't close to being straight. We corrected these and many other issues while completing the kitchen and master bath renovation the homeowner had desired – all in about eight and half weeks, as opposed to the over one year the first gentleman took. The result is that this homeowner now has a beautifully updated, functional home in which she feels comfortable raising her family.
"Now, I'm very happy with everything," she relates. "In the end, you get what you pay for. If you want to pay a little bit, that's just what you'll get – a little bit. I learned that lesson three times. By the time I hired Palmer Custom Builders, I was more than willing to pay a little more for a professional job, but I also expected a little more for my money. The bottom line really is that you get what you pay for, and the difference between Palmer Custom Builders' work and what had been done previously was the difference between night and day."