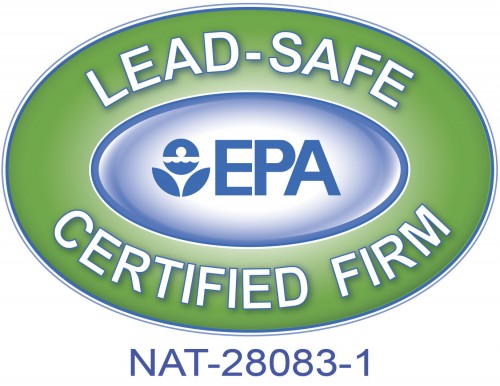 While most people are aware of the dangers that exposure to lead-based paint can pose – it effects children's brains and developing nervous systems, causing reduced IQ, learning disabilities and behavioral problems, and it can also lead to hypertension and high blood pressure in adults – what many homeowners may not realize is that a new Environmental Protection Agency rule may cause the issue to balloon.
The EPA's new Lead Renovation, Repair, and Painting rule takes effect April 22, 2010, and requires that contractors working in a residence or facility built before 1978 where children are present must be an EPA Certified Renovator.
This rule was put into place after a four-year study determined that renovation work, including weatherization, window replacement, HVAC modifications, demolition of interior plaster walls, removal of exterior painted siding and trim, and drilling and sawing into painted wood and plaster, exposes both occupants and workers to the same kind of hazards as lead-paint abatement. That's because, as the EPA notes, the most common manner in which people are exposed to lead is through lead contained in dust. (Just think of all the dust that demolition, drilling, sanding and drywalling stir up over the course of a renovation project!)
As a result, all remodelers, painters, plumbers, HVAC technicians, etc. who work on homes or child-occupied facilities, such as schools and daycare centers, built before 1978 must have certified workers and their firm must be certified with the EPA. This rule applies to all projects (that homeowners do not do themselves) that disturb more than 6 square feet of a potentially lead contaminated surface inside a building or 20 square feet outside.
Here at Palmer Custom Builders, both Gary Palmer and lead carpenter Hunter Moxley hold this EPA certification. The training they received taught them how to effectively contain a work area to prevent the spread of possible contaminants into other areas of the home; proper construction and demolition methods designed to minimize the creation of dust; and EPA-approved clean-up methods designed to eliminate any lead residue.
As a homeowner, it's vital that you check with your contractor to make certain that they've obtained this certification. Of course, there is the obvious reason – you want to be sure that your family is protected and that the contractor you hire takes his responsibility to care for them seriously. Yet it goes much deeper: the manner in which a contractor treats this certification is, in many ways, a reflection of their integrity that is likely to carry over into other aspects of how they run their business. In addition, not obtaining the certification before working on a project covered by this rule could cause a contractor to incur a stiff EPA civil fine of up to $32,500 per offense as well as an additional criminal fine of $32,500 plus jail time for knowing and willful violations of the requirements (in NC the fine is $750-$1,000 per day until resolved).
Such hefty consequences may impact a contractor's overall financial stability as well as their ability to complete and then stand behind your project. At Palmer Custom Builders, we are taking our responsibility to your family one step farther by testing any children residing in a home built before 1978 which has lead-based paint before we even begin work on the project. It's just one more way we are striving to keep our customers safe.