When it comes to kitchen remodeling projects, gray is definitely the new white. This classic neutral that recently has seen a huge uptick in popularity as both a wall color and upholstery option in custom home design has finally made its way into designer kitchens.
One reason for the popularity of gray in kitchen remodels is its sophisticated feel. Gray simply looks elegant in just about any kitchen setting – whether traditional, contemporary or somewhere in between. Add a gray finish to a hardwood floor and you elevate it far above basic. Place the color on kitchen cabinets for an elegant look, or pop it into a backsplash for an unexpected touch.
Gray also coordinates well with many objects you probably already have in your kitchen. With stainless steel present in everything from appliances to sinks and cooking vessels to utensils, gray is an omnipresent and natural choice for a kitchen makeover.
Another reason is its versatility. There are just so many – if you'll pardon the pun – shades of gray out there. Adding a touch of blue invokes a beach-like feel, while a hint of tan imbibes warmth. Stir in some green and you conjure images of a relaxing spring rainstorm, while a true gray is reminiscent of the stately appeal of colonial homes.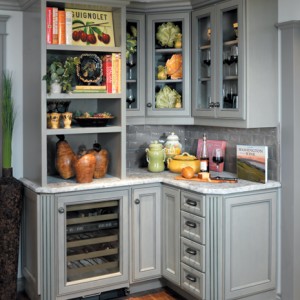 Gray's neutral tones also work well juxtaposed against rich touches of bright color, which is something we're seeing much more of in kitchen design. As homeowners are focusing less on resale value and more on what they like in kitchen remodeling projects, even permanent, high-end items such as cabinets, countertops and backsplashes are incorporating bold primary colors, which work well against this versatile neutral. It's worth noting that white remains a popular choice for painted kitchen cabinets, although darker paint colors are also beginning to make their presence felt. Both of those options also work well against a gray backdrop.
Gray also serves as a perfect foil for the more rustic textural elements that are gaining popularity with kitchen remodel designers – weathered cabinet finishes, hand scraped floors and even modern concrete countertops that showcase the depth and richness of the medium.  So whether you are looking for a cabinet color, countertop selection or flooring material, take a new look at gray for a simple but stylish kitchen makeover.