We purchased a 20-year old home on a lot we loved, but knew the house needed quite a bit of work before we could move in. Our project required totally gutting and expanding the kitchen and master bathroom, removing walls, installing new support beams, lifting the ceiling, replacing floors, and constructing a two-room addition, plus minor repairs and cosmetic attention. We were anxious about hiring a contractor due to our previous experience with a contractor who left us very disappointed. We took a long time to shop and spoke at length with several local contractors before deciding to hire Palmer Custom Builders. We are extremely pleased with our choice. After the walls were opened up, problems were found with poor electrical wiring, water seepage, mold and rotting wood. Despite the surprises, the job was completed on time and within budget, even after Gary suggested several changes that added to the appearance and utility of the new floor plan. The design meetings, material and finishes selections, and permit process were all smoothly handled. His workers were always there at the promised times, and always respectful and polite. We had constant communication with him at every point in the process and never had a question or concern go unanswered. We are extremely happy with the process and the outcome, and heartily recommend Palmer Custom Builders. We now live in the home we have always wanted. Thank you, Gary!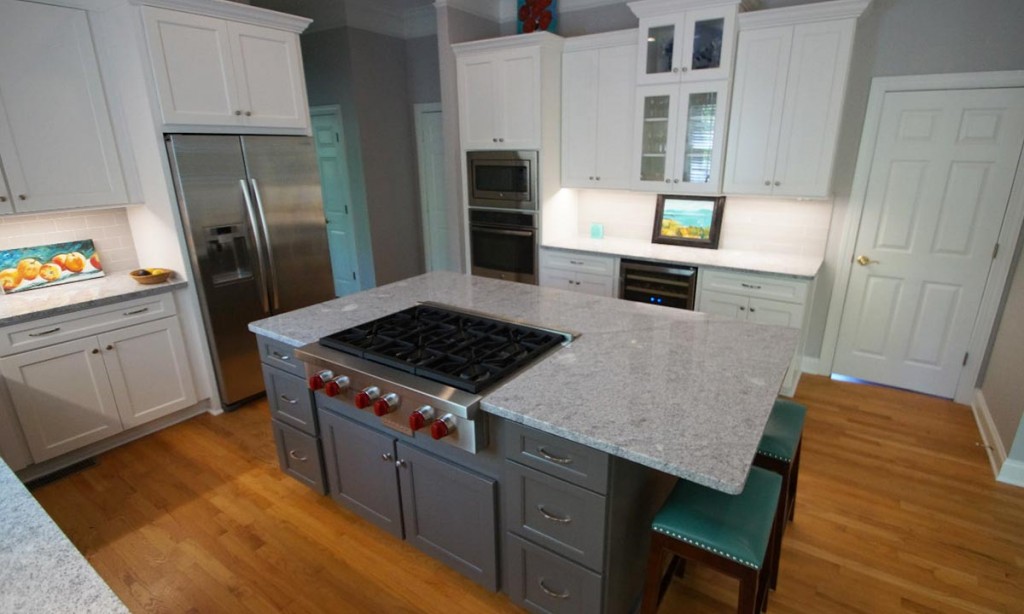 Gary and Pam do a fantastic job. They did our master bath remodel and kitchen remodel within the last year. They are creative and have a real feel for style and what will work for you. I also feel that you can have complete faith that they'll get everything to your satisfaction and you'll be treated fairly, which is so important in a relationship like this. 100% 5 stars!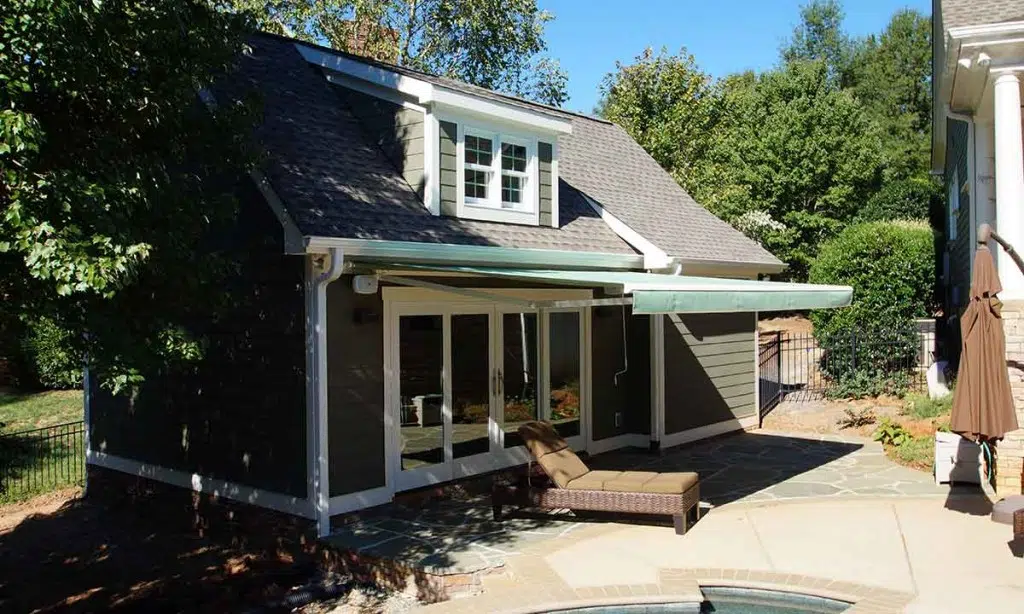 Best contractor I worked with. On time, on budget, high quality, super customer service.
Yes. I would recommend Palmer Custom Builders; the staff did a great job. We had an existing out-of-square pad and some extremely wavy brick to contend with, and they made it look fantastic. We now have a nice, dry and cooler place to park our vehicles. It's also a great place for us to get out of the weather.
We would definitely recommend Palmer Custom Builders. The work was done quickly, efficiently, and completed to my expectations. All the workers who came into my home were polite, kept my house as clean as possible, and were very particular with the work they performed.
Yes, we would definitely recommend working with Gary Palmer…The quality of work, the crews he contracts with, and his method of tackling the work to be done are excellent. He stands behind his work and is available whenever he is needed to answer questions or concerns.
I'm thoroughly impressed with the results…The exterior essentially turned it into a different house, and I'm looking forward to seeing something different in the spring/summer, inside and out. You get what you pay for. Money well spent.
I had a small screened porch, about 11′ x 17′, which is a good size for a sun porch. It had six openings with screens, a concrete floor, and the same siding that was on the outside of my house was inside on two of the walls. After Gary came out and looked at it, he made some excellent suggestions. We came up with a tile that really is beautiful and reminds you of hardwood flooring, because some pieces are wider or longer than others. Gary suggested that I put bead board on the ceiling and trimmed it with crown molding. It looks very rich the way he finished it. It really is a nice room. When people come in they say it looks beautiful; and I can see it from my kitchen and living room. He really created a beautiful room for me.
The best part of working with Palmer Custom Builders was that they had total control of the job. That was very important to us, since we both work, leave early in the morning, and don't come home until early evening. It was important to us to know that everything was being handled. If they had any questions, they had them ready for us early in the morning, so that we could answer them. That kind of coordination is sometimes hard for contractors to do on a long-term project, but they managed it well.
It has been 8 months since you finished our fantastic sunroom that we really enjoy daily. You made it so comfortable and convenient. Every detail complements our life style. The room is perfect. From the beginning of the project to the end you made our experience with Palmer Custom Builders and every member of your crew very easy and pleasant. Our sunroom is the envy of the neighborhood. Just the other day a visitor could not believe the sun room was an addition. Your design, which included much more than we expected, fits right in with the style of our original house. Please feel free to bring your customers by to show them how a professional builder delivers what he promises. We love showing off your creation.
Gary and his team are an absolute joy to work with and the quality of his work is outstanding. We built a pool house with Sauna, Bathroom and an open living room. Gary was great turning a concept idea into reality. He and Patti were always available, evening and weekends. They were very responsive to last minute changes and their crews delivered a high quality product on time and on budget. While working on this project, he also fixed a number of small repair jobs around the house without any hesitation. We are very impressed and we would definitely recommend Palmer Custom Builders for any building project.
The house looks completely different on the outside. More vibrant, improved exterior and interior. Neighbors notice the change and compliment the work. Driving up to it feels better since the house looks so much better…I'd absolutely recommend PCB. This is my second go-round (first job was a kitchen remodel) and I wouldn't trust anyone else or go anywhere else.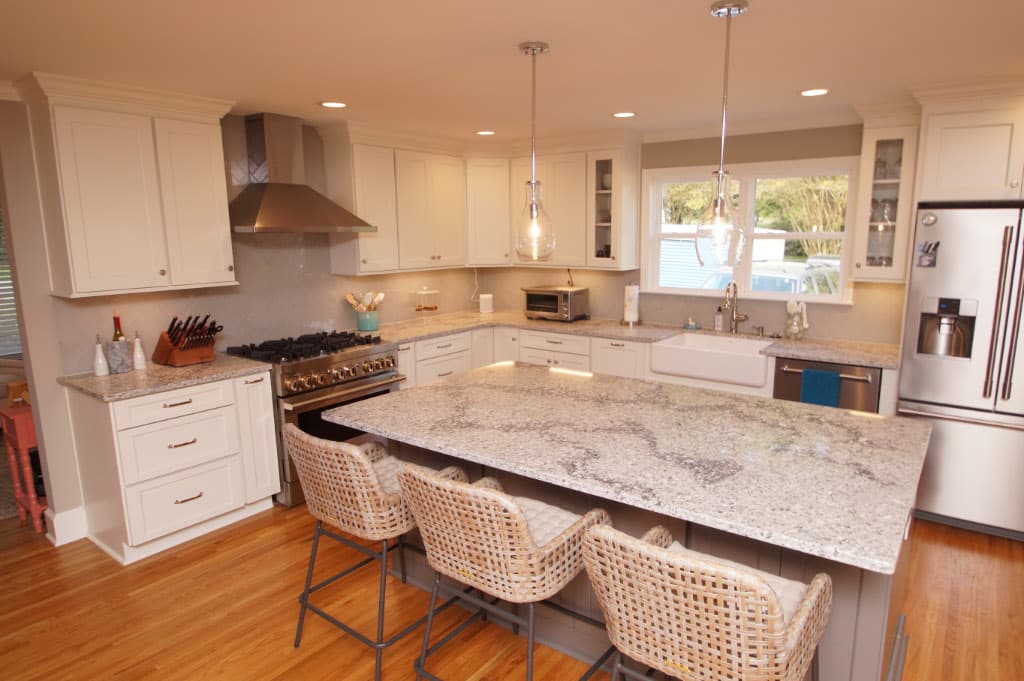 A completely new space that meets all our needs now and in the future and that we simply enjoy living in so much more than before. Also increased our energy efficiency and fixed a lot of lingering "behind the scenes" issues from having a house built in the 60s. It truly is a totally new house, and we have added a ton of value. A great investment for us.….PCB has been a joy to work with and we could not possibly be happier with the finished product. Gary, Pam, Maurene and the rest of the team clearly took a personal pride in getting the job done correctly and making our house everything it could be. I would recommend them to anyone for any job, large or small.
Wonderful job! Very attentive to our needs. Everyone we dealt with was personable and professional. This could have been a stressful experience, instead it was exciting and enjoyable…We have the home of our dreams. Gary, Maureen And Neal gave us wonderful recommendations that improved our vision without adding costs to the project. We are very happy with our home! Thank you all!
Very Pleased with our addition to our home. Project was completed ahead of schedule and we love the new space. As a general contractor, Gary and Pam are the sum of their sub contractors. The gentleman that did the framing, demo, finishing and painting did such an excellent job that it really set the bar high for the other subs. Project design and coordination was the beyond what I would have expected. Gary found some existing house issues that he was able to correct and made the house more practical and usable. We were also able to stay in the house during construction which was beyond helpful. There were a couple of minor issues that came up, but that was to be expected with a job this scope, but not enough to detract from this review. 6 months later, we are still pleased, a couple of very minor issues came up that were "warranty" issues and Gary took care of them very promptly and to our satisfaction.
Gary and team are great to work with and keep you informed and confident that you are being treated fairly – and their work is excellent.
I wanted to write you a brief note concerning a referral you made for me. I was having A/C heat pump problems in our second floor unit… An HVAC company here in Charlotte we had used for some time told me the compressor was gone and a new system was needed…I called you because of previous quality work you had done on expanding a room over our garage. Dominic at DAC Services came out and found only the external fan was bad and replaced it…He did not assume a new system was needed, which is what I asked him to bid on. It is refreshing to find a service company with a focus on doing the right thing for the customer for a competitive price…I guess you know whom I will call for any HVAC work in the future! Thanks again for your referral.
We  completed a total renovation of the main living areas and kitchen, which included removing a brick fireplace and replacing it with very large glass sliding doors, and windows. We very carefully vetted Palmer Custom Builders.  From the very beginning, they were careful to take their time to listen to our vision while evaluating their ability to meet our expectations, as well as help us set realistic expectations, within the allotted budget.  The Palmer Custom Builders team worked together to listen, collaborate, plan, and execute our renovation project.  Out of the carefully vetted contractors we interviewed, they were the only ones who suspected some potential serious issues which would greatly impact our project and budget.  They planned for it in advance and convinced us to obtain an independent inspection to validate their suspicions.  They proved to be correct and thanks to their expertise and professional guidance, their team was prepared for what was uncovered when the demolition phase began.  Their 30+ years of experience was undeniable when we reflect back on how they planned for this really big project.  They took our design ideas and executed them cleverly, thinking outside the box to achieve astounding results.  Their incredibly smart kitchen design truly exceeded our expectations.  It was amazing to see the craftsmanship and planning behind our kitchen renovation.  They restored our old kitchen cabinets, combined them with a new kitchen island which they turned in a different direction, bumped out the refrigerator, somehow provided us with a plumbed-in espresso station regardless of its impossible location, and converted a mess into a beautiful pantry.  Everyone who visits is hard pressed to believe that the majority of cabinets are my previous cabinets, restored!  We had some significant personal losses during our renovation, and it was a very difficult time for our family.  The Palmer team was so caring, and took care of every last detail to keep the project moving on time, without us having to worry about anything.  Sure enough they finished on time and with the many challenges surrounding our project, it was quite reassuring knowing we had left our home with a team we could trust to do it right.  They went above and beyond so we could move in immediately upon completion of the last inspection, an act of kindness we will never forget. There is so much more we could share, but can only squeeze so much into this review.  This is a classy and reputable team who are dedicated to excellence, will stick with you until the end, and stand behind their word and work.
Stayed on budget, stayed on timeline, great team to work with. I like that the owner of the firm is the project manager… We have an amazing kitchen with better flow and connectivity to the rest of the house.
Palmer Custom Builders was the right contractor for us…from the first meeting with Gary and Pam, they listened, looked and made recommendations. They also gave us a realistic picture of what our house needed to bring up to code, of the costs – which most probably don't understand. My son Mike was so impressed with the little booklet telling the homeowner what to expect. We felt like we were part of the remodel not just told, "Give me your money and I'll call you when it's done!"… Gary went through the house with a fine-tooth comb and made sure everything was done and finished completely…Gary, Pam, Patti and Maurene take care of their clients.
They were a pleasure to work with, and the end result was exactly what we hoped.
I would recommend Gary Palmer and Palmer Custom Builders to anyone! I found him on the web when looking specifically for NARI certified remodelers. When I spoke with him and described what we wanted, I immediately felt comfortable with him. His crews are great guys and very pleasant to work with. They come in, clean up after themselves and even offered to vacuum. I never felt any compunction about having them in our home or leaving them alone in our home when they were doing work. We are very happy with the results!
Working with Palmer Custom Builders was a good experience. We love the sunroom; we live out here. It's been a year since it's been finished, and I'd recommend Gary anytime. Gary had it all mapped out and would tell me what we could or could not do and why. We had a very good working relationship.
Our three decade dream has become reality.
Our experience with Palmer Custom Builders was very good, from start to finish. We were very pleased with the results of the workmanship and professionalism.
Once our project got started, work progressed efficiently and quality and workmanship were outstanding. Most importantly, communication was excellent throughout the project. We would highly recommend Palmer Custom Builders and plan to use them again for our next project.
I did a website search, found Palmer Custom Builders, liked what I saw and checked them out with the Better Business Bureau. They had a good rating, and Mr. Palmer came out quickly and then really moved through the process. I am very pleased with Palmer Custom Builders. All the workers who came in were very professional, did a great job and did what Mr. Palmer said they would do… in the time frame he said he would, and it looks good!
We had been trying to do this project for three years. We had told each person we talked with that we needed to see what the finished product was going to look like. Gary Palmer actually came out with his team and showed us just that. They drew it out in three-dimensional form, so we could see it from different angles. He brought us into his office and showed us examples of their finished work and just made us feel very comfortable. We had been debating on whether we wanted to move or remain in the home, but with the condition the house was in, we didn't think it would sell. Now, number one, we have this beautiful house, and number two, if we wanted to sell it, we could. I'm glad we went through it… everyone who walks through here loves it and wants to know who did it.
It's such a pleasure to have someone we can count on, and Gary has never let me down," says Kim McCorkle, for whom Palmer Custom Builders built a sunroom and completed numerous renovations. Yet it was something else that left a lasting impression. "When we renovated the kitchen, we decided to leave the existing doors out to the sunroom. Well, my son fell on their metal tracks. Twenty-two stitches later, on our way home from the emergency room on a Saturday night, I called Gary and asked if he could do something about them. By Tuesday morning, his guys were there, ripping up the tracks and replacing the thresholds. They just have wonderful service. I wouldn't have anyone else do anything in our home.
They were very helpful in getting subcontractors…It was very useful to be directed to good people to help us get things we needed, like tile, countertops and granite. I would recommend them in the future. In fact, we did recommend them to a person we knew from work who they've since completed a porch for.
Gary also coordinated the backyard. We initially were going to modify a huge tree in the back of our little yard, but when they discovered that it was rotten, we had to take it down, which of course totally bombed the backyard. Gary coordinated everything with a landscaper who did a really nice job. Throughout the project, he connected us with very good people who knew their crafts. Each one he supplied was knowledgeable, professional and followed through very nicely.
We just wanted to let you know how pleased we are with the work you just completed on our master bathroom. We had some major water problems and damage, and you and your crew were prompt and professional in addressing the problems and completing the work.
Thank you for your fine efforts in our recent project to upgrade and repair the exterior of our home. At 20 years old, several problems had developed, which required much creativity and a broad array of trades and skills to complete the tasks at hand. Everything has been completed to our total satisfaction.
Palmer Custom Builders has completed three different projects in my condominium, including a recent kitchen renovation. I have been impressed with their professionalism, quality of work, and attention to detail.
We were so satisfied with Gary's work on our kitchen remodel, we knew we could trust him with a large renovation project. We've been very happy with the quality of work and the attention to detail.
The first job Palmer Custom Builders did for me was finishing off my bonus room. That was six years ago. One year after that, they built a roof over my back patio, and then two years ago I had them add another full bath upstairs. Now they are building my new house. I can't say enough about Gary and the people that have been working for him. I have been very happy with each job from the start, and now working with both Gary and his wife Pam on my new home has been such an all-together pleasure. I have spoken with people who have had troublesome experiences with builders, but during this time, I'm not finding that at all. We've worked together from the very beginning and it's been a truly pleasurable experience; one that I would enjoy doing all over again. Both Gary and Pam Palmer worked with me every step of the way…I would do it again, anytime.