About Our Team
Get to know the faces behind every dream home we build
When you work with Palmer Custom Builders, our team becomes your team. We treat every custom home construction project as if it were our own — protecting your interests, your vision and your dream from beginning to end. We hold every build to the same high standards we would use for our own home. We employ a hands-on project management style that ensures every detail is executed to perfection, because if it isn't done right, it isn't Palmer Custom Builders.
Gary Palmer
GENERAL CONTRACTOR • FOUNDER AND PRESIDENT
Gary Palmer, general contractor, founded Palmer Custom Builders' parent corporation in 1986 — initially specializing in repairs, flooring and renovations — and remains its president to this day.
From those early roots to the wide diversity of projects that Palmer Custom Builders routinely tackles today, Gary brings over 35 years of experience in remodeling, new home construction, renovations and repairs. He provides clients with expertise in all phases of the construction process, including technical services, project planning, job estimating, creative design and construction solutions, as well as his invaluable hands-on field experience.
Thanks to his diverse experience, Palmer Custom Builders is a design-build firm, working with clients from design/project conception to completion or collaborating with clients' architects or design firms as their needs require. In either case, clients benefit from Gary's hands-on project management approach, ensuring that high standards of quality and fine workmanship are maintained and timely progress is made on the job site.
Yet it is Gary's desire to fulfill the unique needs of each client that comes through in everything his team does.
"When we start a project, the entire team looks at it as if it were their own," Gary emphasizes.
No matter what size or type of project, it's Gary's personal involvement and extensive knowledge that reassures clients — he even put his decades of construction wisdom in print to help guide homeowners everywhere through Remodeling and New Construction With No Regrets. Gary is a North Carolina Licensed General Contractor and holds a South Carolina Residential Builder's license. Gary graduated from North Carolina State University with a B.S. in Natural Resource Management with special emphasis on site and facility planning and design.
In this era of ever-increasing consolidation, clients take comfort in the fact that Palmer Custom Builders remains a local, privately owned and operated company.
Pam Palmer
CHIEF OPERATING OFFICER • CHIEF FINANCIAL OFFICER
Pam Palmer has more than 35 years of experience in management, advertising, sales, marketing, and general business practices and is also a licensed North Carolina Real Estate Broker. As chief financial officer and chief operating officer of Palmer Custom Builders since 1996, Pam's common-sense approach ensures that the business operations and financial soundness of this well-established company remain on a solid footing.
"Particularly in today's tumultuous climate, clients value the reassurance that comes from dealing with a firm with our longevity and fiscal stability."
Pam oversees Palmer Custom Builders' sales, marketing and advertising endeavors in addition to coauthoring Remodeling and New Construction With No Regrets. Her steady reassurance keeps projects running smoothly and ensures that the lines of client communication always remain open.
Licensed General Contractor
Experienced NC and SC state licensed general contractors
You may be asking, "Why and when do I need an experienced licensed General Contractor for my kitchen remodeling, bathroom remodeling, addition, kitchen renovation, home improvement or repair project?"
Whether you have a relatively minor home repair or are building a new custom home from the ground up, working with an experienced, licensed Charlotte general contractor ultimately will save you time, money — and a lot of aggravation.
Experienced licensed professional general contractors are professionals who understand exactly what it takes to complete your project.
They have a breadth and depth of technical industry knowledge from which to draw to find the best solution to any problem.
They are up to speed on local building codes and will ensure that your new construction, remodeling, renovation or repair project is built correctly.
Trust over 35 years of residential construction industry experience
Experience to handle any unexpected issues
Remodeling, new construction and repair projects are all unique, and each brings potential complexities that require an experienced pro to successfully address. Are you blending the old with the new in a remodel? Confronting soil irregularities on a new construction site? What happens when a minor siding repair uncovers structural damage? In each of these cases, you'll need to call an experienced general contractor who has dealt with these issues before. That's because these complex issues are far more involved than a homeowner, handyman or inexperienced contractor should ever tackle on their own. These are also issues that homeowners might not discover until it's too late if they attempt to handle the project themselves or hire an inexperienced handyman.
Not all state-licensed general contractors are the same
That's why we believe it's always best to work with an experienced state licensed general contractor from the very beginning to ensure that your project is handled competently. Our clients can rest assured that Gary Palmer, Owner & General Contractor of Palmer Custom Builders, holds a North Carolina Licensed General Contractor and a South Carolina Residential Builder's license and will be personally involved in your project. Gary takes the time to personally understand your project and draws upon his more than 35 years of residential construction experience with in-depth knowledge of the remodeling, maintenance, repair, renovation, and new construction. Gary also has added knowledge of site conditions like soil and water, grading, earth and dam reconstruction, tree removal, landscaping and horticultural issues; wells, septic and sewer systems. So when he makes a recommendation, you can count on it being solid.
No Charlotte area project is too complex or complicated
No matter where you live in the Charlotte area, no project is too complex or complicated when you work with the right, experienced professional from the very beginning. We service the following areas:
Charlotte
Matthews
Mint Hill
Monroe
Weddington
Waxhaw
Marvin
Fort Mill
Lake Wylie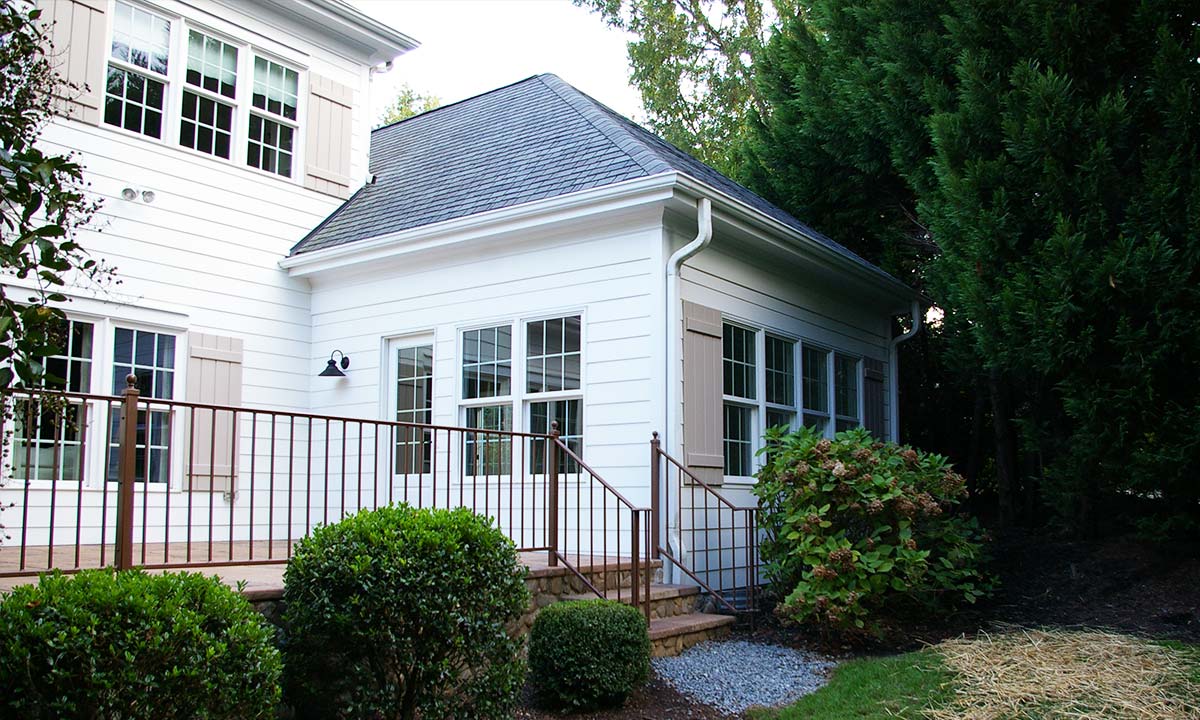 NARI 2013 Contractor of the Year Award Winner
Award-winning Charlotte remodeling projects
Our favorite award is the appreciation we receive from our clients! For this reason, we rarely take the time to enter contests, but when we do, we've been fortunate to be honored.
One of our innovative screened porch remodels garnered a prestigious 2013 Contractor of the Year award for a residential addition under $100,000 from the Charlotte chapter of the National Association of the Remodeling Industry. This project transformed an unused screened porch with framing issues and an offset concrete floor into a beautiful and functional sunroom appropriate for a traditional Cape Cod. This was our second project to receive the award. We previously were honored when a kitchen renovation project garnered both the People's Choice Award and the award for Residential Kitchen Upfit under $30,000.
I only have good things to say about Palmer Custom Builders. I've been working with Gary and Pam since 2009, and we've done more projects together than I can even recall — whole home remodels, new construction, additions, kitchens and bathrooms, adding sunrooms. We've done it all. That they take the time to establish relationships like that is one thing that sets Palmer apart. Gary's got a team of skilled tradespeople he really trusts and values, and that familiarity and mutual respect shows up in higher quality trades work. You can feel that Gary and Pam want to do a good job for their clients, so you want to do a good job for them, too. I always love working with them. They're such nice people, and so trustworthy. What they do is help clients achieve dreams, and they do it very well.
Maurene, interior design consultant
Palmer Custom Builders is very easy to work with as far as communication goes. That has always been the number one thing I appreciate while working with them. I always hear back from them very quickly, and they work well with their clients and keep those lines of communication open, which in turn helps us to do a better job.
Amanda, kitchen cabinetry supplier
Palmer Custom Builders is just a really great company to work for. They do a really good job for everyone, and I've never met a homeowner yet who wasn't pleased. I'd most definitely recommend them to my clients.
Ron, electrical contractor
One thing that I have noticed over the years is that the majority of his customers consider Gary a friend — even at the end of the job.
Domenic, heating and air conditioning
I really appreciate their foresight. Some builders will call me on Friday afternoon and tell me that they need all these appliances and they need them delivered on Monday morning. Gary will call me weeks ahead of time and then remind me when we're halfway there. He's always looking ahead.
Mark, appliance sales
Gary Palmer is one of my favorite customers because he's hands-on. He knows everything about every one of his projects, and that makes him stand out. Plus, he has a great team of skilled tradespeople that work together well. People who work with Palmer Custom Builders get a personal touch; Gary definitely gives his all for every client.
Doug, experienced specialist in footings, concrete, masonry and stone
When I work with Palmer Custom Builders, I don't have to worry about anything. Gary sends me all the information I need at the start of a job — plans, measurements, pictures of what they're looking for, budget. They communicate well at every stage. And they do what they say they're going to do — that's part of their good character. They're good people and absolute professionals in their business.
Neal, cabinetry supplier
Gary Palmer is one of the few contractors out there that will have everything onsite already when I get there — the plans, the hardware and fixtures plus their booklets and installation notes — so I can get started right away. It makes the work so much smoother and life so much easier. Plus, we share a "customer first" mentality that means we're always working to make our clients happy. If there's an issue, Gary is going to make it right. You just don't get the same level of service from some of the bigger companies out there.
Dmitriy, plumbing contractor
It's not easy doing anything in construction, but the Palmers make it easy. When questions come up on a job, they already have the right answers, the right materials on-site. They've already connected with the clients about key decisions, so everything is ready to go when my team gets there. I have more than nine years of experience working with Palmer Custom Builders, and I would absolutely recommend them to anyone.
Alberto, highly skilled tradesman and crew leader
I've been working with Palmer Custom Builders for at least 14 years. One thing I like most about working with them is that I'm big on scheduling, and so are they. If Gary says a job is ready for me, it's ready. It's such a small thing to reach out and let your team know if anything is behind schedule; it makes for a much smoother project for everyone involved, but not everybody does it.
Vadim, hardwood flooring contractor
I work with probably 30 different clients and Gary Palmer is the best. It's not just the quality and kind of work he does, but the way his company is set up. Palmer Custom Builders is a very professional company. Every job is organized. Budgets are clear. I work with them on electrical installations, upgrades and rewirings—sometimes in some really old houses—and everything is done to the highest standard of safety and what works for the homeowner.
Mariusz, electrical contractor
Palmer Custom Builders is one of the most professionally run businesses that I work with. Gary and his people treat both their customers and vendors with courtesy and respect. I have had the pleasure of working with them on many projects over the last seven years and look forward to a continued, long-lasting business relationship.
Bill, building materials supplier
When you work with Palmer Custom Builders, there's no wasted time. When they say a project is going to be ready to work on, it's going to be ready. Everything is in order. Everything is properly scheduled and on time.
Josh, plumbing contractor
I've worked with Palmer Custom Builders for at least four or five years now … They are personally involved with everything. They are hands-on and really know what's going on with their clients' projects, making sure that we have all the material here and have everything in place when it needs to be.
Holly, plumbing supplier