Bathroom Remodeling
Is your bathroom a source of frustration?
If you live in Charlotte, NC and the surrounding area and are wondering if it's time for a Charlotte bathroom remodel, ask yourself:
Does your bathroom lack style or function?
Does your outdated master bathroom limit your use of space?
Are you tired of a cramped or outdated powder room that's an embarrassment for guests?
A substantial return on your
investment
Most of us begin and end our days in the bathroom. Whether your bathroom is a retreat or a cluttered, dysfunctional space, it can set the tone for your day. Charlotte bathroom remodeling in Charlotte, NC offers one of the largest returns on your remodeling investment, both in financial terms and overall home satisfaction.
We can help with your unique needs, including:
Reconfiguring the placement of an existing tub and shower
"Borrowing" space from an adjacent room
Redesigning the cabinet layout
Rearranging plumbing lines
Rethinking the entire bathroom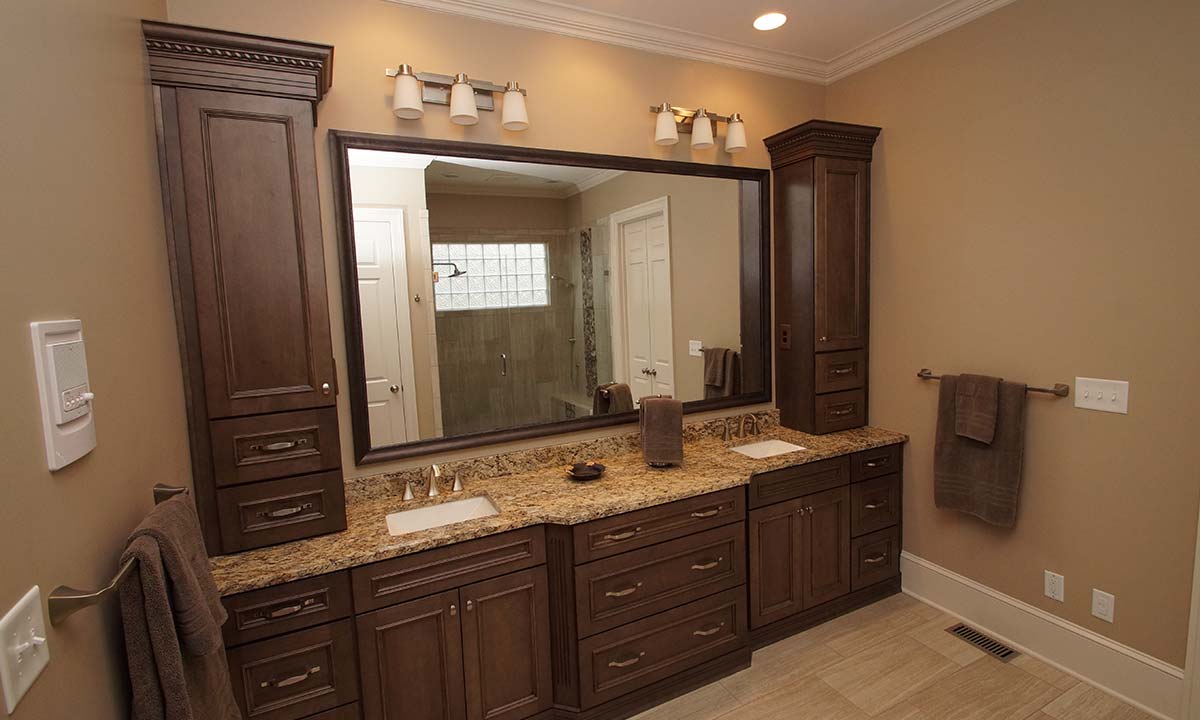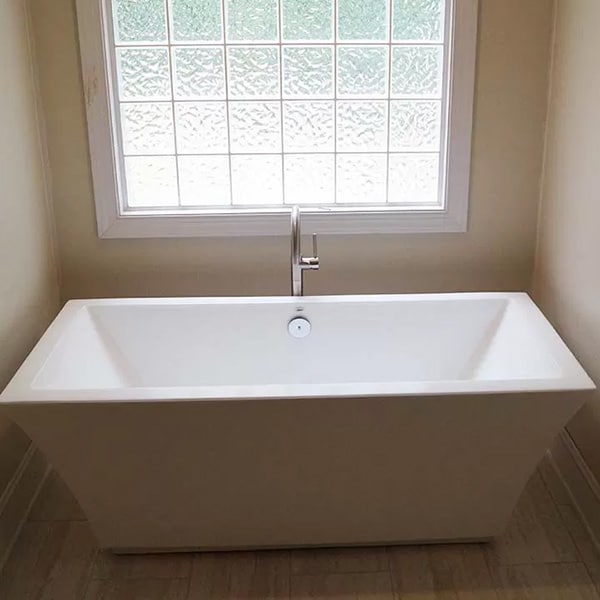 Full-service Charlotte bathroom remodeler
Whether you need a complete Charlotte bathroom remodel, minor bathroom renovations or a bathroom addition, as a design-build company, Palmer Custom Builders has the field experience to recommend effective design changes and the technical skill to flawlessly execute your plans.
Bathroom Renovation Projects
Beautiful updates that add functionality
Many Charlotte, NC area homes built in the last few decades have functional bathrooms that were designed well but are sorely in need of modernization to bring them up to date. That's where a bathroom renovation can make a huge difference. Unlike a bathroom remodel, a bathroom renovation generally maintains the same footprint. We can offer constructive advice on which changes will return the best value for your investment — and make the most difference in your daily life.
Design your Weddington, Waxhaw or Charlotte, NC, bathroom for the way you live and use the space:
Modernize the look and feel
Add new bath fixtures
Update and upgrade surfaces
Add functional cabinetry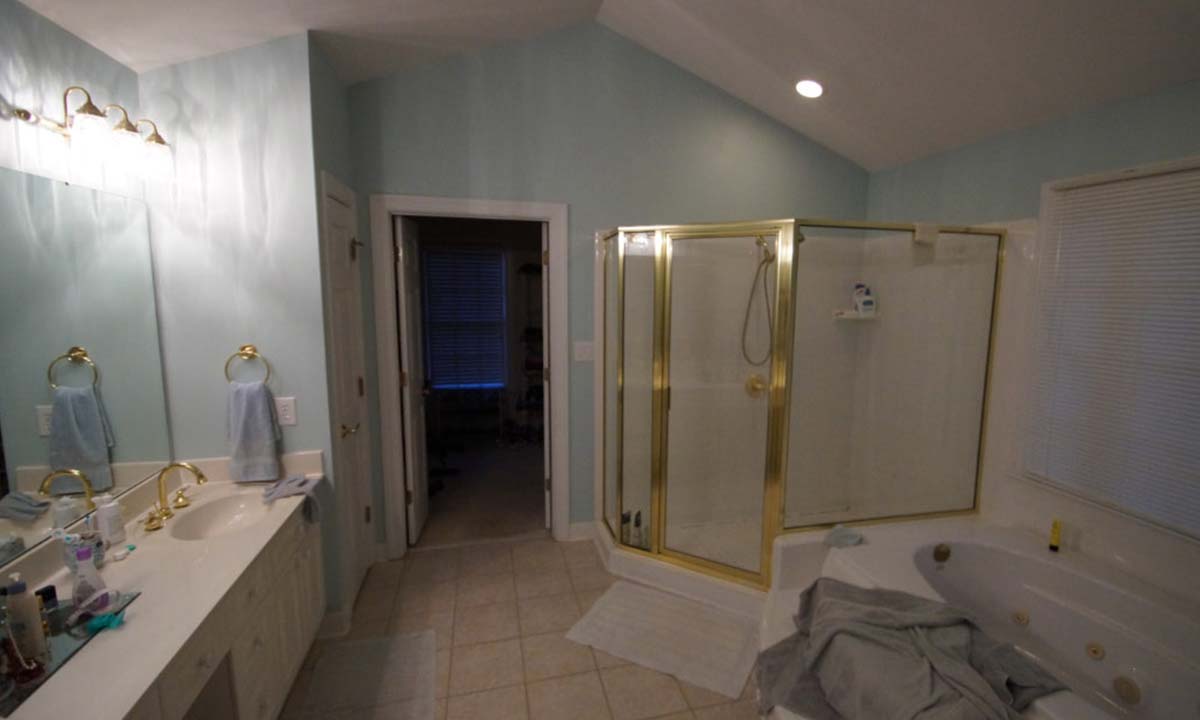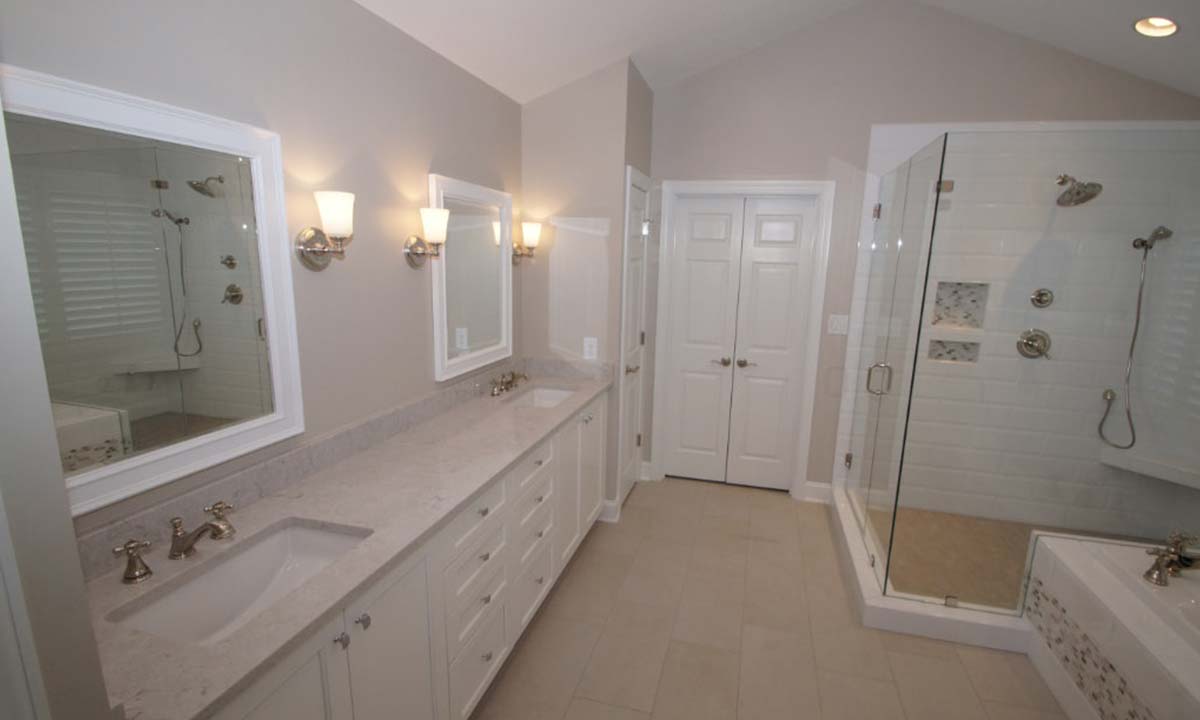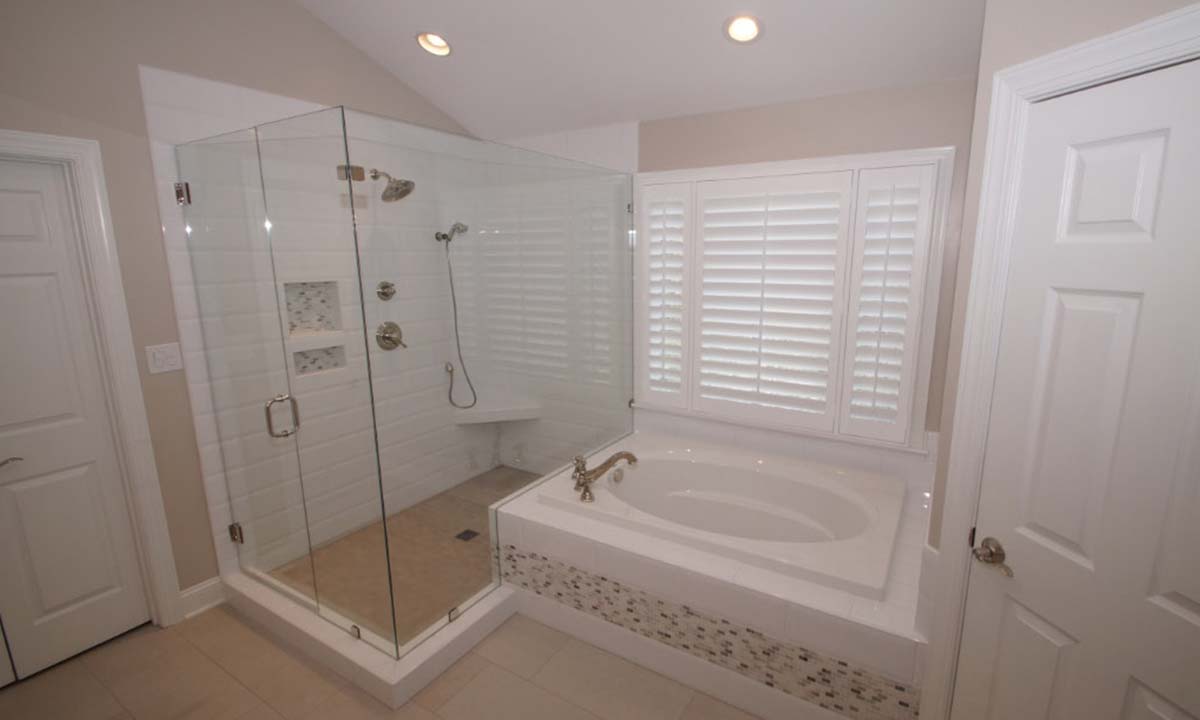 Bathroom Remodeling: Frequently Asked Questions
Q: Should I consider a Charlotte bathroom remodel?
A: Yes! A bathroom remodel is one of the best Charlotte home remodeling projects you can tackle for many reasons. Not only can you recoup a significant part of your investment at resale time by staying on par with other remodeled homes in older neighborhoods like Chantilly, Myers Park, Dilworth, Eastover, Elizabeth, or Plaza Midwood, but you can also enjoy the benefits of a private and relaxing retreat in your own home. Your bathroom should reflect what you want it to be, whether that's an energizing and organized space where you begin your day, a place of relaxation and comfort at night – or both! An updated design can create a spa-like atmosphere in your home, while a functional bathroom design can start your day off on a positive note. Perhaps most importantly, it can help you create the lifestyle you want in the home you have. The National Association of Realtors® 2022 "Remodeling Impact Report" found that 73% of homeowners wanted to be in their homes more after remodeling a bathroom and 61% experienced an increase in enjoyment following a bathroom remodeling.
Q: Is a bathroom remodel a major project?
A: Not necessarily. With proper planning and design, as well as the use of quality materials and construction techniques, a bathroom remodel is well worth the investment of time and money. Bathroom remodels do require careful upfront planning and selection of materials like plumbing fixtures, cabinetry, tile, countertop and lighting selections.
Q: How much will a bathroom remodel cost?
A: The scope of a bathroom remodel project determines its cost. Every bathroom is unique to the home, so you can't compare what another bathroom remodel would cost and expect yours to automatically be the same – even in comparable homes in the same neighborhood. In 2023, the average bathroom remodel costs roughly $60,000-$77,000 according to Zonda Media's Cost vs Value Report.
Q: What's the first step to consider?
A: Determine if a bathroom remodel is right for you at this time. That entails making certain that you are ready for what can be a process in which your bathroom will not be usable, and during which you'll need to have an alternative bathroom to use. It also includes making sure that you have the necessary financial resources to see the project through to completion. After you check those boxes, the next step is working with your qualified, professional remodeler to determine how the bathroom should function for you and how it's falling short. This will help in starting the planning process.
Q: How do you finance a bathroom remodel?
A: We always advocate discussing your options with a lender. Personal loans, home equity loans, home equity lines of credit, and cash-out refinancing are some options. Take the time to learn which makes the most sense for you.
Q: How can I cut costs on a bathroom remodel?
A: Ultimately, the cost of a bathroom remodel (or any other remodel) is simply the sum of all its parts. Those parts include the hard surfaces, flooring, plumbing, cabinets, lighting and fixtures you choose; the complexity of the design (are you reconfiguring the space for better function); and any movement of walls, plumbing and utilities the project requires. Work with an experienced professional who can tell you which elements of your project are essential and what can be removed from the scope. An experienced design/build contractor can determine what your options are and help you decide if it makes sense to reduce your scope or delay your project. (See more below.) In bathrooms in particular, quality matters to resale value and personal enjoyment. Selecting lower-quality fixtures for short-term savings is detrimental if you have to revisit your choices in a few years.
Q: How long will a bathroom remodel take on average?
A: As we've said, every project is unique to the home. In general, from design to completion a bathroom will take approximately 16 weeks. Design and planning will take 3-4 weeks; ordering and receiving materials can take 4-8 weeks depending on production schedules; the actual deconstruction, construction and inspections can take 10-12 weeks, depending on the scope and material selections. Bear in mind that custom cabinets, special-ordered windows and fixtures, and governmental permitting and inspection delays may impact that timeline. Additionally, a client's decision-making ability will also be a factor.
*Please note there is some overlap in these approximate times, as several things can be happening simultaneously.
Q: What is the timeline for a bathroom being unusable?
A: Approximately 10-12 weeks is realistic. Living without a bathroom is a challenge and depending on which bathroom, it can be more of an inconvenience, particularly if you have children. Palmer Custom Builders takes care of permitting and ordering materials in advance of deconstruction, so this reduces downtime substantially.
Q: What's involved in deciding how a bathroom remodel should look and function?
A: The first thing to do is to decide if the configuration of the space will stay the same – and that might not be an answer you can arrive at on your own. Working with a qualified professional remodeler who is experienced in this space is essential. They can help you envision the possibilities and make recommendations about design features that will work based on the space and what you want. They can also see areas where they can "borrow" space, whether that's removing a wall to incorporate adjoining underused space – like a closet or part of an extra bedroom – or reconfiguring the layout of existing cabinets or linen closets.
Q: Why hire a Design-Build professional General Contractor?
A: A professional who is experienced in Charlotte bathroom remodels of comparable size and scope is critical to your success. As noted above, there are countless decisions you will need to make on the layout and design of your space, and you need a professional who has been there to walk you through them. When it comes to designing for proper flow and function, their experience will have taught them what has worked in similar bathroom remodels in the past – and what to avoid. They cannot always understand what's behind your walls, but an experienced professional will be able to meet any unexpected challenges. They will educate you on the strengths and weaknesses of varied materials and help you avoid costly mistakes. They'll have relationships with design professionals and tradespeople who do quality work in a timely manner. They will listen to what your family needs and offer creative solutions to help you achieve your goals.
Q: What are the stages of a bathroom remodel?
A: Planning Agreement, design, material selections and final construction agreement; apply for building and zoning permits; ordering materials; demolition and removal of old cabinets and fixtures; rough-in work including framing, utilities and ventilation; rough-in inspections; insulation, sheetrock finishing, cabinet and countertop installation; plumbing installation; tile installation; electrical installation; HVAC installation; floor refinishing; painting; cleaning; and final inspections.
Q: How can I ensure that my bathroom remodel stands the test of time?
A: Some trends endure while others fade quickly. Work with an experienced designer who can lead you through selections. Clean lines, classic shapes, and neutral tones will always endure. However, don't shy away from creating a space you love. In the long run, adding things you love will keep the space fresh and appealing for you.
Q: How much storage should I build in?
A: As much as you can! Your remodeler can help you creatively utilize every inch of empty space with shelves, cabinetry, organizers and containers to keep your space organized and accessible.
Q: What about lighting?
A: Lighting is key to creating a functional and luxurious space. Think layers when it comes to bathroom lighting. You'll want bright task lighting near mirrors for shaving and applying makeup. Shower lighting should also be ample and bright, while tub lighting can be softer – particularly if it is a soaking tub designed for a spa-like feel. Soft night lighting can make late night bathroom trips safe without waking a sleeping spouse. When possible, plan your bathroom space with natural lighting. Natural light that still affords privacy can brighten a space and make it feel more open and larger.
Charlotte Bathroom Remodeling
We are proud to serve the following communities in and surrounding Charlotte, NC