Kitchen Remodeling
Is it time for a Charlotte kitchen remodel?
Your kitchen should be the true heart of your home; the place where family and friends invariably gather. Unfortunately, many older houses in Charlotte, North Carolina, and surrounding areas were built at a time when the kitchen was viewed as a simple necessity rather than the entertaining and social center of the home. If this sounds like your kitchen, we'd encourage you to consider a Charlotte kitchen remodel project.
Too many homeowners are tolerating dark, undersized kitchens that leave them closed off from others as they are preparing meals.
Still others are struggling with kitchen designs that are not functional – layouts created before kitchen designers envisioned the plethora of appliances we have today, like double ovens, built-in microwaves, dish drawers, wine chillers, etc.
Many homeowners don't realize that these challenges can be overcome with a Weddington kitchen remodel project designed, executed and completed on time and on budget by a qualified design-build contractor. We understand your interior remodeling frustrations and will work with you to design and build a modern space created for the way you want to use your kitchen and designed for how you want it to look.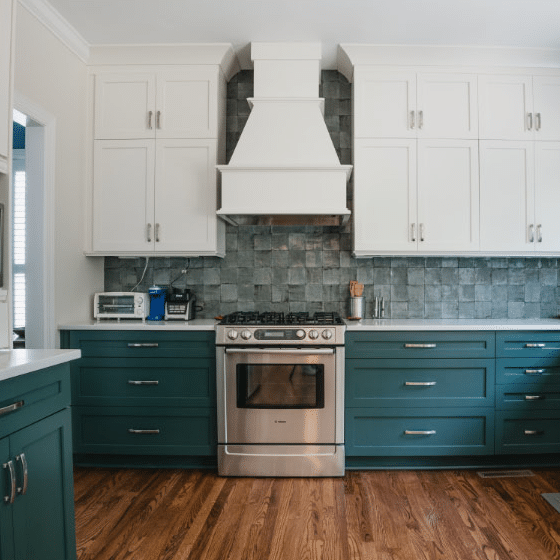 For a Charlotte Kitchen Remodeler,
Experience Matters
Our design-build team brings a 35-year track record of dependability to every kitchen remodeling and kitchen renovation project. We know personalized details matter when it comes to achieving your dream style. From custom kitchen cabinets and the custom kitchen countertops to match to custom kitchen islands, space-saving storage solutions and everything in between, every kitchen we design has the homeowners' unique needs and vision in mind.
Kitchen Renovations
Does your kitchen leave you cold?
Many homes built in the past 30 years share a common issue – outdated kitchens. Charlotte kitchen renovations are a less intrusive option than a complete kitchen remodel, which typically includes redesigning the layout, tearing down or adding walls, and relocating cabinetry and appliances.
Ideal candidates for kitchen renovations are homes whose flow and functionality meets a homeowner's needs, but have:
Aging cabinets with peeling, cracked or dark finishes.
Dated fixtures and inefficient or outmoded appliances.
Surfaces that are stained or showing their age.
An experienced renovation contractor can recommend cost-effective and creative changes to take advantage of updates in materials and appliances to quickly turn your kitchen from bland into grand.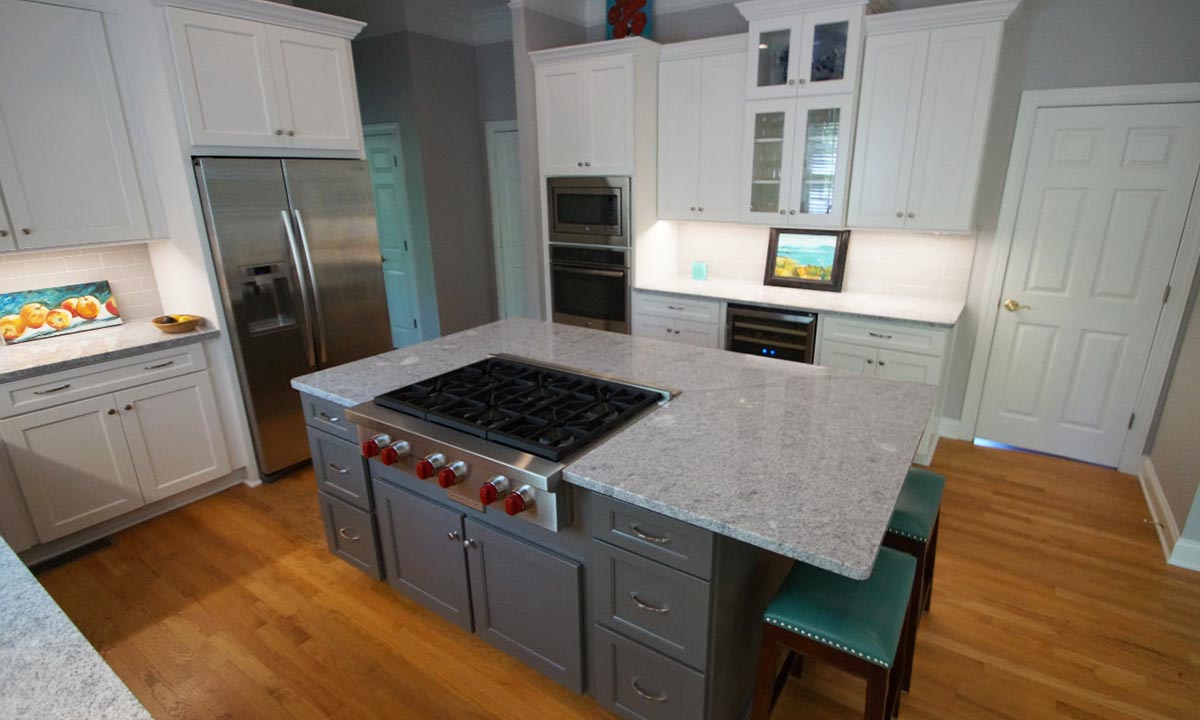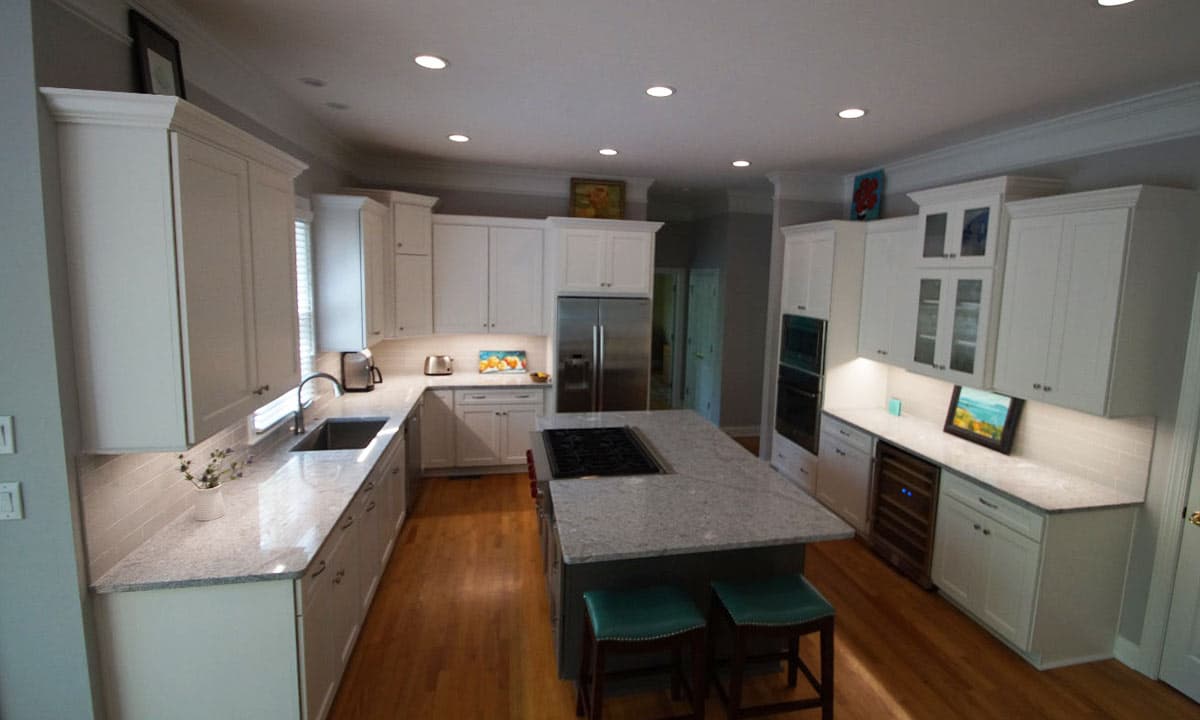 Kitchen Remodeling: Frequently Asked Questions
Q: Should I consider a kitchen remodel?
A: Yes! A kitchen remodel is one of the best Charlotte home remodeling projects you can tackle for many reasons. Not only can you recoup a significant part of your investment at resale time by staying on par with other remodeled homes in your neighborhood, but you can also enjoy the benefits while residing in your home. The kitchen is truly the public and private heart of your home, and improving it has a tremendous impact on how your home functions and how you feel about the space. An updated design and new appliances can help your kitchen function better for the way you actually use it, encourage entertaining, reduce utility costs, and give you more time back in your day by increasing your efficiency. Perhaps most importantly, it can be more conducive to spending time with your family and promoting healthy habits. One recent survey of homeowners who had remodeled their kitchens found that 50% spent more time together and 41% cooked more meals at home.
Q: Are kitchen remodels major projects?
A: Yes! Because of the all the appliances, utilities, cabinetry and design considerations, the kitchen is the most complicated and expensive room in most houses. A kitchen remodel requires extensive, thorough planning and design as well as quality materials and construction techniques.
Q: What's the first step to consider?
A: Determine if a kitchen remodel is right for you at this time. That means making sure your family is ready for what can be an intensive process — your kitchen will not be useable for at least a portion of the project timeline. It also includes making sure that you have the necessary financial resources for the project.
Q: How much will a kitchen remodel cost?
A: The scope of a project determines its cost. Every home is unique, and the cost of any project is unique to that home, so you can't compare what another kitchen costs and expect yours to automatically be the same. The average kitchen remodel in Charlotte cost $152,144, according to the 2023 Zonda Media Cost vs. Value Report. Simply updating a kitchen with new tile and fixtures or new countertops can easily top $10,000. To reduce the cost, narrow the scope — but be aware that doing so may lower your ultimate satisfaction with the remodel. (See more below.)
Q: How can I cut costs on a kitchen remodel?
A: Ultimately, the cost of a kitchen remodel (or any other remodel) is simply the sum of all its parts. Those parts include the hard surfaces, flooring, appliances, cabinets and fixtures you choose; the complexity of the design; and any movement of walls and utilities the project requires. Work with an experienced professional who can tell you which elements of your project are essential, and which can be removed from the scope. An experienced design-build contractor can determine what your options are and help you decide if it makes sense to reduce your scope or delay your project. (See more below.)
Q: How do you finance a kitchen remodel?
A: We always advocate discussing your options with a lender. Personal loans, home equity loans, home equity lines of credit and cash-out refinancing are some options. Take the time to learn which makes the most sense for you.
Q: How long will a kitchen remodel take on average?
A: Every kitchen remodel project is unique to the home. In general, a kitchen remodel will take approximately 16 weeks from design to completion. Design and planning will take 3-4 weeks; ordering and receiving materials can take 4-8 weeks depending on production schedules; the actual deconstruction, construction and inspections can take 10-12 weeks, depending on the scope and material selections. Bear in mind that custom cabinets, special-ordered windows and fixtures, and governmental permitting delays can all impact that timeline. Additionally, a client's decision-making ability will also be a factor.
*Please note there is some overlap in these approximate time frames, as several things can be happening simultaneously.
Q: What is the timeline for my kitchen being unusable?
A: Approximately 10-12 weeks is realistic. Living without a working kitchen is an inconvenience, particularly if you have children. Here are some ways to make the transition easier: Set up a temporary kitchen by moving key appliances like the refrigerator, microwave, coffee maker and toaster to another room. Use an outdoor grill whenever possible. Use disposable plates and utensils – both for eating and for prep when you can. When you must do dishes, use an alternate sink that is close to your dining area. Palmer Custom Builders takes care of permitting and ordering materials in advance of deconstruction, substantially reducing kitchen downtime.
Q: What's involved in deciding how your kitchen remodel should look and function?
A: Among the many things you and your contractor will consider are whether you should reconfigure the existing kitchen footprint for increased efficiency and function or should you leave the footprint as-is? Do you want to open a closed kitchen to adjoining areas? If so, how will these newly opened spaces flow? You'll consider adding or reworking an island, upgrading appliances, selecting cabinets, moving electrical and plumbing if needed, improving ventilation, overhead and task lighting, and changing surface materials.
Q: Why hire a Design-Build professional General Contractor?
A: A professional who is experienced in kitchen remodels of similar size and scope is critical to your success. As noted above, there are literally countless decisions you will need to make on the layout and design of your space, and you need a professional who has been there to walk you through them. When it comes to designing for proper flow and function, their experience will have taught them what has worked in similar kitchens in the past — and what to avoid. They cannot always understand what's behind your walls, but an experienced professional will be able to meet any unexpected challenges. They will educate you on the strengths and weaknesses of different materials and help you avoid costly mistakes. They'll have relationships with design professionals and tradespeople who do quality work in a timely manner. They will listen to what your family needs and offer creative solutions to help you achieve your goals.
Q: What are the stages of a kitchen remodel?
A: Finalize construction agreement; apply for building and zoning permits; kitchen design and planning; material selections and ordering; demolition and removal of old appliances, cabinets and fixtures; rough-in work including framing, utilities and ventilation; rough-in inspections; insulation, cabinet and countertop installation; plumbing installation; tile installation; electrical installation; HVAC installation; floor refinishing; painting; cleaning; and final inspections.
Charlotte Kitchen Remodeling
We are proud to serve the following communities in and surrounding Charlotte, NC