Kitchen Remodeling
Is it time for a Charlotte kitchen remodel?
Your kitchen should be the true heart of your home; the place where family and friends invariably gather. Unfortunately, many older houses in Charlotte, North Carolina, and surrounding areas were built at a time when the kitchen was viewed as a simple necessity rather than the entertaining and social center of the home. If this sounds like your kitchen, we'd encourage you to consider a Charlotte kitchen remodel project.
Too many homeowners are tolerating dark, undersized kitchens that leave them closed off from others as they are preparing meals.
Still others are struggling with kitchen designs that are not functional – layouts created before kitchen designers envisioned the plethora of appliances we have today, like double ovens, built-in microwaves, dish drawers, wine chillers, etc.
Many homeowners don't realize that these challenges can be overcome with a Weddington kitchen remodel project designed, executed and completed on time and on budget by a qualified design-build contractor. We understand your interior remodeling frustrations and will work with you to design and build a modern space created for the way you want to use your kitchen and designed for how you want it to look.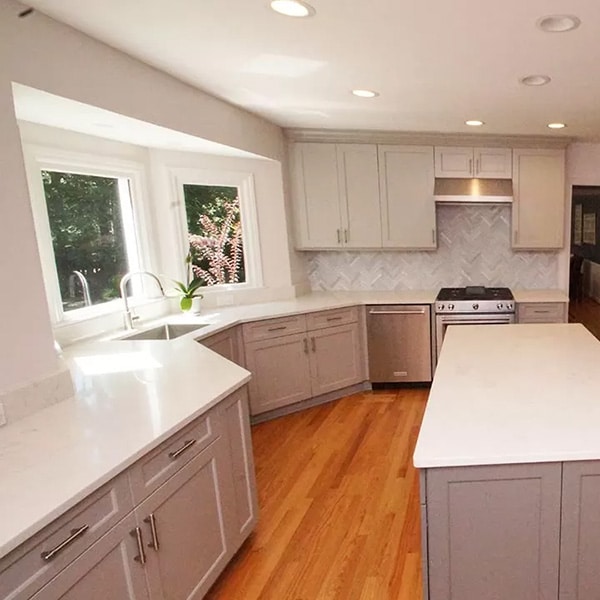 For a Charlotte Kitchen Remodeler,
Experience Matters
Our design-build team brings a 35-year track record of dependability to every kitchen remodeling and kitchen renovation project. We know personalized details matter when it comes to achieving your dream style. From custom kitchen cabinets and the custom kitchen countertops to match to custom kitchen islands, space-saving storage solutions and everything in between, every kitchen we design has the homeowners' unique needs and vision in mind.
Kitchen Renovations
Does your kitchen leave you cold?
Many homes built in the past 30 years share a common issue – outdated kitchens. Charlotte kitchen renovations are a less intrusive option than a complete kitchen remodel, which typically includes redesigning the layout, tearing down or adding walls, and relocating cabinetry and appliances.
Ideal candidates for kitchen renovations are homes whose flow and functionality meets a homeowner's needs, but have:
Aging cabinets with peeling, cracked or dark finishes.
Dated fixtures and inefficient or outmoded appliances.
Surfaces that are stained or showing their age.
An experienced renovation contractor can recommend cost-effective and creative changes to take advantage of updates in materials and appliances to quickly turn your kitchen from bland into grand.