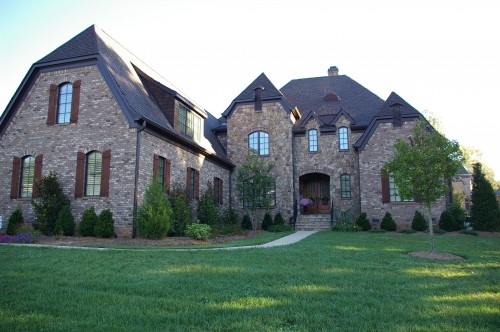 One of the least-kept secrets in building a new custom home, tackling a long awaited kitchen or owners' suite remodeling project, or embarking on an addition is that there are countless decisions to make. From the flooring materials to the ceiling trim and all the fixtures and finishes in between, the beauty of tackling a project is the chance it offers to put your unique stamp on your home.
Yet in today's hectic world, we've found that many of our clients are simply too busy to take the time to make every decision. With that in mind, we at Palmer Custom Builders strive to simplify the construction and selection process for our clients. Yet rather than taking a one-size-fits-all approach, we take the time to get to know every client and learn what's most important to them. We then streamline decisions where we can, but plan the time needed for them to be as involved as they want to be in their most vital decisions.
Take shopping for granite. A trip to a typical granite warehouse can be overwhelming. Homeowners are suddenly faced with hundreds of different style, color and price options. For the best result, they have to select not just the type of granite they want, but the individual slabs. Now imagine wading through those options while still making certain that the slab you select complements the cabinets you picked months ago but doesn't clash with the aged hardwood floors that you barely remember picking out. If this level of hands-on decision-making is what a client wants, we'll be right there to assist them as they go through it. Many of our clients, however, prefer that we take the time to learn what they like and then sort through the myriad options to narrow them to those that fit their home, their budget and their style. This allows them to quickly and efficiently customize their home.
For example, when assisting one client who travelled frequently for business, we pre-shopped for the pendant lights above her new kitchen island and the perfect bar stools to surround it. By zeroing in on a few styles, we saved her countless hours of legwork but still gave her the space to express her creativity. Allowing professionals you trust to offer suggested selections allows you to focus your energies on the decisions that matter most. It also provides a level of design consistency, because these professionals have the big picture in mind and can select options that they know will function well and look good together. Another benefit is that it keeps you on budget. It's far too easy for clients to get off track by spending just a little more on every selection. If you compound those small overages over the course of your project, it can prevent you from having the funds left to indulge in those splurges that ultimately will mean the most to you.