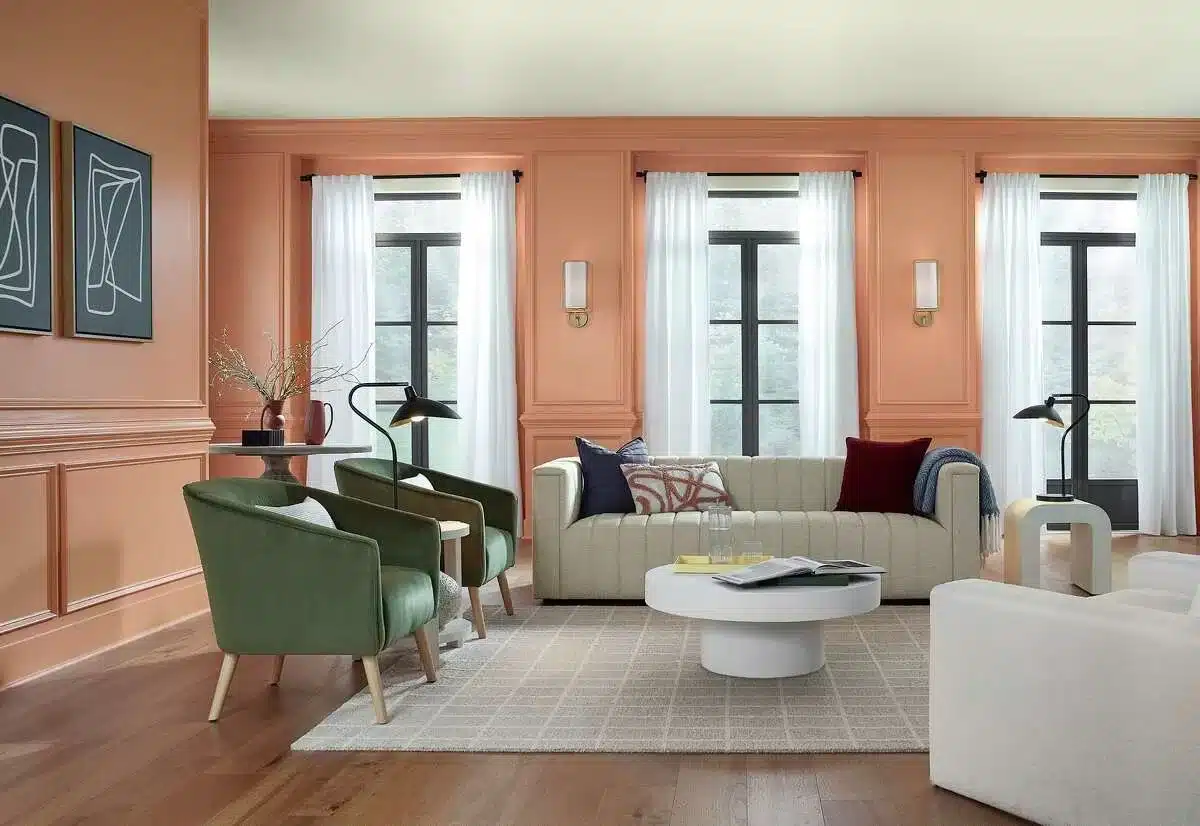 2024 Interior color trends: Retro & modern
The world of interior design is constantly evolving, and one of the most exciting aspects of this field is the ever-changing palette of colors. Each year, major paint companies unveil their "Color of the Year," setting the tone for interior design trends and influencing the Charlotte home remodeling choices of homeowners, designers, and decorators. In 2024, these companies are taking us on a journey through time, with colors that evoke a distinctly retro feel while embracing modern sensibilities. Let's explore the 2024 Colors of the Year from some of the leading paint companies.
Sherwin-Williams' Persimmon: A Retro Pink with a Twist
Persimmon introduces a retro pink with a modern twist. This color, which exudes a decidedly terra-cotta feel, was selected as the Color of the Year on HGTVHome. While pink may not be everyone's first choice for interior design, Persimmon brings a mature and sophisticated edge to this traditionally youthful color that goes far beyond Barbie.
To embrace Persimmon, consider using it as an accent wall or for statement furniture pieces. Pair it with neutrals like gray, beige, or cream to balance its boldness. This color can infuse warmth and personality into any space, making it perfect for creating cozy living rooms or inviting dining areas.
In addition to Persimmon, Sherwin-Williams is projecting four distinct color families as trendsetters for 2024, allowing for diverse and creative design possibilities. These families include soft pastels, muted earth tones, vibrant jewel tones, and moody neutrals, offering a wide range of options to suit whatever your personal design style.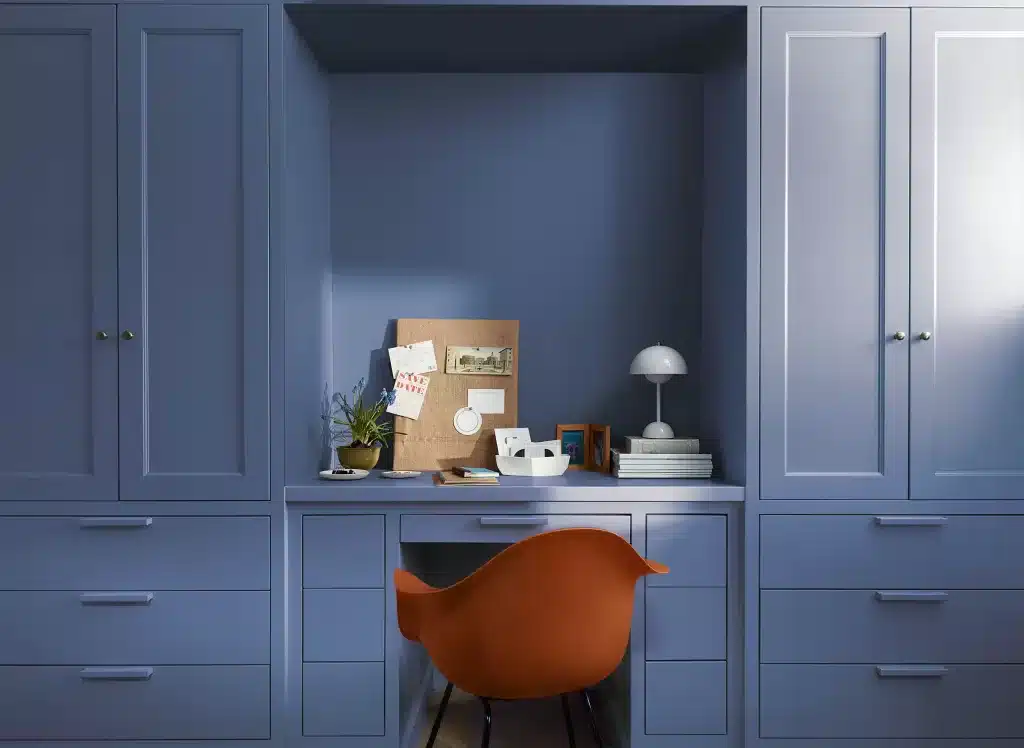 Benjamin Moore's Blue Nova 825: Elevate the Everyday
Benjamin Moore went with a calming mix of everyday and extraordinary in its color of the year: Blue Nova 825 It's a warm mid-tone blue with timeless appeal that feels like a classic mixed with just enough violet to create intrigue.
The company says it was inspired by the brilliance of a new star formed in space, the color beckons to unknown places in search of new experiences. Fittingly, they announced the space-inspired color at Blue Origin's Orbital Launch Site in Cape Canaveral, FL. But more important than the color's pedigree is the lift it will bring to homes.
"Blue Nova 825 is an alluring mid-tone that balances depth and intrigue with classic appeal and reassurance," said Andrea Magno, Color Marketing & Development Director at Benjamin Moore. "The Color Trends 2024 palette tells a story of duality – juxtaposing light against dark, warm and cool, showcasing complementary and contrasting color pairings. These contrasts invite us to break away from the ordinary to explore new places and collect color memories that shape the hues used in our homes."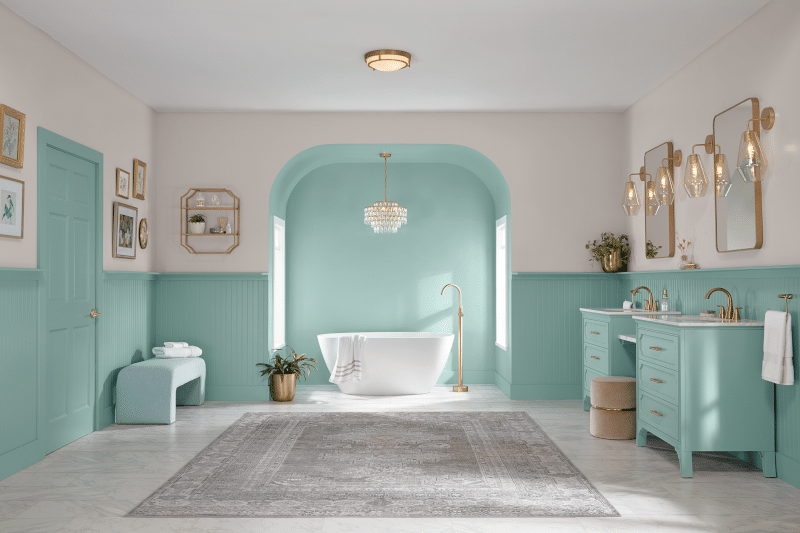 Valspar's Renew Blue: A Dive into Nostalgia
Valspar's Renew Blue has captured the essence of nostalgia with its 2024 Color of the Year. This captivating shade leans toward a delightful combination of blue, green, and aqua, creating a tranquil and inviting atmosphere. Its retro undertones harken back to a time when these colors were prominently featured in mid-century design.
Renew Blue is a versatile color that can be incorporated into various design styles. Whether used as an accent wall or as the primary color for a room, it evokes a sense of calm and serenity. Pair it with neutral tones for a balanced look or go bold by combining it with complementary shades of teal and mustard for a lively, vintage-inspired space.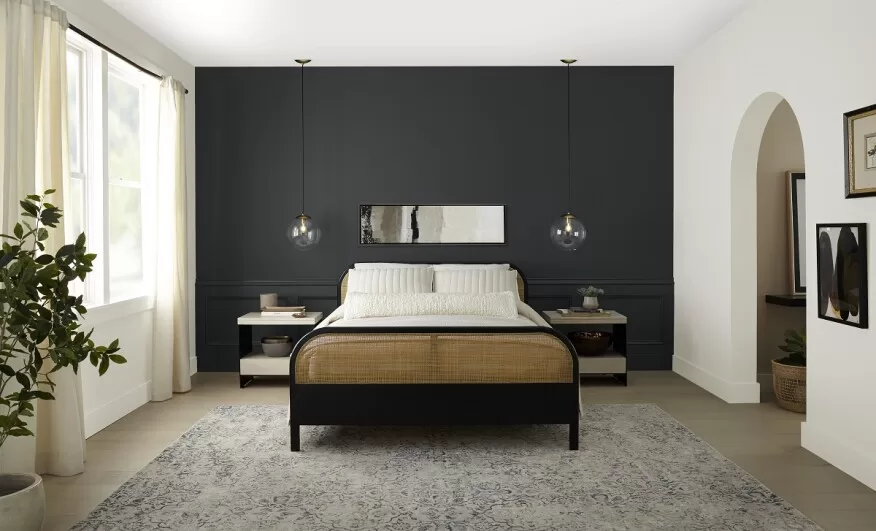 Behr Paint: Cracked Pepper – The Soft Black for 2024
Behr has taken a bold step in design direction for 2024 by selecting "Cracked Pepper," a soft black, as its top color. While black may seem unconventional as a primary color choice, Cracked Pepper adds depth and sophistication that is the ideal choice for many home remodel projects.
Cracked Pepper can be employed in multiple ways to create dramatic contrasts or subtle elegance. Pair it with crisp white for a classic and timeless look or use it as a backdrop for vibrant accents like jewel-toned furniture and artwork. This versatile shade lends itself to modern, minimalist designs as well as traditional, opulent interiors.
The 2024 Colors of the Year are a testament to the cyclical nature of design trends. These colors evoke a sense of nostalgia while embracing modern aesthetics, providing homeowners and designers with a wide range of options to transform their spaces as they plan their home remodeling projects or simply seek a refresh with a fresh coat of paint. From Valspar's Renew Blue to Behr Paint's Cracked Pepper, these hues offer versatility and creativity in interior design.
Whether you're drawn to retro vibes or the grounding appeal of earth tones, 2024's color selections have something that will fit your unique style. So, why not embark on a colorful journey and infuse your living spaces with a refreshed and renewed spirit of 2024?