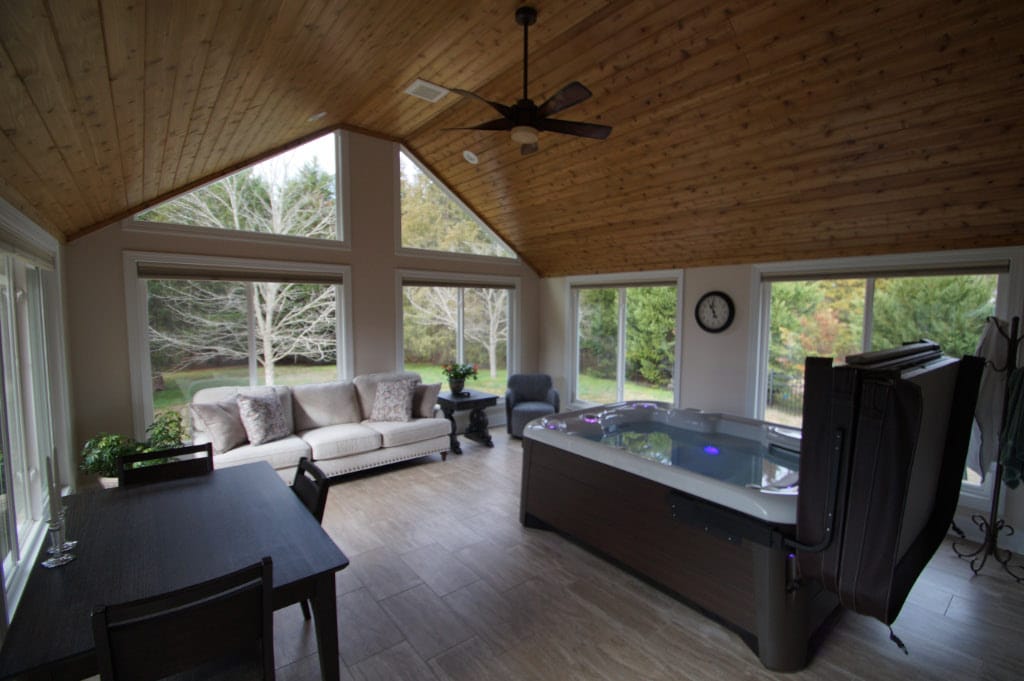 Sunroom and screened-in porch budgets – What is realistic?
Are you aware of these 10 factors that may play into the budget of your sunroom or screened-in porch budget?
A chill is finally starting to creep into the air – even if only during late summer evenings – and that's making some Charlotte homeowners begin to look outside. For better or for worse, we live in an area of the country where, while we can use our outdoor living spaces far longer than our northern neighbors, the heat and pollen force us indoors for a good chunk of prime outdoor entertaining season. That's why many Charlotte homeowners consider turning an unused deck or patio into a screened-in porch or sunroom.
These additions often have many economic advantages over a completely new space since the foundation and exterior walls are already in place. Plus, they can transform an area that doesn't get used in the heat of the summer or the cold of winter into a true year-round living space – adding valuable square footage to your home (and fun items you may never have envisioned – like this hot tub!). In fact, many folks choose to convert existing screened porches into fully heated and air-conditioned sunrooms to maximize their use. But what should you realistically budget for one of these projects?
It is not uncommon for these projects to start at $50,000 and increase from there, but your budget number will depend on a multitude of factors we'll touch on here. The first – and most important – is how you plan on living in and using your space. Be sure to start your discussion with an experienced design/build general contractor to determine the shape and scope of the project and a realistic cost range. By talking about how you want your space to function, he or she can help you make wise decisions about whether a screened-in porch or a fully enclosed sunroom is your best option; how to best connect it to your existing indoor and outdoor space and how those transition areas should look and feel; what level of finishes you require; and how the new space will tie in to your existing electrical and HVAC systems.
By following these initial planning steps, you can determine if the sunroom or screened-in porch fulfills your needs and is a realistic project for your family and the value of the home. Our Proven Process helps clients visualize the steps required to complete the project's construction and see how all the varied pieces fit together to arrive at a fixed cost for the project. (Read Proven Process on our website for complete details.)
Here are some of the many items that factor into every custom project's cost – and can impact pricing:
Size of space and scope of project
Project Design/Plans/Structural Engineering
Building Permits/Zoning Requirements
Interior Design and Selection of Lighting Fixtures, Windows and Doors, Tile or other Flooring, Paint and/or Stain
Ordering materials, scheduling, and managing deliveries to stay on committed schedule
Upgrades and adjustments needed to bring electrical, plumbing, HVAC, Smoke and Carbon Monoxide Detectors up to current Building Code requirements and space needs
Installation of electrical, plumbing and HVAC systems to fit the requirements of the addition
Managing all facets of construction
Wall Removal and structural header and beam fabrication and installation, if required
In addition, when dealing with additions that require a new foundation: the slope of the lot, trees, and soil conditions; survey and site restrictions; footings and foundation; choice of exterior veneer for new construction; and any HOA requirements that must be met all factor into pricing.
For realistic information and costs for your project, trust an experienced, licensed professional contractor.