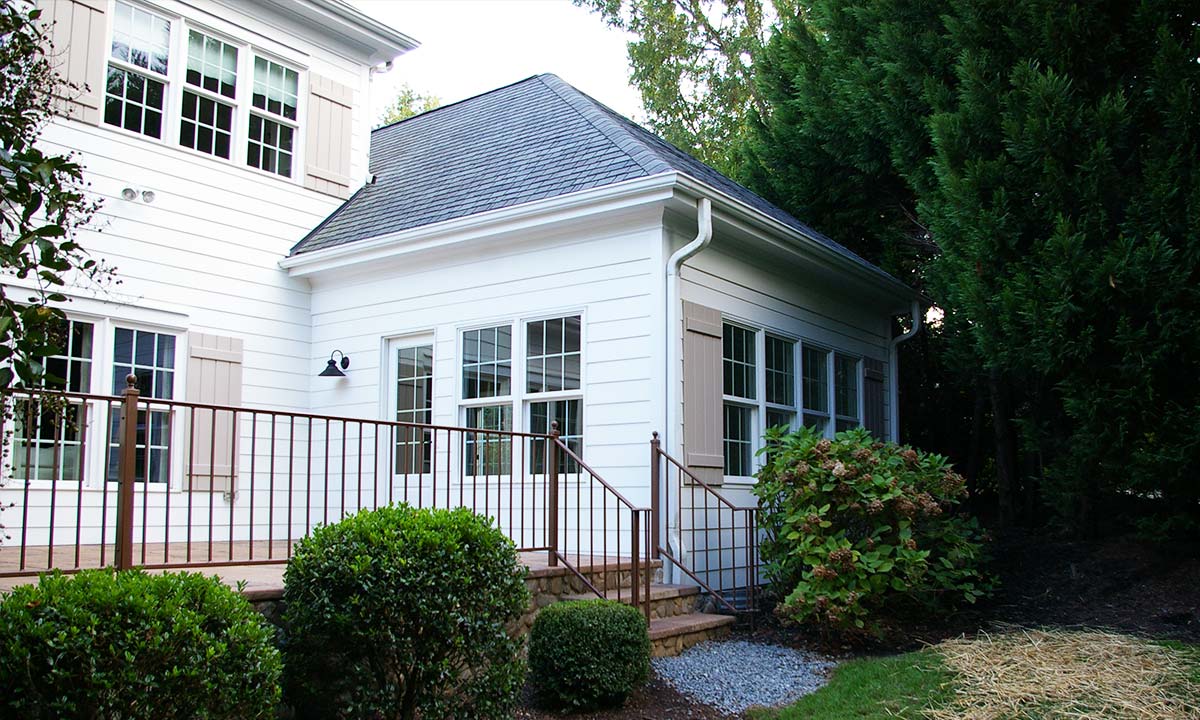 NARI 2013 Contractor of the Year award winner
Award-winning Charlotte remodeling projects
Our favorite award is the appreciation we receive from our clients! For this reason, we rarely take the time to enter contests, but when we do, we've been fortunate to be honored.
One of our innovative screened porch remodels garnered a prestigious 2013 Contractor of the Year award for a residential addition under $100,000 from the Charlotte chapter of the National Association of the Remodeling Industry. This project transformed an unused screened porch with framing issues and an offset concrete floor into a beautiful and functional sunroom appropriate for a traditional Cape Cod. This was our second project to receive the award. We previously were honored when a kitchen renovation project garnered both the People's Choice Award and the award for Residential Kitchen Upfit under $30,000.
What our partners are saying
Establishing and maintaining solid long-term relationships with key suppliers is essential to delivering superior and knowledgeable service, skilled craftsmanship and a pleasant experience for our clients. We can't say enough about what they mean to our business; here's what some of our partners have to say about us.
Perhaps the people who know us best are the skilled professionals who work with us on a daily basis, many of whom have been our valued partners for years.
I appreciate the fact that Palmer Custom Builders is so extremely organized. They really try to set the expectations up front before the job even starts. They give their clients a timeline of when to expect certain things to happen so the client knows when they need to make decisions. That makes it easier for me, because I know what to expect. We have a good reciprocal relationship – I value their professionalism and they value mine. They are just a pleasure to work with.
Palmer Custom Builders is one of the most professionally run businesses that I work with. Gary and his people treat both their customers and vendors with courtesy and respect. I have had the pleasure of working with them on many projects over the last seven years and look forward to a continued, long-lasting business relationship.
I've worked with Palmer Custom Builders for at least four or five years now … They are personally involved with everything. They are hands-on and really know what's going on with their clients' projects, making sure that we have all the material here and have everything in place when it needs to be.
Palmer Custom Builders is very easy to work with as far as communication goes. That has always been the number one thing I appreciate while working with them. I always hear back from them very quickly, and they work well with their clients and keep those lines of communication open, which in turn helps us to do a better job.
One thing that I have noticed over the years is that the majority of his customers consider Gary a friend — even at the end of the job.
I really appreciate their foresight. Some builders will call me on Friday afternoon and tell me that they need all these appliances and they need them delivered on Monday morning. Gary will call me weeks ahead of time and then remind me when we're halfway there. He's always looking ahead.
When you work with Palmer Custom Builders, there's no wasted time. When they say a project is going to be ready to work on, it's going to be ready. Everything is in order. Everything is properly scheduled and on time.
Palmer Custom Builders is just a really great company to work for. They do a really good job for everyone, and I've never met a homeowner yet who wasn't pleased. I'd most definitely recommend them to my clients.