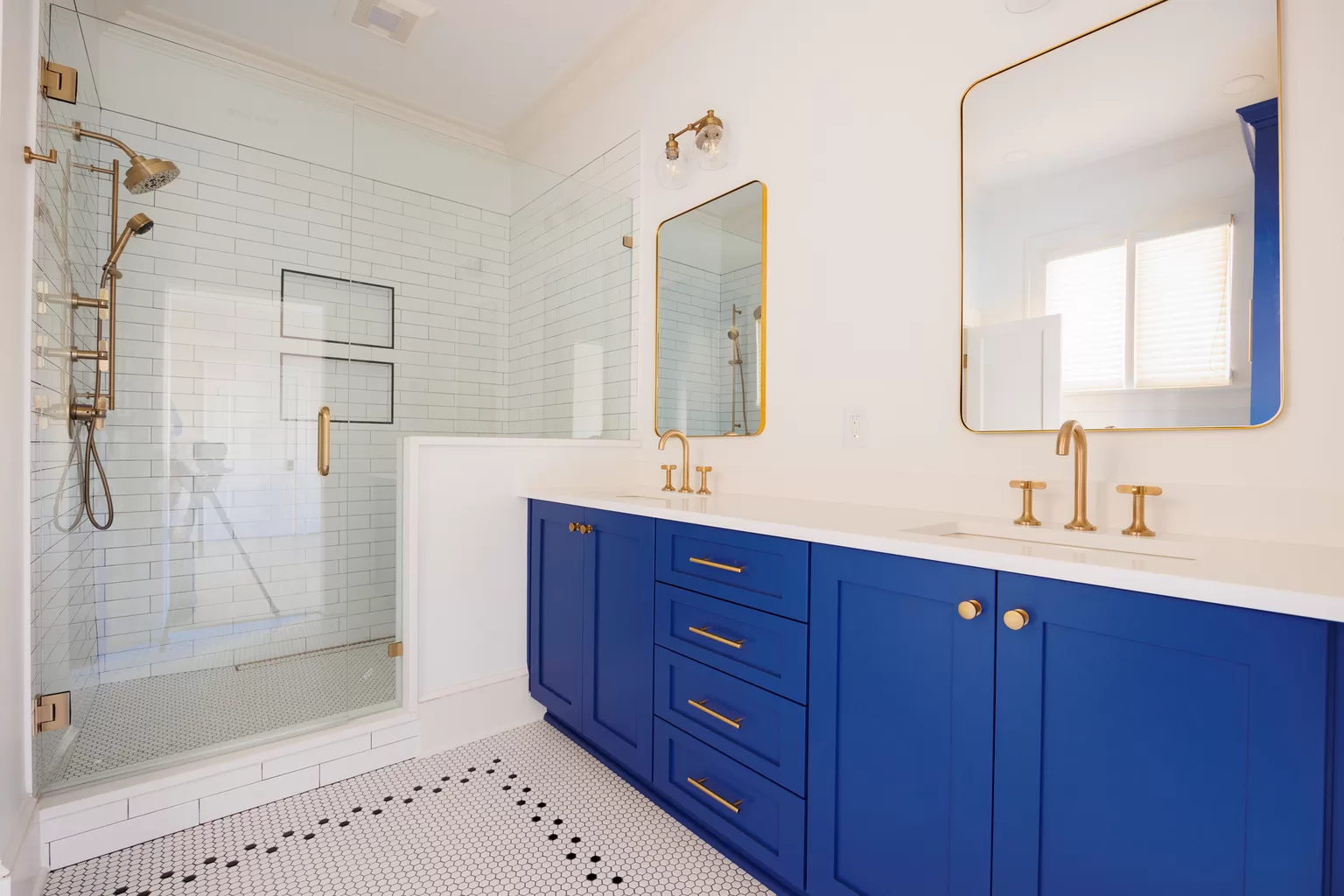 Primary bathroom remodeling's new focus: Wellness
When people think about Charlotte home remodeling, most homeowners focus on the kitchen or the primary bathroom. That's because these two areas are the public and private centers of the home that, when functioning well, create a sense of calm and order. For many years, the primary bathroom was thought of as either primarily a utilitarian space or a glamorous showplace designed to boost resale value. Now that people are spending more time in their Charlotte homes, we're seeing a noticeable shift to create primary bathrooms that are a true sanctuary that integrates wellness and self-care.
How do you create that look? Proper lighting, a refined color palette, incorporating nature, the right fixtures and environmental conservation are essentials to consider when creating a primary bathroom design that nurtures your soul. By integrating each of these elements, you will have a bathroom that fits your desires even as it fulfills your needs.
Natural Lighting
Lighting is a key design element that is essential to create the right mood. Natural light during the day builds a sense of wellbeing by connecting you with the outdoors. Skylights are one way to bring in daylight even on cloudier days. Transom windows placed high on a wall or in the shower itself can allow for a view of nature without compromising privacy in a primary bathroom. However, don't neglect the importance of artificial lighting in your primary bath. It's as essential to creating a spa-like feel as your choices for integrating daylight. To make your bathroom feel like a posh retreat, you should opt for soft warm lighting. For bright, crisp clean lines that nod toward a minimalist approach, choose lighting with cooler tones. By choosing the lighting temperature of evening lighting to compliment your color palette, you can help set the stage for the design feel you hope to achieve.
A Zen-like Shower Experience
Unlike in eras past, when a soaking tub took center stage, a graciously sized shower is most likely going to be your centerpiece in your primary bathroom. Fortunately, the shower is a wonderful place to incorporate many aspects of wellness. Rain shower heads and variable shower heads allow you to get a Zen-like experience that is catered to your exact requirements. Glass shower enclosures allow for light to stream in and give an open-air effect. Steam showers are once again becoming a popular design feature that has health benefits, just make certain that they are properly designed and installed so that they don't cause issues as they age. Incorporating a bench in your shower can give you a spot where you can sit down. "We've been incorporating benches into our showers for over 30 years," notes Gary Palmer. "Benches are helpful for relaxing and showering, particularly if you have leg or back issues. They are practical when you are shaving your legs and they also can be heated, making them therapeutic as well as functional. We have also incorporated fold-down teak benches for Aging-in-Place and wheelchair accessibility requirements." Regardless of what kind of shower you choose, an efficient and correctly sized fan is critical to creating the proper ventilation in the space and preventing mold and mildew from forming which make cleaning and maintenance easier.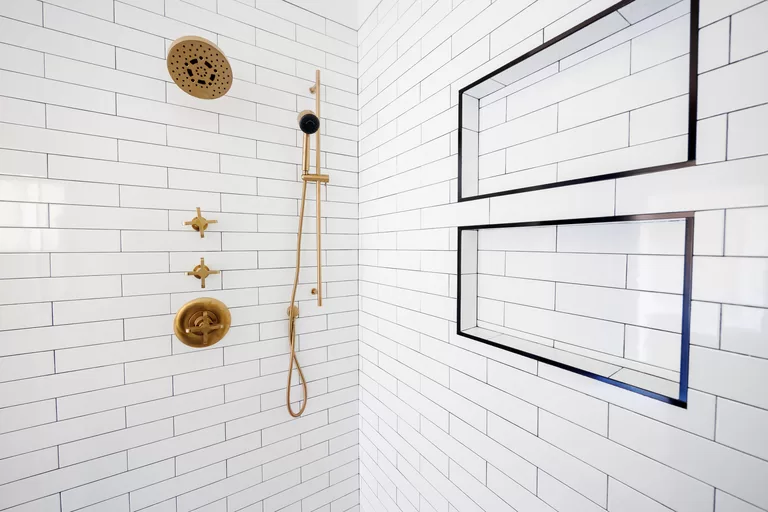 Eco-Friendly Design
For many homeowners, the concept of wellbeing extends beyond themselves to encompass environmental sustainability. Fixtures such as low-flow shower heads and water-efficient toilets are easy ways to be environmentally conscious. Building with wood products that are either solid wood or a resin product, as well as using low to zero-VOC paint and varnishes will help reduce or eliminate off gassing, which keeps your air as clean as possible.
Biophilic design, which entails creating a space with a sense of harmony with mother nature, is becoming increasingly popular. Adding natural elements, such as plants, materials and natural lighting help reconnect us with the world outside our doors. Plants are an easy way to adopt biophilic design and breathe easier in the bathroom. "NASA researchers have reported that a group of common house plants can remove or scrub indoor air of various pollutants" Dr. Clifford Bassett, MD, clinical assistant professor of allergy and immunology at NYU Langone Medical Center recently said on The Today Show. When it comes to air-cleaning plants that thrive in bathrooms, Bassett suggests Mother-in-Law's Tongue, English Ivy and the Peace Lily (which also helps increase oxygen). Another fun way to bring in the outdoors is a living wall, which is a space that is completely covered with small plants. If you don't have a green thumb, opting for artificial plants can still bring in the sense of the outdoors. Also, using colors that emulate the outdoors – warm blues, soft greens, and calming tans and browns, as well as materials such as slate, marble and wood helps pull nature into your space.
Organized to be Stress-Free
One of the best ways to reduce stress is building organization into the space. By reducing clutter, you help quiet your mind and reduce anxiety. You can do this by building in storage that accommodates the items you use daily, thus reducing countertop clutter. Remember to incorporate storage for large items such as towels as well as for small items such as cosmetics. Built-in shelving and single and dual niches in the shower area (which we've been installing for more than 25 years) provide a convenient location for bathing products. Well-placed towel rods and bathrobe hooks are essential to make the space as convenient as it beautiful. Having these items in place help ease preparations for the day ahead and with getting ready for rest in the evening, thus reducing stress at critical times in your day.
The definition of wellness is different for everyone. It can be health-related, a sense of calm, or bringing in a spa-like feeling. No matter what the word means to you, bringing in natural light, creating an open shower and incorporating greenery and natural materials can help your primary bathroom remodel transform the space into a haven that reflects the natural world and isolates you from the hectic pace of daily life. Visit our idea gallery for a look into one Charlotte primary bathroom remodel.