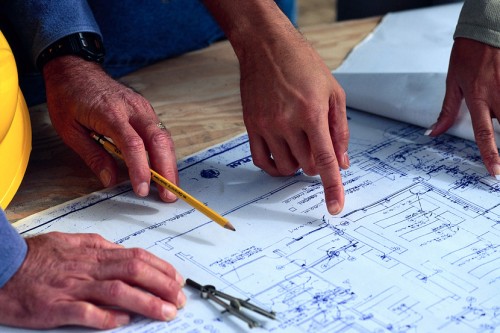 So you're ready to take the plunge and build the custom home of your dreams? Before you dive in, it's essential to find the right builder to faithfully execute your plans. Unlike assembling a tract home, which entails building essentially the same structure over and over again, building a custom home requires a builder with a special slate of talents. Here are a few of the qualities you should look for when you are determining who you will entrust with your dreams:
Legitimacy. It goes without saying that anytime you hire a contractor, you need to verify his credentials. Check the Better Business Bureau and professional groups like NARI for any complaints, make sure that the builder has all necessary licenses and insurances in place, etc.
Longevity. Particularly in today's volatile climate, when so many people who have lost jobs in the construction industry are hanging out their own shingles, it's essential to work with a builder who has done this before. Why? Because by their very nature, custom homes are unique, complex structures that require true professionals to successfully balance the construction process from conception to completion.
Vision. Since each custom home is a unique reflection of its owners, the ability to clearly understand and articulate your vision to all the various tradespeople, designers and other professionals who will be involved in your project is critical to achieving the results you desire.
A Good Manager. How your builder manages the process side of the construction business is just as critical as how he does on the actual building side. Managing a good team of "handpicked" tradespeople, scheduling out who needs to be where when, and planning the smooth progress of each step is crucial to finishing on time and on budget. Let's face it, delays are inevitable on a construction project, generally due to weather, scheduling, and waiting on inspections and/or material availability, but minimizing them and effectively dealing with them can make the difference between finishing on time or not. If a project of this magnitude gets out of control, you as the owner can incur hefty interest charges, possibly lose your rate lock, or potentially pay two mortgages or mortgage and rent (your existing home or the apartment where you are residing while your new home is being built and the home under construction) for longer than you need to.
Creative Thinker. If you want your home to be unique, you need a builder who is willing to think outside the box. A custom home gives you the unprecedented opportunity to stand out from the crowd, so the builder you select must be able to help you do that; otherwise, why bother?
Passion. Ultimately, if your builder is passionate about what he does, his love of craftsmanship and detail will translate into your final project and give you much better results.