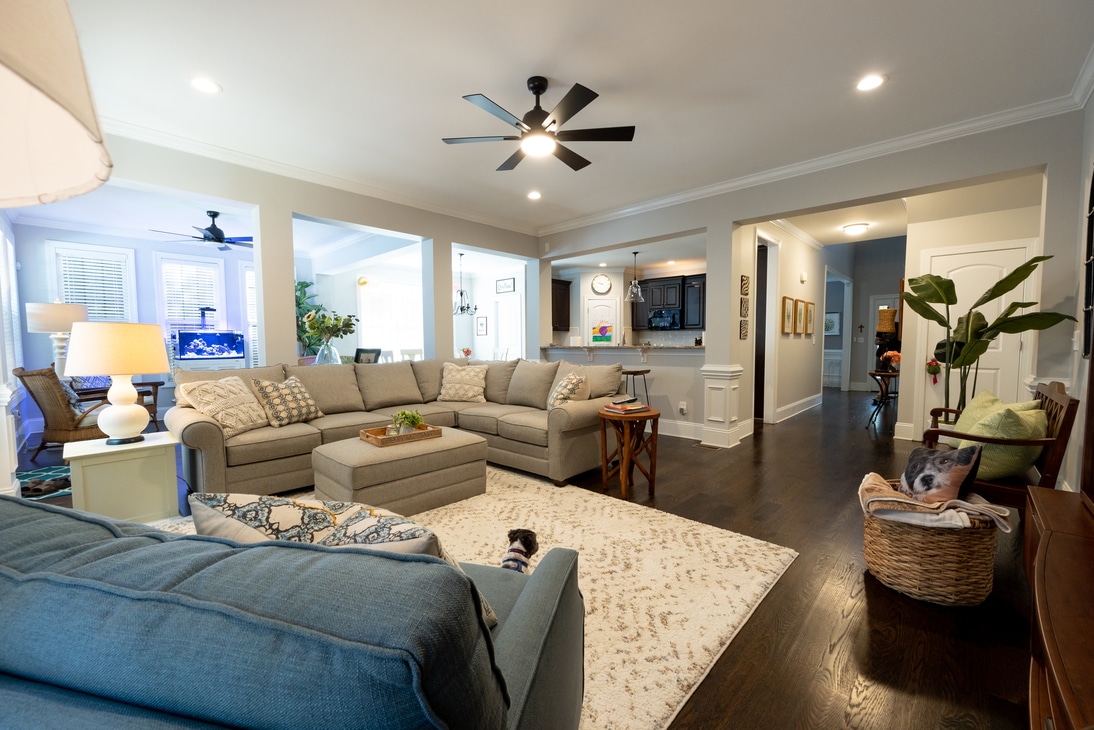 Now is the ideal time to consider a Charlotte remodel
If you have been wondering if the time is right to invest in a Charlotte home remodeling project, the answer right now is a resounding: YES! The Charlotte home market is going through a perfect storm. In January, Zillow named Charlotte the hottest housing market in the country for 2023. Rising interest rates are reducing new home buying power at a time when home prices are escalating. In fact, home prices have gone from a median of $273,500 in January 2020 to $420,000 in September 2022, an increase of 54%, according to the Childress Klein Center for Real Estate at UNC Charlotte.
That's wonderful news for existing property values, and it makes investing in your current home – with a kitchen remodel, primary bathroom remodel, or perhaps a floor over addition to create more usable square footage – an ideal choice.
Explore the Remodeling Possibilities
Oftentimes, homeowners are so close to the way their home looks now that they struggle to envision the possibilities. One way to get a broader view of how your home could look is to visit our online Idea Gallery. That is where we showcase some beautiful Charlotte home remodel projects that let you see what your home can be. With popular and searchable categories like Accessory Dwelling Units (ADUs), Bathroom Remodeling, Bonus Rooms, Floor Overs, Garage Additions, Guest And In-Law Suites, Home Additions, Kitchen Remodeling, Outdoor Living, Primary Bedroom Suites, Screened Porch Additions, Sunroom Additions, Two-Story Additions and more, you're sure to find the type of project you are considering.
And it's okay if you don't know exactly what you want. That's where working with a qualified, professional remodeler and their team who is well versed in the type of projects you are considering comes into play. Their real-world experience in the field will allow them to see the possibilities in your home. An experienced design/build contractor can present you with options you could never have envisioned, open your mind to new possibilities, and pair it with an understanding of what makes financial sense for your home in your area.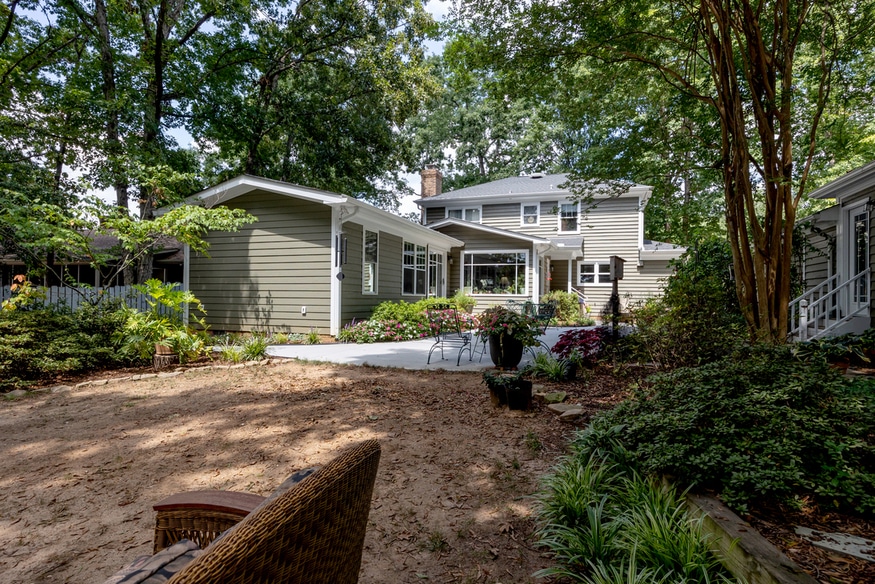 Primary Bedroom (Master Suite) Addition for Mom
Take the example of one couple who was caring for an aging mother in their two-story home. While their mom was still capable of navigating the stairs to her upstairs bedroom when they reached out to us, they knew that eventually, she would not be able to do so.
There was, however, an existing screened porch that was framed in and roofed, so we converted it into a bedroom, bathroom and closet by extending the porch and adding 9'. The new bathroom has a curbless walk-in shower to eliminate tripping hazards. We designed a shower that was large enough to accommodate the mother and a caretaker in case she needed assistance getting in or out of the space. There are two shower chairs inside the shower and two shower heads – a fixed and an adjustable – that can be used as needed. An existing rear sliding glass door was re-used on the addition's side entrance. This will allow emergency services to access the space more easily if there is ever a need to do so. The door was in great shape, so this saved the owner money. We replaced loose stones at the base of the side porch with a concrete patio, making it a safe area where the mom can watch the birds without fear of tripping.
The end result of thinking through every detail is a peaceful and functional master suite addition to support mom's eventual needs. However, the addition is designed for the future of the homeowners as well, so that when they age, they can live on the first floor instead of having to go upstairs to their current primary bedroom.
A Floor Over Creates Space for Children
At the other end of the spectrum, we helped a couple who needed additional space for their pre-teen children after moving into their new home. They had asked a neighbor who was a contractor if there was any way to floor over an existing two-story family room but were told it probably could not be done.  Since we specialize in these complex projects, we were able to look at the space and realize that not only could it be done, but doing so would give them the functional space they envisioned.
We had the design engineered, as we do on all floor overs, to make certain that everything is securely designed to accommodate the span and hold the weight of the new room. We did not put a wall around the new space or subdivide it, so when you reach the top of the stairs, you look straight into a 17' by 17' open area that adjoined an existing upstairs 5' walkway. This created a graciously sized, open bonus room where the kids can watch TV, play video games and work on projects, yet the parents still have clear visibility so they can see what's going on.  The owner purchased a second TV and a furniture piece for the new upstairs room.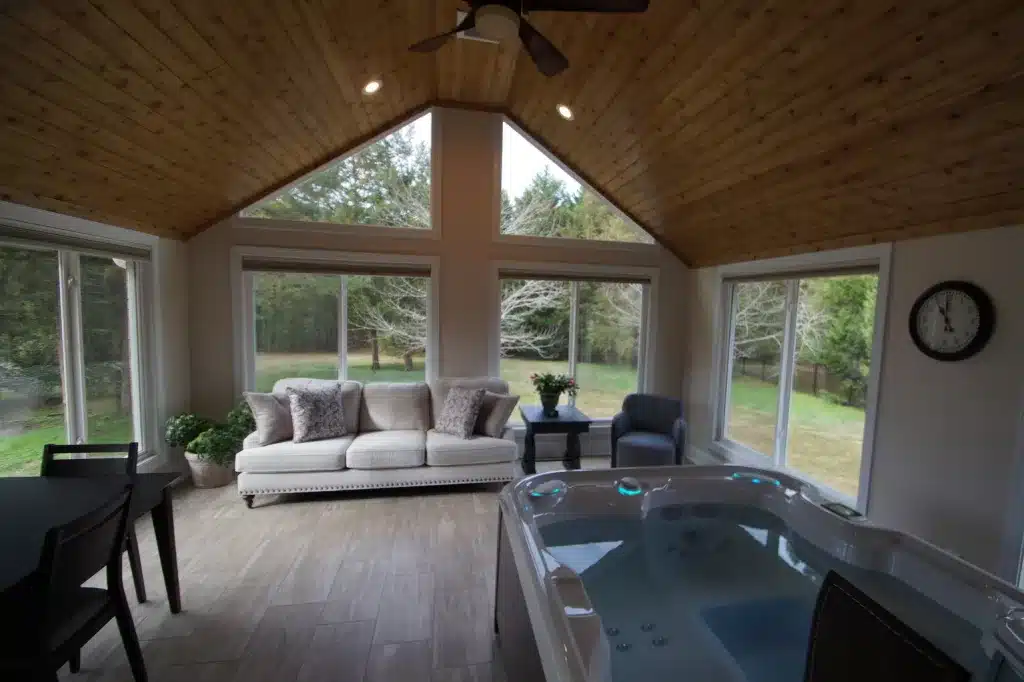 Sunroom Addition Accommodates Hot Tub
Sometimes, the space you need is strictly for personal relaxation. That was the case for one couple, who wanted to enjoy views of the outdoors from their hot tub, but still be in a heated, cooled and comfortable environment while they were doing so. To give these homeowners the sheltered environment they wanted, we created an 18' x 20' sunroom with a cathedral ceiling that we had specially engineered to accommodate the hot tub.
We took extras steps to ensure that everything was not only up to code, but safe and maintenance-free. That started with tempered glass slider windows, porcelain floor tile with a premium grout that is impervious to both water and chemicals, and includes two large exhaust fans in the ceiling vent out hot, moist air effectively and prevent the windows from fogging while the spa is in use. Vinyl windows, brick siding, aluminum wrapped fascia and vinyl soffits, a wrought iron railing and oversized gutters further reduce maintenance.
The cathedral ceiling was finished in a tongue and groove knotty cedar for a gorgeous appearance and improved energy efficiency with a sheetrock layer behind. Two triangular windows added architectural interest to the space and maximized incoming natural light. The result is a beautiful space that perfectly captures the exterior view while preserving the homeowners' privacy and comfort.
Remodeling Makes Sense
As you can see, a Charlotte home remodeling project makes sense for families of every age, at every stage of their lives, and in any size home. When you consider the hidden costs of moving, such as Realtor commissions, moving costs, downtime, and the expensive startup costs associated with a new address ranging from window coverings to furnishings to fit the space, it makes sense to remodel. It's an investment in your home that will pay dividends both for your family's enjoyment now, and in your home's value for years to come.