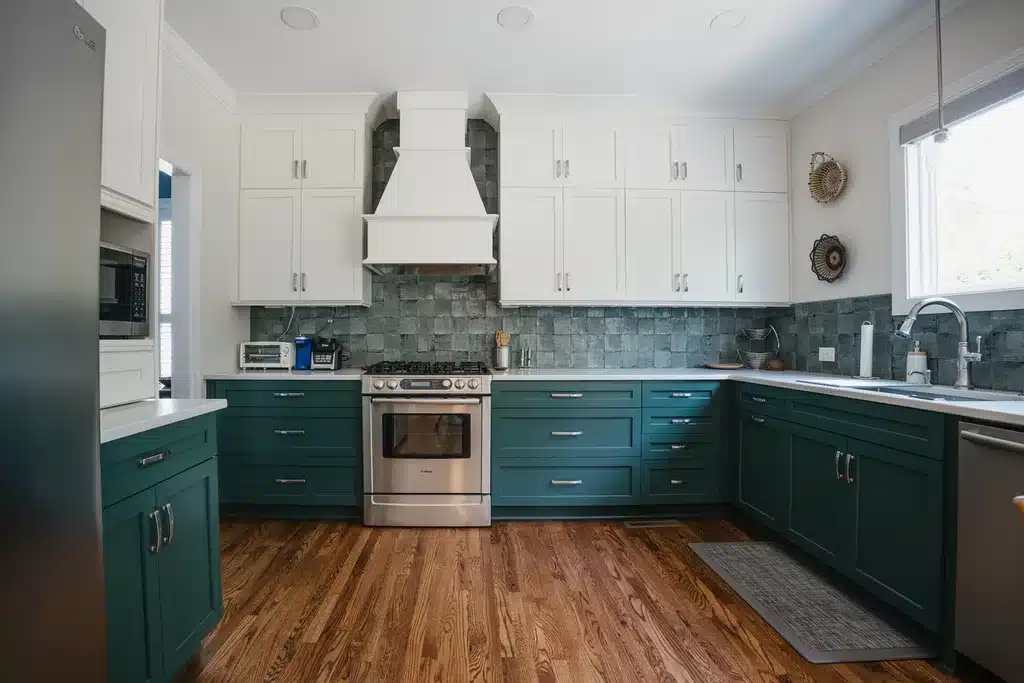 Tasteful layout ingredients for your Charlotte kitchen remodel
In other blogs, we've talked about the on-trend ingredients that can add flavor to your Charlotte kitchen remodeling project. We'd like to take a step back in this blog and give you a list of the tools that we believe are necessary from a design/build standpoint to create an ideal – and timeless – kitchen layout that functions as beautifully as it looks. Just as you need measuring cups and baking pans to create the perfect dessert, building these pieces into your kitchen remodel will result in the tasteful look you crave with the practicality to work well, day in and day out.
Open Floor Plans
After a brief flirtation with closed-off kitchens, open floor plans continue to be the most
sought-after layout choice for Charlotte kitchen remodels in 2023. By removing walls and barriers (like drop-down dated cabinets), you can seamlessly connect your kitchen with adjacent living or dining areas, creating a spacious and inviting atmosphere for family and guests. An open floor plan allows for easy interaction and socializing, making it ideal for entertaining guests and for not isolating the cook from the rest of the family on a day-to-day basis.
When professionally designed, open floor plans also maximize the flow of natural light throughout the space, making your kitchen feel bright and airy. When designing an open floor plan, consider incorporating a large central island or peninsula that can serve as a functional and stylish focal point.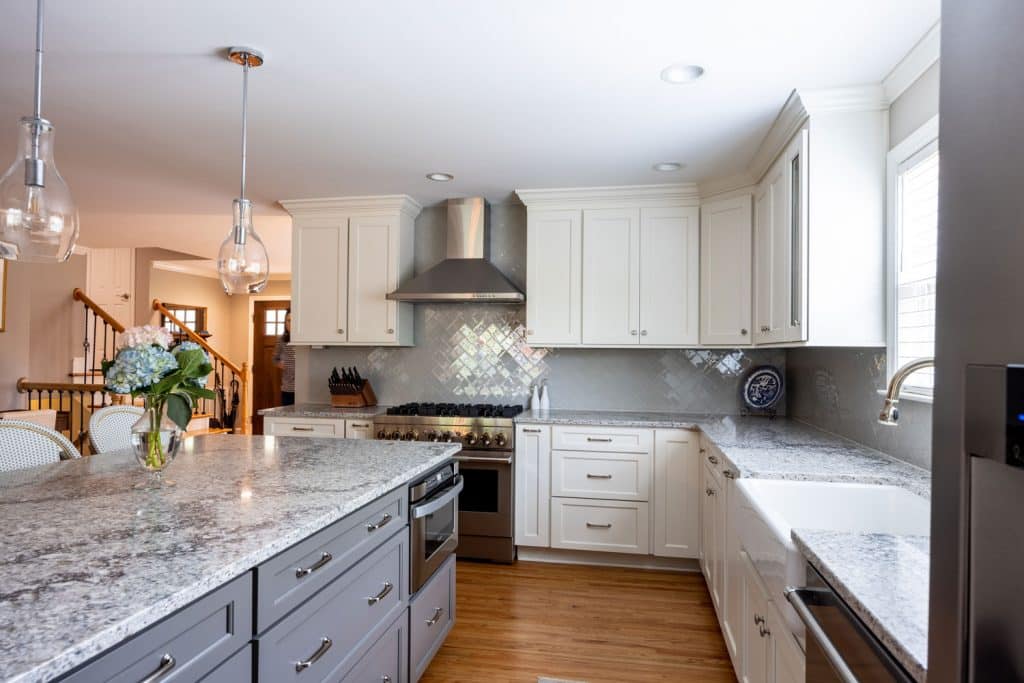 Multi-Purpose Islands
Speaking of islands, they are an essential building block of your Charlotte kitchen remodeling project. Before you and your licensed, professional remodeler sit down to create your ideal kitchen plan with our kitchen designer, carefully consider how you envision living in the space. The way your family wants to live should drive key features of your design/build plan, and the island can play an essential role in that.
That's because the best islands usually serve multiple purposes. You can incorporate a breakfast bar or a seating area on one side, creating a casual dining space for quick meals or to encourage socializing while cooking. Installing an undermount sink, dishwasher, disposal with air switch, soap dispenser or a built-in cooktop on a large enough island offers extra functionality for food preparation. Although we do note that many homeowners favor a wide-open island surface that allows for more work area as well as flexibility for multiple uses and extra cabinets for additional storage. Some homeowners add a built-in wine fridge or a dedicated wine rack, allowing them to store and display their favorite vintages. Others with young children opt for a different type of beverage fridge to make juice boxes easier to reach or to put microwaves at a better height for younger users.
Integrated Appliances
Islands are not the only place where appliances are being hidden in 2023. Seamlessly integrating appliances into kitchen cabinetry is a key design detail for high-end kitchen remodeling that has made its way into even smaller kitchen designs. Concealing appliances behind custom panels or within built-in cabinets creates a streamlined appearance that's equally at home in everything from transitional to modern kitchen design. This stylistic detail allows the appliances to blend seamlessly with surrounding cabinetry, making them less visually intrusive. For example, a dishwasher can be concealed behind a panel that matches the cabinet doors. As refrigerator manufacturers focus more on external appearance, there's a split between homeowners who want to camouflage built-in refrigerators with matching cabinet panels and those who opt for a dramatic focal point with LED panels that can change color and are controlled via an app on your phone.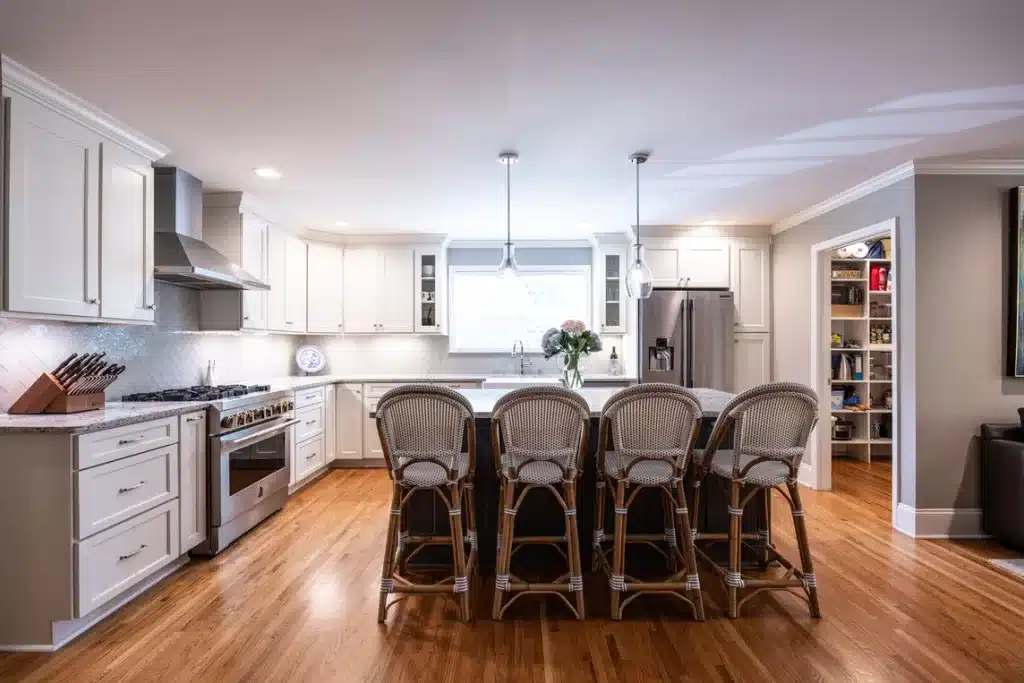 Functional Work Triangle
The concept of a kitchen work triangle goes back decades, but the idea of carefully arranging the sink, cooktop and refrigerator for maximum efficiency is definitely not out of date. As you are planning your Charlotte kitchen remodel, arrange these three key pieces to minimize unnecessary steps and create a smooth workflow for the way you really cook. That might mean positioning the sink near the dishwasher for ease of clean up, putting the refrigerator near your prep area so you won't have to carry vegetables too far to prepare them for use, and placing the cooktop near the refrigerator so you can easily grab ingredients, keeping in mind ample workspace.
If you eliminate time spent moving between these elements, your work in the kitchen will be more efficient and you can spend more time enjoying the space.
Hidden Storage Solutions
So how do you keep that gorgeous new kitchen looking good? Hidden storage solutions! Storage solutions that work for the way you actually cook are essential for a clutter-free and organized kitchen. We try to utilize tall pantry cabinets with pull-out drawers, specialized dividers for utensils and spices, and deep drawers for pots and pans in our Charlotte kitchen remodels. Floor-to-ceiling cabinets or open shelves can help maximize vertical storage space and display decorative items or cooking utensils you use frequently.
What about those wasted corners? Design corner cabinets with pull-out shelves or lazy Susan's to make the most of every inch. Installing a walk-in pantry or a well-organized pantry wall is another excellent option for storing non-perishable items, small appliances, and pantry staples. These and other similar storage solutions maximize functionality while keeping your kitchen looking sleek and organized.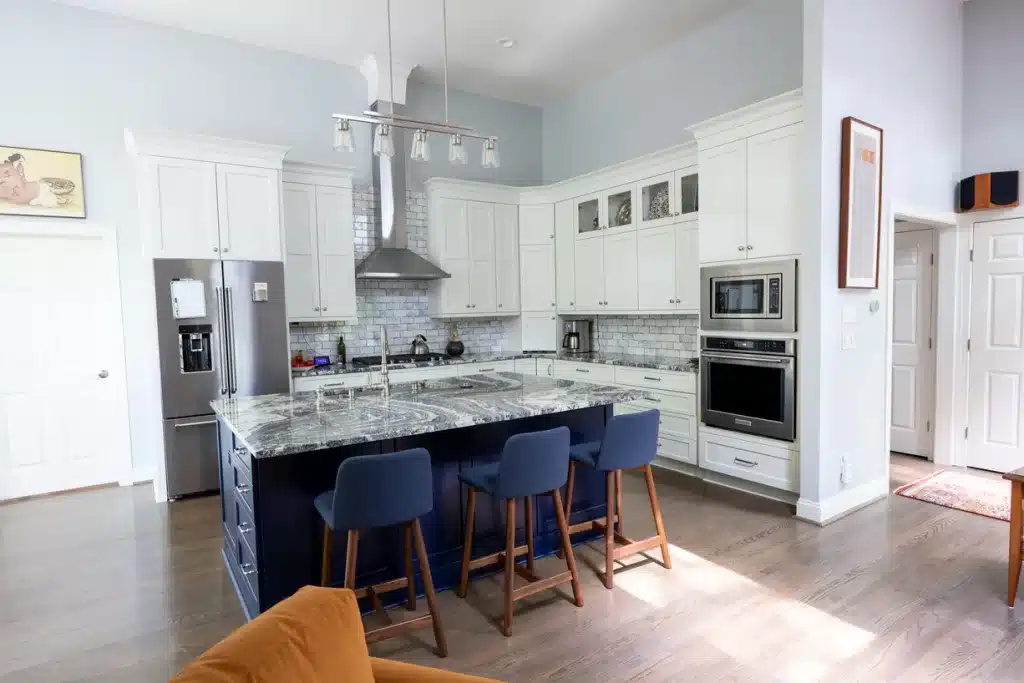 Ventilation, HVAC, Windows/Doors
 It might not seem as glamorous as selecting new appliances, but proper planning for ventilation, HVAC and window/door placement can have an even more dramatic impact on how your kitchen functions and feels.
If you are installing a larger capacity range, moving it to a new location, or adding new features like a grill grate, planning for adequate fresh air and exhaust ventilation placement and sizing for code compliance is essential. Of course, if your previous down-draft ventilation was not adequate for your needs, you'll want to upgrade it regardless of whether you make any other changes.
Speaking of air quality, when you shift cabinet and appliance locations, your kitchen designer and remodeler should also consider whether you'll require a new HVAC vent layout. Vents are typically placed at locations where you are most likely to need heat or AC for your comfort, and if work stations and meal serving locations shift, your vents should as well.
Don't neglect the importance of exterior views and natural light. If your kitchen sink moves, for example, your window placement will most likely shift as well to capture an exterior view. Likewise, if your traffic flow is altered, placement of interior and exterior doors may need to move to better accommodate the way you and your guests will want to move through the space. Palmer Custom Builders will take all of these factors and more into consideration when planning your design.
Finishing Touches
While we've talked primarily about design as it pertains to layout in this blog, it's worth mentioning to build at least a few splurge-worthy items into your kitchen remodel. Upscale elements such as premium countertops, statement-making lighting fixtures, and exquisite backsplashes will make your kitchen a reflection of your personal style and a place where you actually will want to spend time. Hidden continuous plug mold eliminates those unattractive wall outlets in a beautiful, new tile backsplash. And added bonus is that many of these premium materials – like quartz, granite and other solid surface options – not only make your kitchen look better, they also offer increased durability and improve resistance to stains and scratches, making them more durable and sustainable options as well. Statement lighting fixtures, such as dramatic pendant lights, serve as focal points and set the tone for the room. (Always remember to layer lighting, utilizing natural light, overall lighting, and task lighting under cabinets and even inside drawers to enhance functionality while creating the welcoming and warm ambiance you want.)
By selecting the right kitchen tools, and working with an experienced qualified professional remodeler, your Charlotte kitchen remodel can serve up satisfaction for years to come.