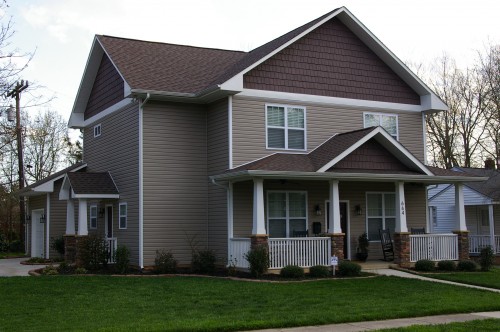 It's no surprise that the average square footage of new homes built in the United States today is shrinking. From a high of roughly 2,700 square feet, the average size new home declined to 2,392 square feet in 2010. While that's still up considerably from the average house size of 1,400 square feet in 1970, one could argue that we Americans just have more stuff to fit into that space these days – from the myriad appliances that pack our kitchens to our family room's electronic necessities and the toys, garden tools and sports equipment that generally find homes in our garages – we simply need space for our things.
While baby boomers are downsizing and the younger generation is economizing to meet the demands of today's changing economy, the smaller homes we are building have several key factors built in to accommodate both our stuff and our lifestyles: efficient, functional and flexible designs. Seldom used or under-utilized spaces – such as formal dining rooms and isolated media rooms – are being replaced with more adjustable areas. Dining rooms, for example, are becoming home offices. The addition of bookshelves and a work area warms up the space and makes it more approachable, allowing room for a laptop as well as storage for work necessities. When a gathering requires it, the space can easily be turned back into a dining room with more personality than boring, plain walls. Likewise, flexible design allows for small, under-utilized areas in hallways or bedrooms to become pocket offices with laptops where kids can do homework or parents can balance the books in an efficient work area. Instead of that outdated dedicated media room that guests have to trek to, homeowners are opting to install larger screens and surround sound in the family room, where family and friends are likely to gather.  (That's what we did in our own home, since we knew we wouldn't want to venture upstairs and away from the social heart of our home just to watch TV.)
It almost goes without saying that a smaller house plan needs smarter traffic flow. Hallways should be adequately sized. Interior pathways within rooms (think bottleneck areas like the space between the cooktop and island in the kitchen or the area between the couch, TV and main walkway in the family room) should be wide enough to accommodate multiple people engaged in varied activities. That way, people playing on the Wii won't crash into those bringing popcorn to their appreciative fans.
While these changes don't mean that we will not build larger homes again in the future, experts and homeowners alike seem to agree that we will build them right, with a focus on improved traffic flow and flexible living spaces.