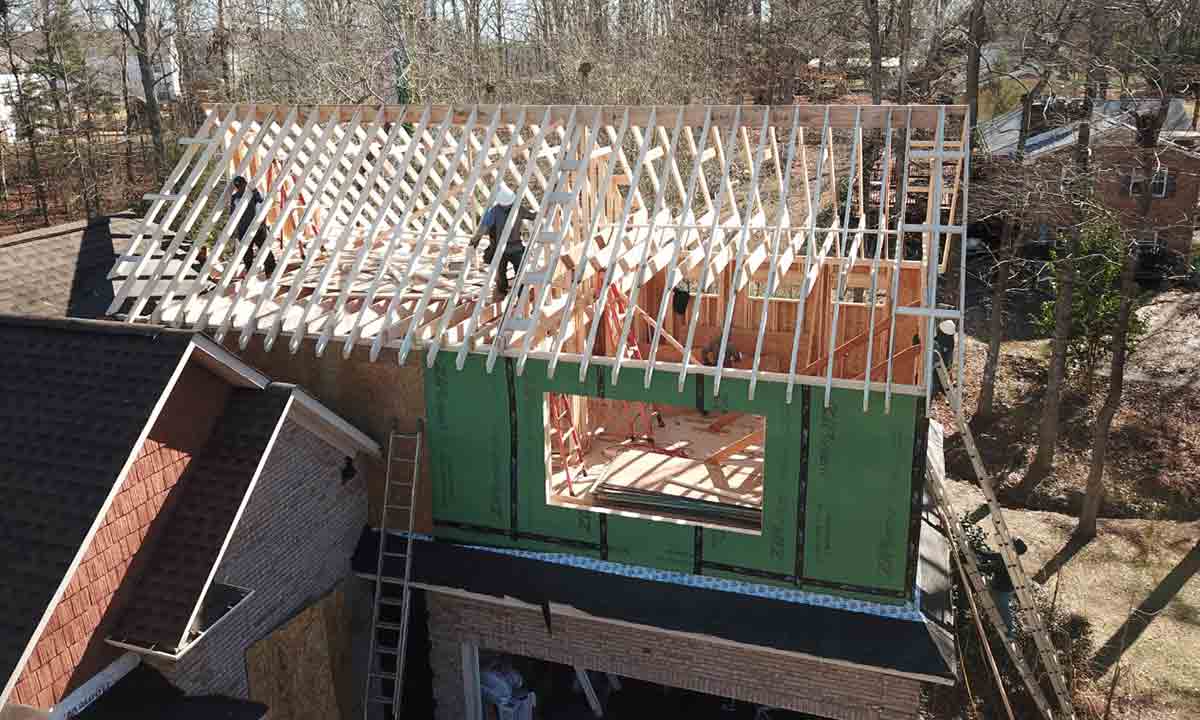 Don't move out – Move UP with vertical home additions!
What's a Charlotte family to do when they are living in the perfect location, and they run out of space? Vertical home additions might just be the solution you're looking for!
What's a Charlotte family to do when they are living in the perfect location, close to schools, work, family, church, etc., and they run out of space? The simple answer used to be building a home addition, yet many local families believe they can't build out because the lot and its setbacks won't accommodate it. That's true whether you're talking about a bungalow in Cotswold or a waterfront cottage on Lake Norman or Lake Wylie.
I'm happy to say that we have a viable solution – don't build out, build up with a vertical home addition!
Charlotte renovations are beginning to catch up with a trend that I personally witnessed years ago on Long Island. That is, as property values and congestion both escalate and homeowners no longer are willing to sacrifice the convenience and amenities of in-town locations, many can't afford to buy a larger house in the location they want. Small lots and setbacks make an addition seemingly impossible, so they struggle to make their current homes work. Our solution is simple – we build up.
Adding vertical space is a cost-efficient way to make your current home your forever home. There are several different directions we can go with vertical house additions. The simplest applies if you have a two-story space, such as great room, family room or even a foyer. We add the necessary structural support and create a second floor in what had been a two-story space. The result is not only extra square footage, but a quieter and more energy efficient home, since the sound of first floor activities will no longer drift upward and heated and/or cooled air will no longer escape to the ceiling far above. This type of addition is called a floor-over.
Building a home addition over an existing garage is another option. Often, the pitch of the roof can accommodate an addition as is, or we can remove the existing roof and build up. In doing so, you will get straight full-sized walls and more usable square footage.
The next option is to go up within your house itself. By tapping into attic space and raising the roof if necessary, you can gain an impressive amount of space within your existing house. In some cases, current HVAC systems may be able to handle the addition, while in others, you may need to rework or add to your current utilities. This is a major home remodeling project, and you should budget accordingly. (We've seen projects that range from $150,000 to around $450,000, but obviously, costs will vary depending on what you want to do and how it fits in to your existing home.) Yet for many families, the cost is far less than it would be to buy a larger home in the same neighborhood and the value is far better than moving farther away from an area they love or from Uptown Charlotte where the values of homes are continuing to rise significantly. (Plus, your home is gaining in resale value as you add heated square feet!)
No matter which of the options you take, it's essential to work with a professional, licensed North Carolina General Contractor or SC Residential Builder who understands both the structural and aesthetic requirements as well as local building codes to make certain that the addition you want is one that is permissible in your location.