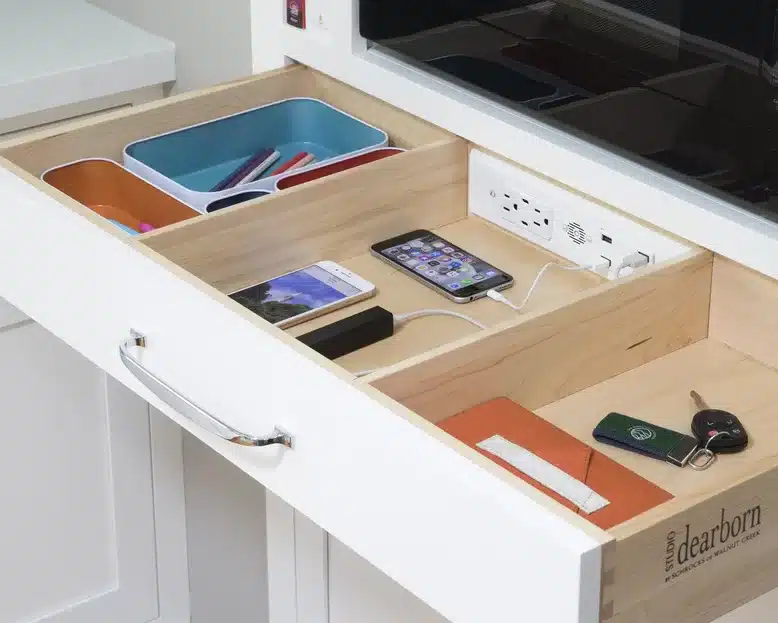 Easy Charlotte kitchen renovation: Kiss junk drawers goodbye
Growing up, the house I lived in was well organized and tidy. But it was universally understood and accepted that the kitchen was allowed one "junk drawer." We all know it, and probably had it. It was the drawer that held the items that didn't belong in the rest of the organized drawers, like birthday candles, twine and twist ties, random batteries, and maybe included a paperclip or two thrown in for good measure. Having just one drawer like this is still acceptable, in our opinion, but if you long for the organized, perhaps even alphabetized drawers of your dreams, you'll be thrilled to know that there are many functional and very cool options for staying organized these days. Best of all, these accessories can give your kitchen a new lease on life by making it more functional. While organization is definitely not a full kitchen remodel, this type of small renovation – along with touches like switching out faucets and/lighting fixtures – can help homeowners live with an existing kitchen longer. Let's take a look at a few of the newest options that Kitchen & Bath Designs recently reviewed.
Professional cutting boards
Cutting boards are an essential part of kitchen prep, but their designs have come a long way from the unhygienic wooden versions of the past that cracked or splintered over time. Modern materials and design improvement have dramatically changed the way we cook. Some of our favorites are NoTrax using high-density, natural rubber. They won't crack, splinter or absorb odors or liquids. Because they are heavy, they won't shift on your counter. The natural rubber is resilient, which keeps your knife edges sharper for longer. Plus, the professional-grade versions can be resurfaced by sanding. Other new designs feature boards that are built into cabinet drawers, tucking out of the way when not in use but readily accessible when you need them.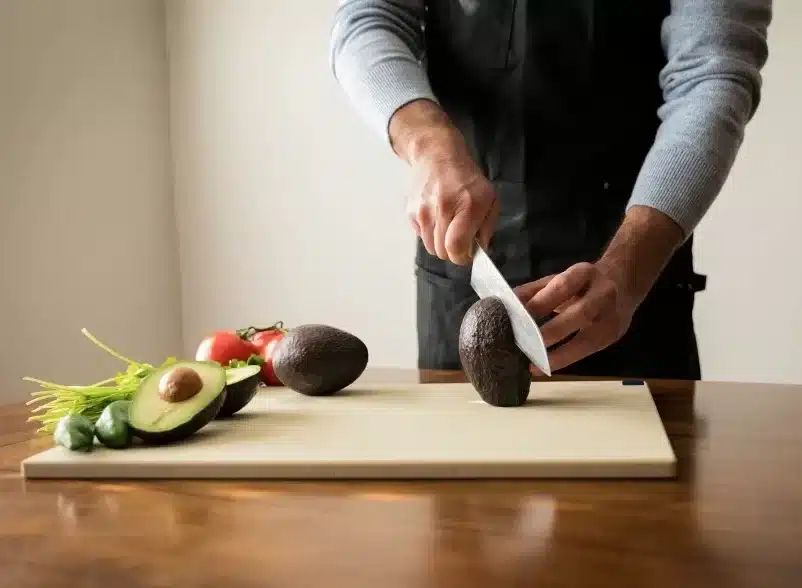 Dropout cabinets
If you love to cook and currently have a drawer full of random spice jars rolling around, this clever design is for you! Dropout Cabinet Fixtures has a great solution for storing spices in one organized and tidy spot; a dropdown spice rack cabinet drawer. This is literally a slim cabinet the width of a spice rack that you hang next to you range or cooktop. Normally up and out the way, you pull the cabinet down to access the spices when you need them, and push it back up when you are finished cooking. There are five different product options to choose from, with some including space to keep Keurig K-Cups, a pull-out trash can, and even a hidden ironing station. The Drop-down spice rack is award-winning, receiving kudos from the National Hardware Show for Most Innovative Concept and two Product Innovator Awards from Kitchen & Bath Business Magazine. Whether you organize your spices by category; sweet in one section, and savory in another, or want to alphabetize them, the dropout cabinet is a beautiful way to stay organized.
Drawers with more
The Riverso Sliding system by Richelieu allows drawers to open from either end of an island or cabinet. With this unique design (one side stays closed while the other is open), you can get full access to all of a drawer's contents from both sides. It also saves time and increases workflow efficiency if someone is busy with meal prep on one side of the island and someone else needs access to a kitchen drawer from the opposite side.
The Drawer Organizer
There are many options for drawer organizer systems, but Hafele won the nod from Kitchen and Bath Designs for their Fineline products. This line offers inserts for kitchen drawers, including cutlery trays, knife blocks, spice holders and plate racks. And they have options for standard or deep drawers. We love this idea because it reduces clutter by taking items off the kitchen counter, and keeps the drawers organized as well.
Charging systems
There are two new options for keeping your devices charged without cluttering your counter or desk. The Docking Drawer offers a simple (but brilliant, we think) way to lose the electronic clutter by tucking cell phones, tablets and power cords into a drawer for charging. Docking drawers provide fast charging USB-C ports, AC and USB-A ports, all stashed neatly inside a drawer, for charging all your devices without cluttering a countertop or desk. They are easy to install in new or existing drawers, and are a great addition to the kitchen or office. Consider them for the bathroom as well, for keeping hair dryers, curling irons and the like easy to use from the drawer outlet, and out of sight when not in use. There's also a safety feature that will cut power to the outlet when surrounding temperatures exceed 120° F.
Another option is the Grothouse QI Inductive hidden charging system. Grothouse is known for their beautiful wood and metal countertops and cabinetry, and they now offer a simple and elegant way to charge devices without messy cords plugged into an outlet. The charging system features a wireless charging capability hidden under the counter. With it you can simply place your cell phone or tablet on the countertop for instant charging. This feature can be installed in any of Grothouse's wood or Anvil metal surfaces.
Despite all the cool new tools for staying organized and increasing the functionality of your workspaces, you may still find it liberating to hang onto that one "junk drawer" in your kitchen or workspace. If so, it's ok, go ahead and satisfy your inner wild child. But using some of these new tools will keep your home and office spaces organized and clutter free, which will undoubtedly provide some much-needed peace of mind, and might even win you a nod of approval from your parents or those OCD friends when they come to visit.