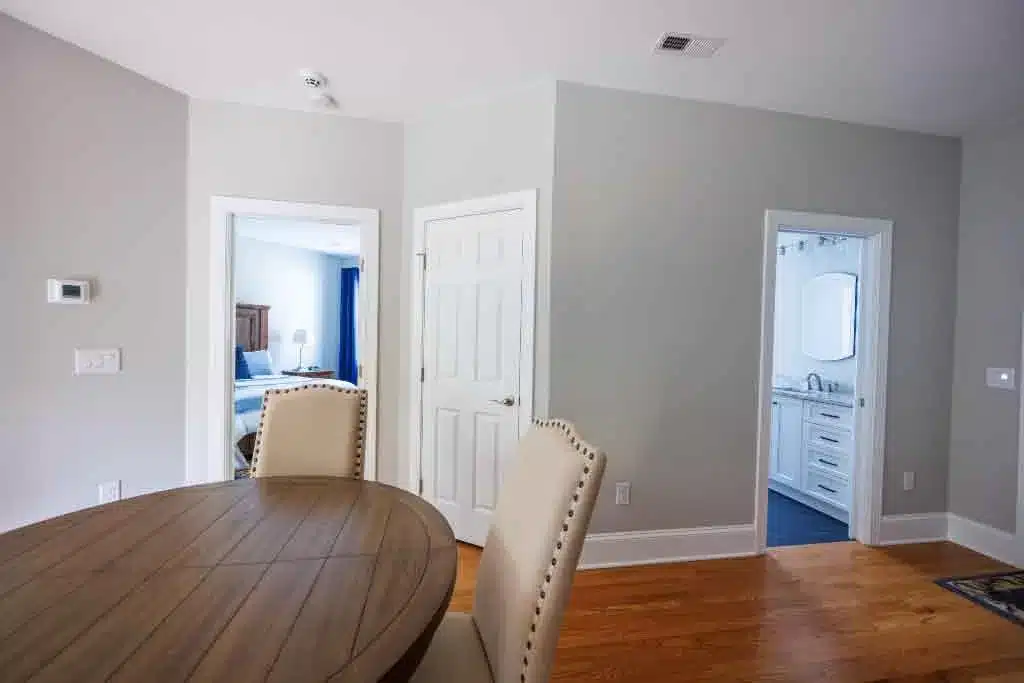 More than meets the eye in Charlotte home remodeling
When you embark on a Charlotte home remodeling project, you should be prepared for any unexpected issues that a qualified, professional remodeler might find behind the walls. While we always emphasize the critical importance of working with a qualified, professional remodeler, diagnosing and repairing underlying issues are two of the areas for which their experience will prove invaluable to both your project and your family's overall safety. Finding and correcting issues that can cause you significant problems in the future is an often-unmentioned benefit of remodeling.
Getting Up to Code
A qualified and experienced professional remodeler who pulls permits – as everyone should when required – will understand which parts of your home and its systems are up to current code, and which will need to be updated to get you to code compliance. While getting up to code can seem like an added expense if you encounter an issue, owners of older homes should realize that building codes were put into place to protect them, and that failings are potentially dangerous. For example, windows at the bottom of steps, or less than 18" off of the floor, should be tempered glass, so that if a person were to take a tumble into them, they would not suffer harmful and potentially deadly glass cuts. Other codes apply to the diameter between balusters on steps – which are potentially hazardous to young children – and railings on porches. There are codes for plumbing, electrical and gas, among other things. Work with a contractor who understands them and works to get your home to where it needs to be.
Smoke Detectors
This is a safety issue that is a relatively simple fix. Current code calls for smoke detectors in each bedroom, outside each separate sleeping area by no more than 10 feet, and on each additional story of the home. These smoke detectors should be interconnected so that if one is triggered, they all go off. Older homes are unlikely to have this many and are thus inadvertently putting your family at risk.
Carbon Monoxide
Carbon Monoxide detectors are needed if you have natural gas in the home on all levels outside of sleeping areas.
Wiring Issues
Some all-too-common thing we see in older homes are remnants of prior wiring projects and inappropriate wiring. If your home has seen several – or even just one – previous owner who liked to DIY, there's a chance that things were not done correctly. We have seen older interior wiring run underground to power outdoor lights, which is bad because the insulation is not made to stand up to the rigors of outdoor use. Loose wiring and wiring that is incorrectly grounded can present a fire hazard.
In some older homes in Charlotte and older neighborhoods like Chantilly, Myers Park, Dilworth, Eastover, Elizabeth, or Plaza Midwood for example, you may sometimes find Knob and tube wiring.  You'll see pictures in this post of Knob and tube wiring that had been spliced together with painters tap. We recently discovered this during a remodel in an over 100-year-old home and then quickly removed and replaced this wiring. Likely this dangerous splice had been done by a former inexperienced DIY homeowner. It can create a fire hazard if wiring of this type is still in your attic or behind the plaster in your walls.
Water Finds a Way
The next most common challenge we find in homes is water damage/issues. Oftentimes, this is related to roofing or siding that is improperly installed or just aging. When flashing is not properly installed, rain gets under it and then runs inside your walls or roof. Over the years, this water slowly rots away wood, causing issues behind the walls that you might not be aware of until a demolition project exposes the problem. This can also impact how well your doors and windows close and whether or not the heated and cooled air you are paying for remains inside your home.
Likewise, toilets, faucets, bathtubs or showers might have slow leaks in lines that are easy to miss. We often have pulled up tile in an existing bathroom to discover that the underlying subfloor is literally rotting away. We'll talk more about how this impacts crawl spaces in a moment. Sometimes, this problem is more immediate and evident. As in one story we heard about that involved a water line coming out of the sink faucet in a master bathroom that was barely connected to the cutoff valve under the sink. Unfortunately, the line blew off and the water remained on. The resulting 43,000 gallons of water that spilled out of the line damaged the master bathroom, the cabinetry in the kitchen below, and ended up filling a huge part of the basement. Proper installation on the front end can eliminate this hazard, and noting potential hazards like this in other areas of your home is something that a qualified, professional remodeler can help you with.
Gas leaks
Perhaps the scariest issue is an underlying gas leak. We recently tackled a master bathroom remodeling project for a homeowner who was living in another state. One of our tradespeople
smelled gas in the early phases of deconstruction. We immediately shut down the project and called the gas company. What they found was not just one, but five separate natural gas leaks in the crawl space that had built up to create a potentially hazardous pocket of gas. The leaks
resulted from previously completed fireplace gas log, HVAC and dryer installations. In this case, we worked with the gas company to get the leaks repaired and make the home safe both for
our construction crews and the homeowners' eventual return.
Searching high and low
Because crawl spaces / basements and attic spaces are quite literally out of sight, they are often out of mind, which means that issues can stay covered for quite some time before they are noticed. An experienced, professional remodeler who looks at the space can catch small issues before they become catastrophes. While the built-up pocket of gas was obviously dangerous, some hazards are far stealthier. Wet or even damp environments can provide a nurturing environment for mold, which can cause health hazards for your family. Habitually wet environments can also damage your home's foundation and the wood framing and subflooring under it. Leaks in attics can do the same type of damage from above, while critters like squirrels or bats can wreak havoc with wiring and insulation.
Of course, we hope that your Charlotte home remodeling project proceeds flawlessly and that you don't find any issues that need to be addressed in the process. However, working with an experienced and qualified, professional remodeler should give you peace of mind should you encounter any issues – and your home will be better for it.