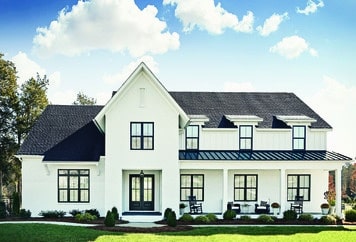 Painted white brick – A timeless exterior remodeling project
What's involved in giving your home the classic painted white brick exterior remodel?
If you drive down virtually any side street in Myers Park or Dilworth, you'll immediately notice a very common theme – beautiful brick residences that have been painted white. There's something about the classic style of enduring architecture and painted brick that stands the test of time. Plus, white visually makes a home appear larger (whereas darker colors tend to fade into the landscape a bit more) lending a stately appearance to even smaller homes. But what's involved in giving your home this classic makeover? Here's a brief overview.
First and foremost, there's the painting itself. Unless you have a manageable one-story home and relish the thought of climbing on ladders, this is a project best tackled by a professional crew. That's primarily because proper preparation is critical to an enduring paint job. Before you paint, the brick must be thoroughly cleaned and prepped – with any necessary surface repairs done, then the proper paint must be used under the right conditions, and finally, ideally applied by a team of pros who can get the job done quickly and efficiently when weather conditions are ideal.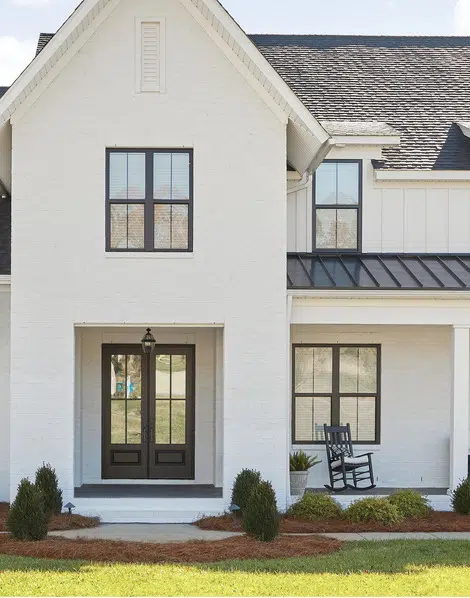 Yet it takes more than a coat of white paint to leave a lasting impression. To really make your exterior remodel pop, a new black roof is ideal. Architectural shingles or a metal roof will add dimension and texture to the façade. Particularly if your home has a few years on it, this is also the ideal time to replace gutters and downspouts. New black gutters provide a pleasing contrast, while unique accessories like customized rain chains can add visual interest and express your personality.
With a white exterior, you'll also notice your windows more than ever before. Consider replacing existing windows with new, energy-efficient and lower maintenance versions. White frames are a traditional option, while black frames convey more of an industrial look. Consider black, gray or even red shutters to add another layer of texture to the front exterior.
Since a white house almost screams "look at me," you'll want to pay particular attention to the front porch and entry. The front porch instantly becomes a key focal point, adding color and contrast. You can add whatever flair you like, from a traditional shingled roof to a decorative copper awning that patinas over time a classic look, or go contemporary. We've seen some beautiful metal roofs hung from suspended wire cables that update the look beautifully. Select a new front door in a complementary style, and then properly scale porch lights to complete the look.
Don't neglect to add curb appeal. One thing to be aware of about a white house is that it doesn't necessarily play well with our Carolina red clay. Landscaping fabric placed over adjoining beds and under ample mulch can help reduce splatter from clay bouncing against the house during heavy downpours (or even during weekly grass cutting).
The sky is really the limit when it comes to landscaping. A boxwood border gives a tailored look, while mounds of hydrangeas or azaleas convey southern charm. Select landscape lighting that shows off your home's architectural features to finish the look.
While painting your home white the right way is not an inexpensive endeavor, most homeowners find that it is well worth the investment in terms of both curb appeal and neighborhood bragging rights.