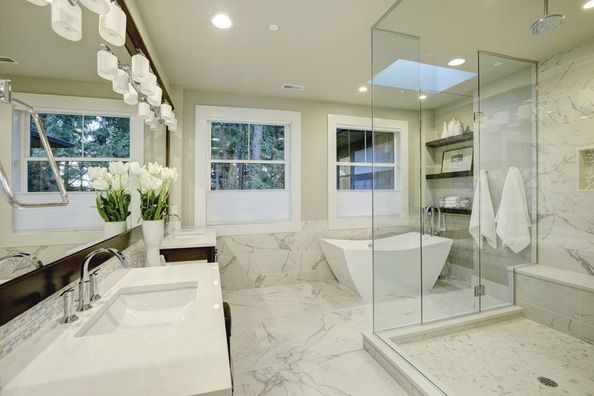 Frameless glass showers open up Charlotte bathroom remodel options
Want to add a contemporary touch to your Charlotte bathroom remodel no matter what your home's style? Have you considered a frameless shower door?
Want to add a contemporary touch to your Charlotte bathroom remodel no matter what your home's style? Then consider a frameless glass shower door. These beautiful designs add an updated touch to the bathroom, but there are some very practical and functional reasons why they make so much sense to include in a Charlotte bathroom renovation as well. Here are just a few of our favorites.
They are durable.
Although they look beautiful and delicate, frameless glass showers are actually exceptionally durable – as long as you select a quality brand. The glass used to create the look is generally much thicker than the material used in the average shower door.
They are easier to clean.
In a traditional shower door, there are lots of crevices and spaces where soap scum and mold can accumulate. Frameless options are literally a single pane of glass that can be squeegeed off, making them easy to clean.
They are customizable.
You can custom order a frameless glass shower in literally any size, meaning your design is no longer confined by traditional restrictions. That means that small spaces where you may not have been to fit a traditional swinging door and larger, open spaces, are now viable options.
They go both ways.
Unlike a traditional shower door that either opens inward or outward, frameless versions can open either way on demand. That allows individuals to select the option that works best for them – and to change it if they are taking something in or out of the shower (bathing a muddy dog is the first thing that came to mind!).
They let in light.
If you've ever had the frosted glass shower doors of the past, you realize that while they let some light in, they don't let in nearly as much as you would want. Since these are essentially open panes of glass, natural or artificial light can easily fill the space.
They are dramatic.
Since they are see-through, frameless showers literally fade into the background, but at the same time, they become a dramatic focal point in the space because they are so different. 
They are timeless – and modern.
If you want to make a traditional space look up to date, simply add a frameless glass shower door for an updated feel. Have a modern home you want to make look ultra-luxe? Add a frameless glass shower door for a touch in keeping with a clean and simple design vibe. Have a transitional home? It works equally well there, too. In fact, this style is truly universal. We've seen massive showers the size of walk-in closets that include claw footed rubs tucked behind frameless glass doors all the way through rustic mountain cabins with stone floors that use this design element equally well.
No matter what your décor or the age of your home, consider a frameless glass shower door as part of your Charlotte bathroom remodeling project.