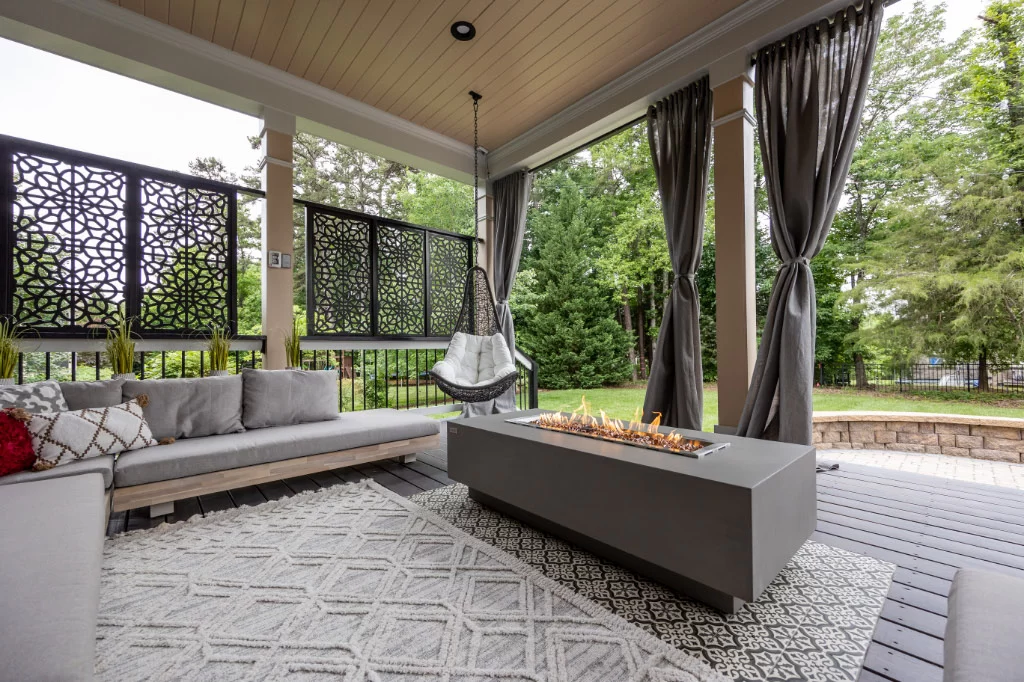 The perfect time to plan an outdoor living addition? Now!
It may seem counterintuitive to consider an outdoor living addition as you are putting up holiday decorations, but the waning months of the year and the beginning of the next are some of the best times to contemplate a Charlotte outdoor living renovation.
Here are just a few of our favorite reasons why 'tis the season to think about the outdoors.
The Pain Points are Fresh.
You've likely spent the past three seasons enjoying – or wishing you could better enjoy – your outdoor living areas. Right now, you know exactly what you are missing in that space – whether that's protection from the elements, additional entertaining areas, accessible walkways or more. While you will recall the major things in the spring, it's the little details, like where it would be nice to have electrical outlets, better WIFI coverage or a direct route from driveway to pool, that may fade in your memory over time. Even if you don't start your project now, take the time to jot those ideas down and save them for later.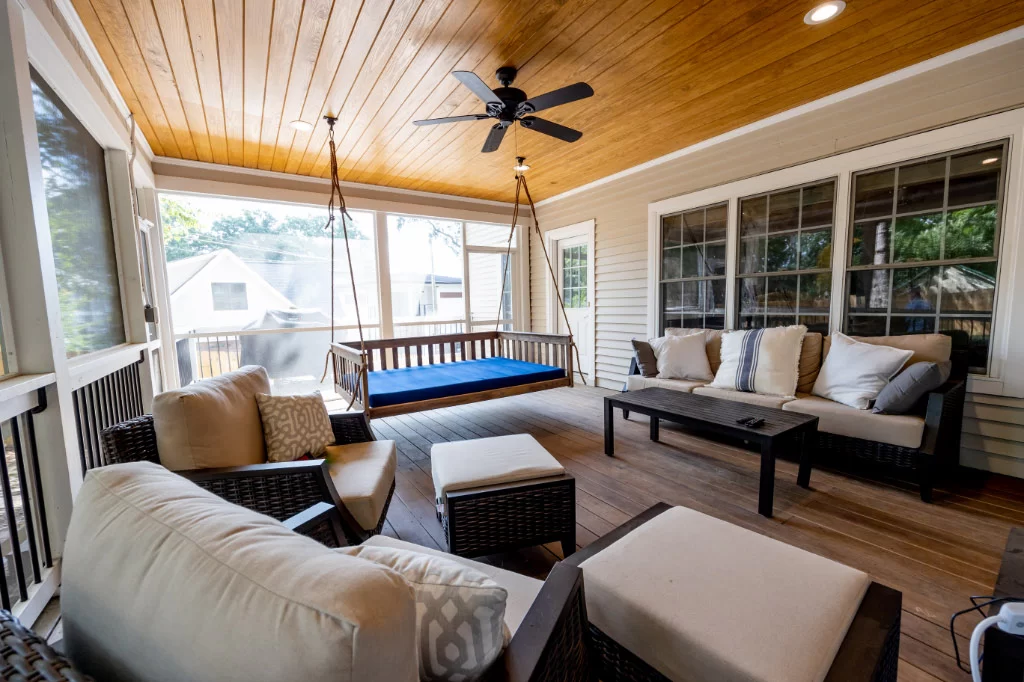 Holiday traffic can help you plan.
The holidays are some of the busiest times of the year in our homes. When you have a house full of guests, you gain a clear understanding of which spaces work – and which don't – inside your home. This is the perfect time to envision how your interior could blend into outdoor living spaces next year. That might mean a gracious opening into a sunroom, connectivity to a screened porch, or an external living area centered around a fireplace and outdoor kitchen.
We live in the South y'all.
As I'm writing this blog, it is 80 degrees and sunny in November. While that is not typical, it's also not terribly unusual for Charlotte homeowners to be able to enjoy outdoor living areas all year round. Add in a sunroom, a climate-controlled screened porch, an outdoor fireplace, portable heaters or a hot tub and you can definitely maximize your enjoyment in any season – which means you won't have to wait until spring to enjoy the fruits of your planning and labor.
Contractors are more available.
Particularly as we come out of the COVID-induced remodeling rush, getting on contractor's schedules has been a challenge. If you wait until spring to begin planning a project with a qualified, licensed remodeler, their schedules – and those of their tradespeople – may be full. If that happens and you have a complex project, you might not be able to enjoy your outdoor living space until well past the season when you'll want to use it most.
Materials may be, too.
If you've ever attempted to venture into Lowes or Home Depot on Memorial Day weekend, you fully understand how we love to landscape in Charlotte. Since fewer people are working on outdoor living projects in the winter months, your contractors should have a wider variety of more readily available materials – and some may even be discounted since they are off season.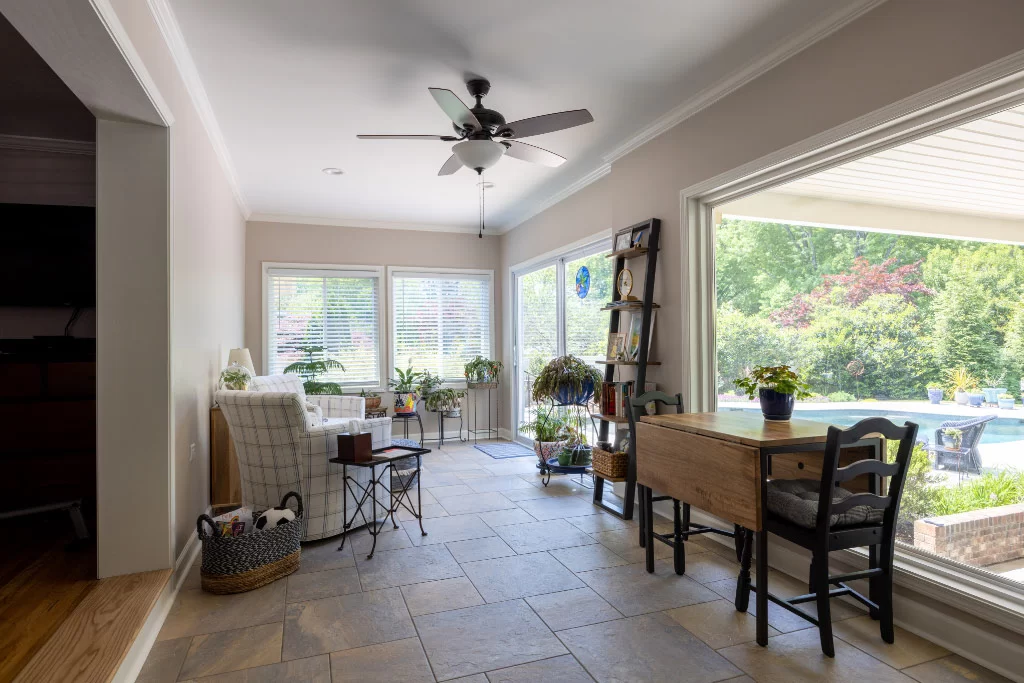 You can take the time to plan.
The best outdoor living plans are well thought out and take into account all of your family's varied needs. They consider things like how the space connects to the indoors, what needs to be reconfigured inside to ensure proper traffic flow, how to seamlessly blend the addition with your existing home and which materials will not only look good now, but will stand the test of time. If you start a project in spring and are in a rush to complete it while you can still enjoy it, you and your contractor won't be able to invest the time necessary to ensure that all the details come together into a cohesive whole.
When it Rains, it Pours.
We do live in the South, where rainy springs are the norm. Although none of us can predict the weather, we can guess that it will be unpredictable. We've seen rainy seasons that have delayed essential project building blocks – like digging foundations – for weeks. While getting an early start can't guarantee that you'll have perfect weather, it does give you a buffer from poor building conditions.
Bloom Where You are Planted.
Another benefit of working in the winter months is the toll outdoor construction will take on your yard. Moving heavy equipment will destroy your lawn, trenches may need to be dug for utilities, and shrubs and trees may need to be removed, transplanted or planted. When you get an early start, you give these new or newly placed plant materials time to get established before the brutal heat of a Charlotte summer.
There are many reasons why you should start planning for your outdoor living addition this winter, but perhaps the best one is simply that it will give your family a head start on envisioning how you want to live in your home this summer.