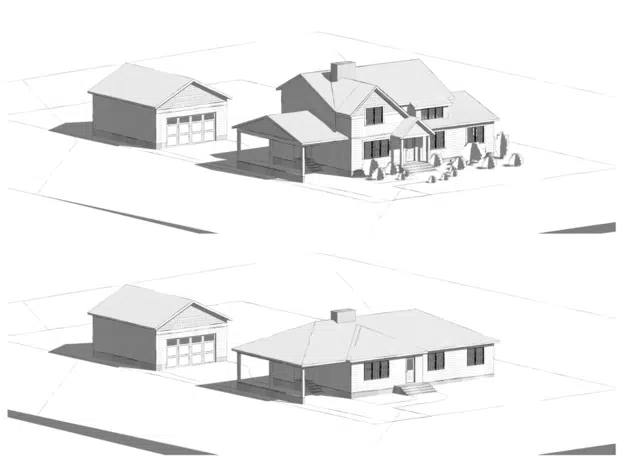 Charlotte remodeling projects – What to expect as you plan
A relative scarcity of new construction homes paired with a very natural desire for people to remain in homes they love are driving the trend toward Charlotte remodeling projects and creating home additions.
As more people realize that the pandemic has shifted the way we live in, work from, and attend school from home – perhaps permanently in some ways – Charlotte remodeling projects are becoming even more popular. A relative scarcity of new construction homes paired with a very natural desire for people to remain in homes they love are driving the trend toward remodeling and creating home additions. As more people consider making this move from the comfort of their homes, they want to know what's really involved in the remodeling process.
Fortunately, we literally wrote a book on that, "Remodeling and New Construction with No Regrets." You can learn more about that and how we strive to help clients ensure that they don't have any remodeling regrets on our website. But the main thing to realize is that if you work with a qualified, licensed professional remodeler and team with many years of experience, you are not alone.
Unlike what you see condensed into a 30-minute home design reality TV show, a real home remodeling project requires quite a bit of planning on the front end as well as a healthy exchange of ideas, possibilities and realities during multiple design meetings with your contractor and their team. And that's a very good thing.
Here's why:
Your contractor and their team are professionals who have experience with your type of project. They have more than likely used the materials you are considering and clearly understand the pluses and pitfalls of working with them. In all likelihood, they've been able to see firsthand how they held up as they revisited sites months or even years later. Their help is key to designing a remodeling project that addresses your needs and then finishing the space so that it meets your expectations – now and in years to come.
What you don't want to happen is to complete a lengthy and costly kitchen remodel and then ask yourself the question: "What if we had just moved this over there?" Thinking of the possibilities beforehand is what you and your contractor should be discussing. On one project we are currently planning, we're talking about removing a portion of a wall with the client. That wasn't something they had initially considered. However, once they heard the idea and actually saw it come to life as we were able to walk them through it dimensionally on a Zoom call, it made all the difference in their planning. Reviewing a blueprint is one thing, but looking at a three-dimensional image from above and seeing exactly how and where a change impacts everything else is something technology allows us to do. Clients can see how much space there will be between the corner of an island and the adjoining wall. Whether it's moving a refrigerator, adding a built-in bookcase, or opening up a wall, the thought that goes into this process will make all the difference in how your project functions, as well as how it looks.
On TV, selections just show up. In reality, all the details from the size and style to finish and how materials mesh with all the others in the room have to be planned for the best results. That's where working with a designer (like the one on our team) is a tremendous help. She can offer suggestions based on your style and your budget. Her knowledge of materials will help prevent you from making a costly mistake, and her expertise can bring it all together beautifully. Perhaps most comforting of all, you simply don't have to do this alone. She'll accompany you to the various vendors and be there to answer questions and offer advice.
Want to know more about the entire process involved in a remodeling project – from the initial planning we touched on here to construction itself? Visit our website for a more detailed look at the entire process.w