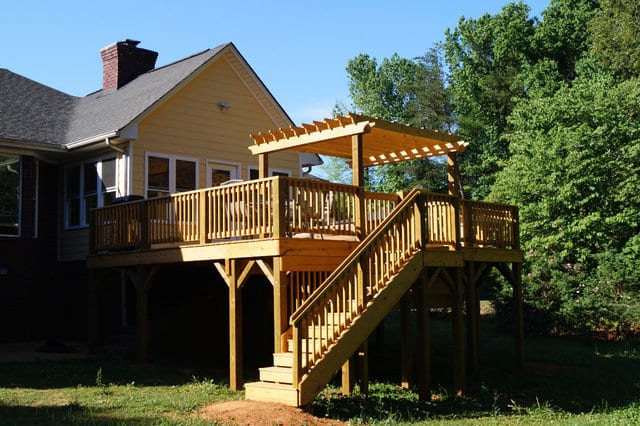 Take cover with an exposed deck renovation!
Sweating on your deck instead of enjoying it? Here's what to know if you're considering a deck renovation.
Here in the south, many homeowners soon discover that open decks are simply too exposed to the heat of the sun to be used for much of the summer. After one too many afternoons of sweating on your deck instead of enjoying it, you might be tempted to cover it up with some home renovations. Here's what you need to know about your options.
First, although it seems tempting to just throw up some posts and a roof, you must realize that most decks simply weren't structurally designed to handle the extra weight created when you cover them up. A qualified, professional remodeler can assess your existing deck and explain what needs to be done to get it up to code. We typically find that we have to put in larger footings and sturdier posts before we can begin to enclose the space. We also look at the existing roofline to determine how best to tie the new structure in with the existing home and to make certain that we aren't blocking any egress windows on the second floor.
While true covered decks are home renovation projects, they offer wonderful heat protection – making you feel about 15 degrees cooler – as well as the additional benefits of a solid structure that ties into your home. You can dress this space up or down depending on how you finish it. Some folks like the look of exposed ceiling rafters, while others opt for the more finished look of bead board. Oftentimes, we'll insulate the ceiling so that if a homeowner wants to convert the space into a sunroom at a later date, they can.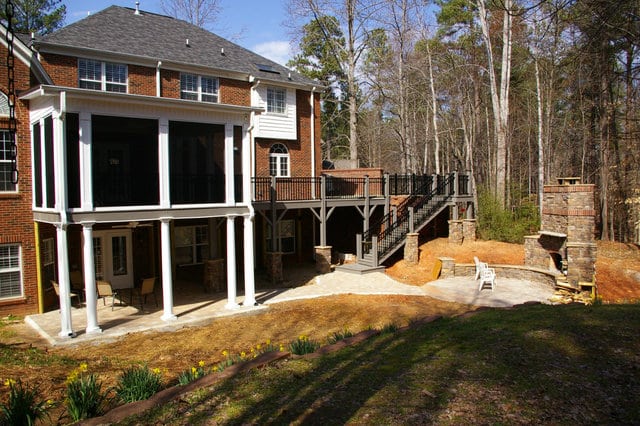 Since the space is covered with a ceiling, we can add recessed lights (which allow you to use the space at night) and ceiling fans (which not only cool the space; the air they move also helps repel mosquitoes). An added bonus is that we can install electrical outlets to allow you to truly entertain – whether it's hooking up a TV to watch a game or running a blender to make drinks by the pool. Best of all, you can use the structure in the heat of the sun or move a party in from the rain. (Plus, the extra layer of protection can keep sunlight's damaging rays out of your home's interior.)
While a covered deck is a very doable home renovation that offers the most comprehensive sun protection, some Charlotte homeowners opt for less intrusive (and less costly) solutions.
One of these is to build a pergola over an existing deck. These open wooden (or composite) structures diffuse the intensity of the sun – so it's almost as if you are sitting under a shady tree. Architecturally, pergolas can add dramatic appeal to your property. They are also the ideal place to add vines if you have a green thumb and like that natural look. Lately, we've seen more customers combining the advantages with more substantial shade protection by adding fabric coverings to these structures. In others areas of the country – like California, Arizona and Florida, there's a movement toward retractable shade sails that fit inside the joists of pergolas. While the fabric gives you additional protection from the elements, even a covered pergola doesn't give you the full advantages of a covered deck. (For example, you can install a ceiling fan on a pergola, but you'd need to install a waterproof electrical box and carefully channel wiring to keep it out of the elements.
Another possibility is to install a stand-alone Shade Sail. You've probably seen these large fabric sails at public places like the Whitewater Center. Made from a sun-resistant fabric, they effectively screen the direct rays of the sun and result in a felt heat reduction of about 10 degrees – much like sitting under a giant beach umbrella. A huge benefit of Shade Sails is that they require the least amount of construction to install – they simply require some heavy duty posts that can easily be attached to a deck or a side of the home. They are also incredibly flexible, since you can easily take them down in the off-season. Although you can order shade sails online, the ones we install are custom created to fit your exact dimensions and use much more durable fabrics that will last far longer than one summer.
No matter which option you select to cover your deck, you can be certain that it's a Charlotte home renovation that will have lasting benefits.