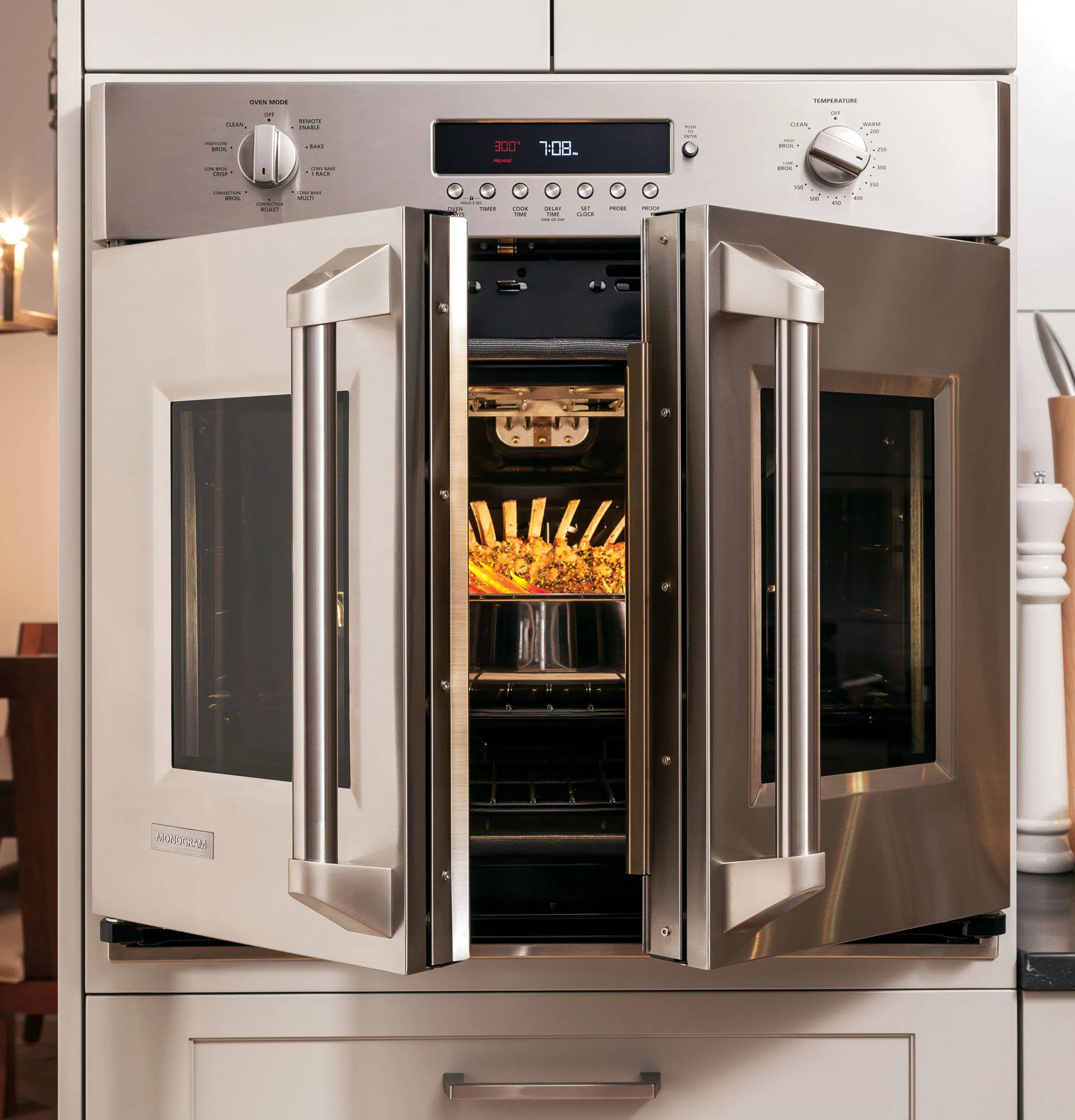 French door ovens opening up possibilities
It was only a matter of time before the traditional single hinged oven doors received a makeover—find out more what french door ovens have to offer!
Ovens have come a long way over the years. Heat sources have changed, cooktops have separated, new cooking technologies have come and gone, and controls have evolved from old-fashioned dials to touchpads to Bluetooth connected models that you can control whether you are right there in the kitchen, entertaining in your adjacent outdoor living area, or are miles away stuck in traffic.
Yet the one thing that hasn't changed much over the years is the oven's basic configuration – until now. It was only a matter of time before the traditional oven with a single hinged door that opens downward received a makeover. For years, there have been ADA compliant models with single doors that opened to one side, much like a microwave. While they functioned well in compact galley kitchens or in areas near islands where there was insufficient space for a regular door, they had limited appeal.
But the rise of French door refrigerators has inspired primarily high-end appliance manufacturers to embrace the same simple functionality in ovens – and consumers are appreciating what they see. French Door ovens – just like their colder cousins – make it easier to reach in and retrieve food. This is even more critical when you are dealing with checking and positioning hot pots and pans. Since you can easily open the door with one hand and have it hang safely off to the side, there's less chance of getting burnt on a door that protrudes out, and fewer obstacles to retrieving baked goods safely. (Plus, they just look great – adding the perfect high-end commercial touch to an upscale gourmet kitchen.)
Priced at nearly $4000, the GE Café™ Series 30″ Built-In French-Door Single Convection Wall Oven is one of the most affordable options out there, yet it still comes packed with features. It boasts a true European convection design with seven varied cooking modes, a glass touch screen, and built-in Wi-Fi. GE's Monogram version, the 30″ Professional French-Door Electronic Convection Single Wall Oven, offers a sleeker style, backlit knobs and interior LED lighting for its upgraded $4,699 MSRP.
The Viking 7 Series Oven is another step up in price at about $5,600 MSRP, with a double oven version that features a standard opening oven at the bottom that tops $7,600. Viking's version boasts one of the largest cooking capacities in this category, and a Rapid Ready preheat system to get you cooking quickly. When you open one of its French doors, the other swings simultaneously, offering true one-handed convenience. With a variety of colorful finishes, this thoroughly modern appliance can take on a decidedly retro look, making it an ideal choice in a variety of kitchen décors.
As other manufacturers embrace French door ovens, you're certain to see even more features and nuances emerge. BlueStar, for example, offers a version with an integrated artisan baking stone that allows chefs to create perfectly crisp breads and pizzas at home. No matter what the future holds, there's certain to be a place in tomorrow's gourmet kitchens for this new favorite.