Another simple change is updating surfaces and fixtures. Darker tile floors were in vogue in the 1980's and 1990's, and replacing them with lighter tiles visually enlarges and brightens the room. Switching out dated countertops adds aesthetic appeal, while improved task and ambient lighting and upgraded exhaust fans that remove more moisture make the space more pleasant to be in.
When it comes to cabinets and commodes, taller is better. Older homes tend to have base cabinets that are a few inches shorter than today's standards. Replacing those reduces the amount of bending homeowners have to do. The same applies to right-sized commodes, which are just a few inches taller with elongated seats and designed to better accommodate the average person's height and the aging population.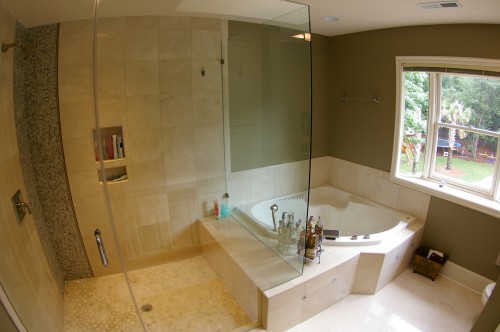 In the world we live in, where everything moves so quickly, the more changes we can make that simplify our daily lives, the better. Little luxuries like the magnifying mirrors you'd typically find in fine hotels range from just $30 to $180. Installing these eases morning grooming for those of us who are reaching for our glasses more often. Likewise, taking advantage of underutilized or unused space in corner cabinets by adding custom shelves and pullout baskets increases storage space, putting extra linens and supplies right at your fingertips. Ultimately, these convenience features can be inexpensive luxuries that return a real, tangible benefit each and every day.