It's a haven from the hectic pace of your day and your own private respite. Yet despite what you may think, you don't have to spend extravagant sums to get a spa-like look and feel in your bathroom. At Palmer Custom Builders, we help our homeowners kick their bathrooms up a notch without breaking the bank by making simple changes that make a world of difference.
Perhaps the largest impact can be gained when we eliminate a dated acrylic tub and shower surround and replace both with a luxurious walk-in shower. Often there's a functional reason to replace these fixtures, because as they age – or due to improper installation – water can seep behind or under the surround and cause damage to underlying walls and structure. From a practical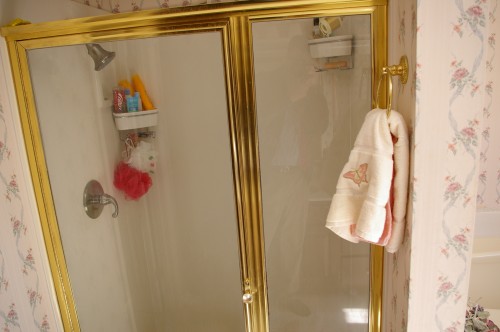 standpoint, these builder basics are simply crampedand waste valuable real estate in what is often a small space. Space is the main luxury you gain from this change: just adding enough room to literally stretch out without bumping into shower walls or doors gives a walk-in shower a posh feel. For an even more luxe touch, we tile all the way up to the ceiling. The only cost involved is a small increase in the materials to be purchased, such as tile, grout and backer board. Yet it has great aesthetic as well as practical implications: it effectively seals the wall, thus preventing future water damage, and it's more hygienic, since there's not a tile edge where soap, water and mildew can collect.  Also adding a shampoo and soap niche in the shower wall keeps these essentials comfortably accessible and organized.
Another simple change is updating surfaces and fixtures. Darker tile floors were in vogue in the 1980's and 1990's, and replacing them with lighter tiles visually enlarges and brightens the room. Switching out dated countertops adds aesthetic appeal, while improved task and ambient lighting and upgraded exhaust fans that remove more moisture make the space more pleasant to be in.
When it comes to cabinets and commodes, taller is better. Older homes tend to have base cabinets that are a few inches shorter than today's standards. Replacing those reduces the amount of bending homeowners have to do. The same applies to right-sized commodes, which are just a few inches taller with elongated seats and designed to better accommodate the average person's height and the aging population.
In the world we live in, where everything moves so quickly, the more changes we can make that simplify our daily lives, the better. Little luxuries like the magnifying mirrors you'd typically find in fine hotels range from just $30 to $180. Installing these eases morning grooming for those of us who are reaching for our glasses more often. Likewise, taking advantage of underutilized or unused space in corner cabinets by adding custom shelves and pullout baskets increases storage space, putting extra linens and supplies right at your fingertips. Ultimately, these convenience features can be inexpensive luxuries that return a real, tangible benefit each and every day.