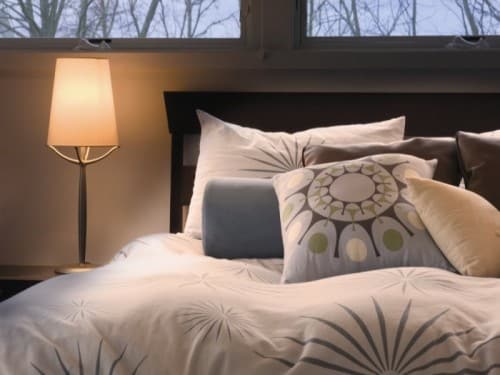 Beyond basic bedrooms
When it comes to additions and renovations, secondary bedrooms tend to be minor players. They lack the star power of a kitchen remodel or even the glitz and glam of a master bath renovation. Yet if you are willing to think outside the box, you might discover that your new extra bedroom can play more than a supporting role in your family's daily life.
The main way to add pizzazz is to properly plan the space. Don't settle for a box with a small closet carved out of an adjoining space – plan it as carefully as you would any other living area of your home. Allow for ample windows that let in natural light and you're already escaping that dreaded hotel-like feel.
Carefully consider lighting. Secondary bedrooms often lack all but the most basic lighting fixtures. Build in several layers of lighting and consider where you'll place furniture to ensure that fixtures are installed where they'll make sense. (For example, place easy-to-reach lighting near the bed for watching television; add ample task lighting by desks or work areas; and provide ambient lighting to prevent accidents when guests wake up in unfamiliar surroundings.) Splurging just a little on fixtures that don't look basic will give your room a truly high-end feel.
Next, think outside the box by taking full advantage of the gables, curves and contours of your home – particularly if you're adding this space in a previously unfinished area. Even if you must deal with a boxy plan, a small corner space can be turned into a niche with some shelves to break up the lines and add function. We recently saw a picture of a tiny linen closet that was opened up, lined with shelves and had a seating cushion placed on top of a newly added base cabinet to create an intimate reader's retreat.
Speaking of closet space, just because this is a secondary bedroom doesn't mean you and your guests have to settle for less. The more walls you have in a closet, the more room you'll have to install quality shelves that can be used for storage. If possible, include a window in your closet because it will allow you to see your clothes – and their true colors – in natural light. The fact that this is a secondary bedroom means privacy will not be an everyday issue.  If the closet placement doesn't allow for a standard window, consider a transom or roof window to let in daylight.
If space and budgets allow, opt for a connected bath to create a true guest suite.
Even smaller touches can make a huge difference. If you plan on installing a widescreen TV – either immediately or in the future – make certain the space is wired to accommodate it. A compact coffee bar with a small refrigerator, coffee pot and/or a microwave allows guests to grab a quick snack late at night or early in the morning without having to worry about waking their hosts. Finally, don't overlook a comfortable sitting area. This can be as simple as a single chair near a window or a true retreat with multiple chairs and a game table where friends and family can linger.