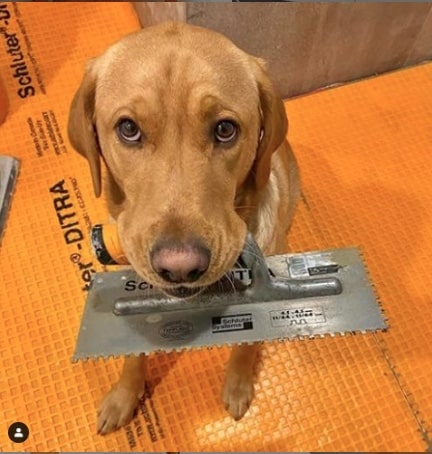 Simple bathroom upgrades: Make guests feel at home for the holidays
These 4 simple Charlotte bathroom remodeling upgrades are a warm welcome for guests, without requiring a full-scale remodel.
Coming home for the holidays means feeling warm and cozy – even if our Carolina weather dictates that we rarely wake up to a snow-filled landscape outside our windows on Christmas morning. We can bring that same feeling of coziness to our guests – and to ourselves! – with some simple Charlotte bathroom remodeling upgrades that don't necessarily require a full-scale remodel. Although we should note that some, liked heated floors, are best done with the assistance of a qualified, professional remodeler, and all are even better when they are part of a fully planned and professionally executed bathroom remodel project.
Towel warmers.
It used to be that warm towels were reserved for a day at the spa. Now, you can bring that spa-like feeling home at any time by installing a towel warmer. There are versions that fit any style of décor and range from subtle to dramatic. The best part is that prices for these once-luxuries have come down to what you would expect to pay for a quality fixture, making them more of a necessity than an indulgence. In these unprecedented times when we are all concerned about germs, it's good to know that these warmers also are a healthier choice – reducing bacteria and mold that can be found on wet towels.
Heated seats.
These aren't just for luxury cars anymore – they are now the perfect accessory for your commode. This simple upgrade can be installed by the homeowner in place of your existing toilet seat starting at just over $100. The better versions feature built-in nightlights, so your guests (or you) won't have to fumble around in the dark, as well as soft-close technology, so lids aren't slamming shut in the middle of the night.
Toasty toes.
Tile is, without a doubt, a beautiful and durable bathroom flooring choice. Unfortunately, it's also cold in the winter. Underfloor heating systems allow you to enjoy the look you love while your bare toes stay toasty on cold mornings. There are two main options when it comes to heated flooring systems, and both are best left to professionals rather than do-it-yourself installers. (The main reason for that is that they are applied underneath a floor covering, and the chance of damaging the components or getting an uneven top level justifies the investment in professional help.) More flexible and less costly electric heating is by far the more popular choice, rather than hydronic heating, which uses water running through tubes or pipes installed in the floor. New technologies actually let you turn the systems off and on and even set temperatures or set schedules through connected apps, which actually saves energy (and reduces utility bills) in the long run.
Shower towers.
While they are not technically something designed to keep you warm, multi-jet shower systems certainly can do just that – while they relax you as well. Like some of the other technology we've mentioned, the number of features available on these has increased while prices have come down, making these once luxurious extras now more affordable for guest baths. Program the combination of water pressure and volume, lighting and even sound that you like and step into the shower for a relaxing break from the pressures of the holidays.
As we mentioned, while all of these options are great on their own in a guest bathroom, they are even better when planned as part of a full-scale bathroom remodel that takes full advantage of professional design assistance to create the guest (or master) bathroom on your wish list.