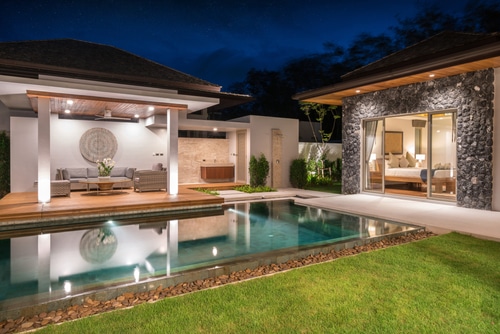 Making a big impression in a small outdoor living space
Want the dramatic Charlotte outdoor living space you've always envisioned but have a small backyard?
Want the dramatic Charlotte outdoor living space you've always envisioned but have a small backyard? You don't need to give up on your dreams. In fact, some of the most striking outdoor living spaces we have seen have been confined to smaller areas. We recently saw an article in Qualified Remodeler Magazine in which a Beverly Hills, California, design firm packed a swimming pool, hot tub, outdoor kitchen and bar, multiple outdoor seating areas and a grassy lawn into a scant 1705 square feet.
While that project might be taking landscape design to an entirely new (and award-winning) level, there are many lessons that Charlotte homeowners can cull from it when designing your own exterior living areas.
Our first and favorite is to prioritize what you really want. If a pool is what will make your family happy, plan for that first, and all the other pieces will fall into place around it. Outdoor sitting areas, pool decks and more can be thoughtfully planned and designed to make the most of available space once the pool itself is situated where it needs to be. Likewise, if you want a dramatic outdoor stone fireplace wall, an outdoor kitchen, pergola or more, plan these vital structures first and where they make the most sense. The rest of your landscape and hardscape plans should naturally spring from these cornerstone pieces.
Another way to make a small yard live larger is by creating zones for different activities. Just as you create seating zones, dining areas, cooking spaces, entertainment zones and more in an open kitchen/family room, you should do the same outside. A few Adirondack chairs gathered together creates an outdoor living room. A fountain or gazing ball tucked along a small, wooded path creates a retreat. An outdoor kitchen cabinet wall with a raised surface creates a bar that can visually separate a cooking or meal prep area from a dining or seating area.
Another visual trick that makes a space feel larger is accent lighting. By strategically lighting key areas that are used at night (versus flooding the entire yard in a spotlight) your outdoor living areas will visually open up in the evening and live so much larger. What to light? Consider seating areas around a firepit, hot tubs, and entertaining spaces where folks primarily gather after dark.
Materials matter in small spaces – even more so than in larger areas. To keep your living spaces looking their best, consider no-maintenance decking materials, durable materials like natural stone, and plant materials that require little care to look their best.
By understanding your wants, prioritizing the things that really matter to your family, and planning strategically with the help of a qualified, professional contractor who is well-versed in coordinating exterior projects, you can pack all the features you want into a small backyard.