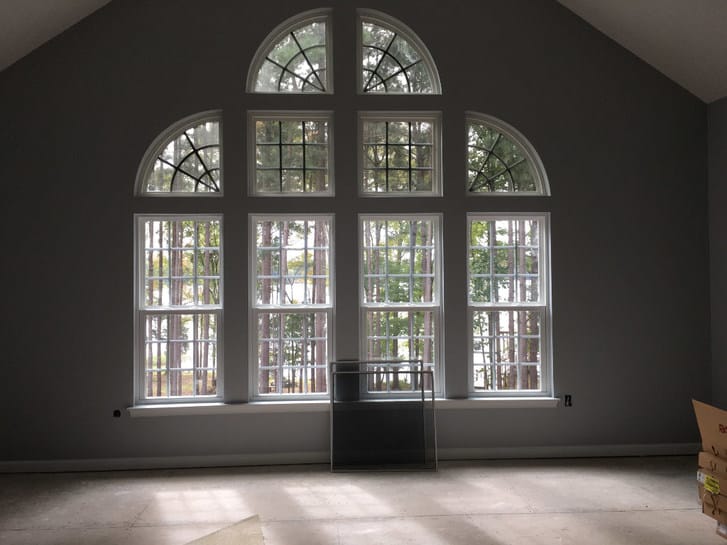 Need Space? Get Floored with a Second Story Floor Over!
As more Charlotteans are looking to stay in their current homes, the concept of reclaiming these spaces with a second story floor over is becoming a popular solution.
So many Charlotte homes built in the 80s and 90s came standard with two-story living rooms and foyers. While these open spaces look inviting, there are many disadvantages to these soaring spaces – namely that they waste energy, allow sound to travel, and sacrifice valuable potential square footage. As more Charlotteans are looking to stay in their current homes longer (and thus avoid the expense and hassle of moving) the concept of reclaiming these spaces by literally flooring them over with a second story floor over is gaining ground.
It makes financial sense when you think about it – since these already are interior spaces, converting them through a Charlotte home remodel is far more cost effective than constructing a new addition from the ground up, and homeowners can easily gain hundreds of square feet. But these complex spaces do come at a home remodeling cost that some homeowners aren't prepared for  – generally starting in the mid $50's, depending on the amenities, level of complexity, and size involved – here's why:
Wired for life
When you walk into a foyer or a 2-story living room, there are typically overhead lights and/or ceiling fans that are controlled by a downstairs switch. That won't work once the space is two separate floors, so electrical fixtures and switches must be updated, which may entail cutting into sheetrock and splicing or snaking wires. We like to install recessed LED daylight can lights on a dimmer switch to ensure clients still have the light-filled spaces they were previously accustomed to.
A heated issue
While getting heated and cooled air into the second-floor addition might not be an issue if ducts are run in the ceiling, getting it into the newly enclosed first floor living spaces may be more of a challenge – particularly if your home sits on a slab. While this can be overcome, it does take some creativity from your remodeler and entails a cost.
A joyful noise
These reclaimed spaces are often children's play rooms or media rooms, which makes soundproofing nearby bedrooms and downstairs areas critical. We'll often insulate the floor for sound deadening, remove existing drywall to put in extra insulation in the interior walls, and finish the space with solid core doors or French doors with insulated glass to absorb the sound.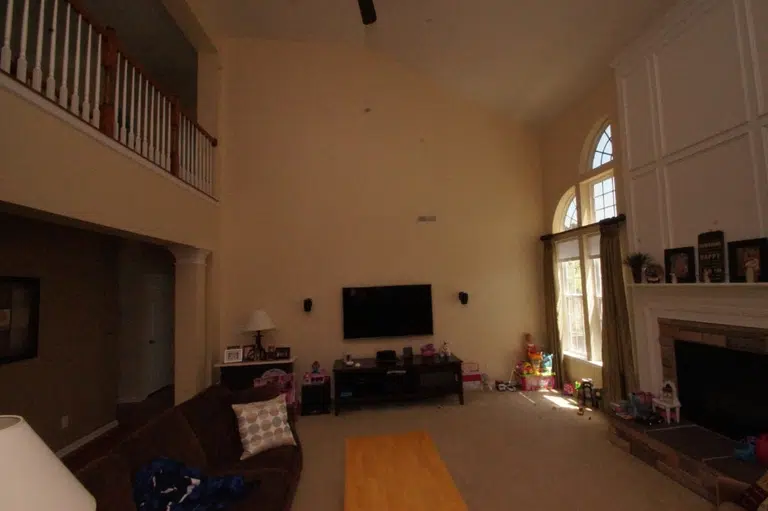 Building to code
In a space larger than the standard 16', engineered floor joists are required to span the distance. In Mecklenburg and Union County, as well as most North Carolina counties, an engineer must certify and stamp the structural plans. This is essential no matter what the room will be used for, but if you have a heavy load – like a pool table or weight machine – it's even more critical. Likewise, windows that were fine in a two-story space must suddenly meet new childproof and building glazing codes since they are now in an area classified as living space. (Plus, if the windows just don't look right in the newly reconfigured space, they may need to be replaced to fit the new design.)
Options abound
While you can create a basic playroom with a rail, walled in media room or office – the sky is literally the limit. You could also design the new space for a bedroom and bathroom. That's the beauty of using a Design/Build company like Palmer Custom Builders to create a floor over that's all your own. We have the experience and vision to explain your options, then design it for the best use of space, lay out the floorplan, have it engineered, and proceed from there to build a space that allows you to remain in your home. In many cases, you can even recoup a significant amount of your investment in the cost of a second story floor over home remodel.