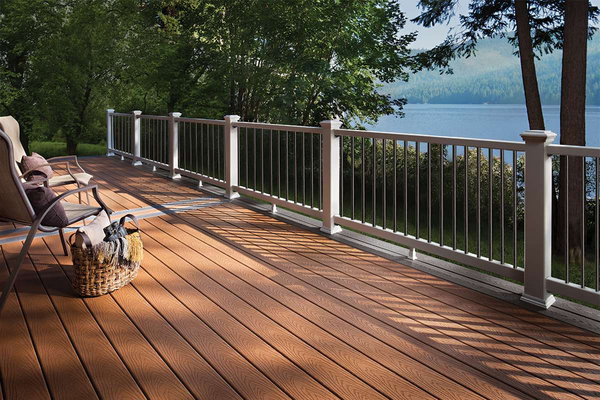 The natural touch: The wood look you love engineered to last
Manufacturers have made real wood products more durable and crafted amazingly accurate reproductions that can fool your eye – and can be used in areas where real wood still can't tread.
Do you love the look of wood but feel limited by where it can be placed – both inside and outside your home? The good news is that manufacturers have made real wood products more durable and crafted amazingly accurate reproductions that can fool your eye – and your hands – to use in areas where real wood still can't tread. Here are just a few of the latest offerings:
Barnwood planks – without the pests.
The look of a barnwood wall is rich, textural and tactile, but the genuine article comes with myriad issues that you might not want on your living room or bedroom wall. (Think termites, spiders, rusty nails and mildew – not to mention the fact that nothing is square or flush.) Enter the Barnwood Collection from Enkor Interior Accents. Made from real wood but engineered, these planks have several advantages over the genuine, outdoor-aged article. They are consistent in size and shape to make even DIY installation easy. A backing provides some sound insulation, while their front faces are washable and splinter-free.
As Solid as a Rock.
Imagine the beauty of barn wood with the durability of stone. That was the inspiration behind the barn wood collection from Environmental Stoneworks. Perhaps this stone veneer looks so realistic because of the process the company went through; its profiles were molded from Antebellum tobacco barns in Virginia. Since they are available in three distinct colors and a range of lengths – 6", 12", 24" and 36" – there's something to fit every project.
Built for the outdoors.
While you would think that wood would be right at home in the outdoors where it is naturally found, the elements take a toll on wood's authentic beauty. Yet for all the splash composite decking products have made, they comprise just 17% of the outdoor decking material market, according to a recent study by Principia Group, a research firm specializing in building products. Some of the main reasons why consumers still opt for pressure-treated products or exotics like cedar, redwood and IPE and price and appearance, respectively. That might be changing however, as recent price fluctuations in the wood market are making the cost of pressure-treated products similar to, or even higher than, entry-level composite products.
So what's new in composite materials that seek to challenge wood's natural supremacy, aside from solid entry-level products from recognized manufacturers like Trex, many are making strides to mimic the natural look and feel of wood grain, removing some of the uniform appearance of a composite board. Others are mimicking the look of more exotic hardwoods and experimenting with colors – from the grays that have been sweeping interiors to those designed to complement Pantone's annual color palette for interiors. Perhaps the most innovative trend is recognizing that outdoor living spaces are really an extension of our interiors. As such, many manufacturers are borrowing inspiration from popular interior flooring options and designing colors and textures that blend well with those choices to create a visually cohesive space.
No matter where you use these new products, they are certain to bring a bit of natural beauty into areas where it would otherwise be lacking.