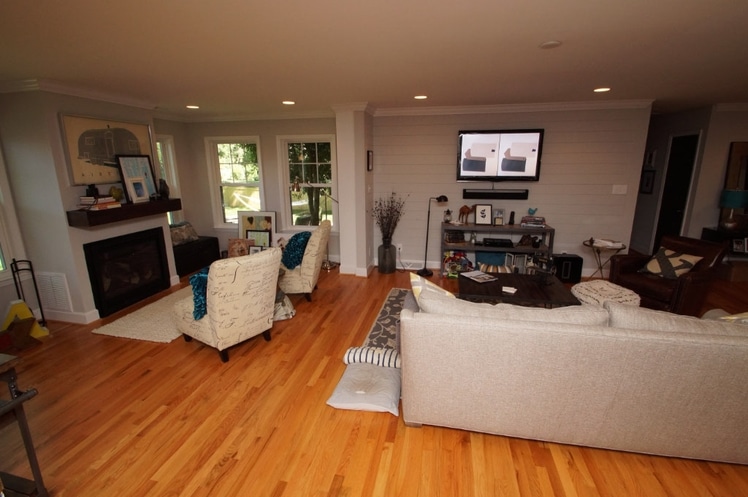 Charlotte home remodeling: Making small spaces live larger
So when it comes to Charlotte home remodeling, what are some ways to make a small space live larger within your existing home's footprint?
There's been a lot of focus lately on simplifying our lives and our homes, eliminating clutter and those things that no longer bring meaning into our lives. While getting organized is a wonderful and even a critical start to a home makeover, many homeowners come to a point where organizational tactics alone won't do it. They simply require more space – whether they are accommodating a growing family, working from home, need more room for entertaining, or have outgrown their current residences. So when it comes to Charlotte remodeling, what are some ways to make a small space live larger within your existing home's footprint?
Breaking down walls.
Removing walls between enclosed spaces is a simple way to open up living areas and make the square footage inside your rooms feel and live larger. Of course, anytime you remove walls, it's best to work with a qualified, professional remodeler who can determine whether they are load bearing and if there are any mechanical and/or HVAC connections behind the sheetrock that must be relocated. Opening up walls works particularly well when the areas in question naturally flow together for living and entertaining. You also can gain some precious extra square feet in cases where the rooms were connected by an interior hallway that can now be rearranged or eliminated.
Open hearth.
The kitchen is quite literally the heart of most homes, and where friends and family inevitably gather. Many 80s era kitchens have a wall of cabinets between the kitchen and living or dining areas. Removing this wall can open up your space and make the chef feel as if they are an integral part of your gatherings. Fortunately, you don't have to sacrifice storage space to do so. A professional remodeler can come up with creative solutions to expand pantries, create island storage, or even borrow space in an adjoining breakfast area to ensure that you don't have to sacrifice storage to increase living space.
A family affair.
Family room areas are ideally suited for wall removal. Because living rooms usually adjoin kitchens, breakfast rooms or formal dining areas, opening up this space can create a free flow of traffic and allow family and guests to see and converse with each other.
Get floored.
Another great way to reclaim space within your home's existing footprint is to floor over a two-story family room or foyer. While these soaring spaces were popular 20 years ago, many Charlotte homeowners are realizing that they can easily gain hundreds of square feet with a project that doesn't require an exterior addition. (Read more about what is involved in a floor over in our recent blog.)
Garage space.
Converting your garage into living space in a cost-effective option for many families, since it already has a floor, roof, ceiling and exterior walls in place. However, you don't need a complete garage conversion to re-capture useable space. Creative remodelers can sometimes borrow a portion of a garage to create a storage pantry or laundry room. (We've even borrowed just a few square feet to improve traffic flow in an adjoining kitchen.) We accomplished that by insetting an oversized refrigerator less than a food back into the garage, allowing the front of the refrigerator to be set flush with the face of the interior cabinets and thus create a wider aisle and more open feeling kitchen. This is a great solution when a refrigerator is new and clients do not want to replace it with a counter depth refrigerator.
A creative professional remodeler can look at your current living space and give you some inventive options to help your family live larger inside your existing walls.