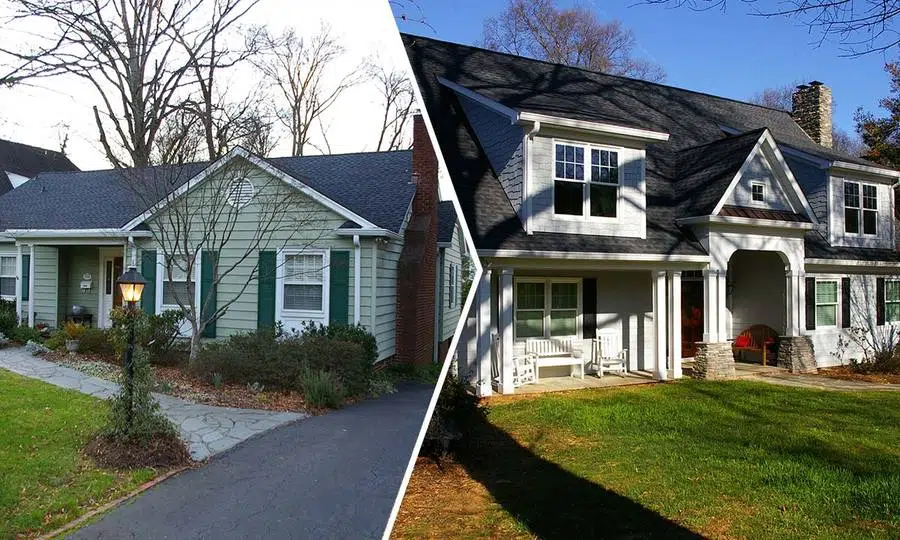 Whole home remodel and addition budgets – What is realistic?
As inexperienced contractors are bidding lower than ever to acquire clients amidst COVID, without having a clear understanding of costs, homeowners are finding themselves ill prepared for the home remodel expenses they are about to face. Read more on how to acquire realistic information and costs.
Ready to make a dramatic change in your home? With interest rates at near historic lows and a seller's market for real estate, many Charlotte homeowners are deciding that now is the perfect time to consider a whole house remodel or a major addition to their existing home. Before you begin, we believe that it makes sense to have a realistic idea of both what your budget should be and what the process entails, so you don't have any unwelcome surprises. We're finding that's even more critical in the age of COVID-19, as some inexperienced contractors are bidding low to acquire clients without having a clear understanding of costs – and leaving homeowners ill prepared for the expenses they are about to face.
To get the most functionality – and thus, value – from your project, a licensed, professional remodeler will first take the time to talk about how you are living in your home now and how you envision occupying it once the project is complete. (Like we did in this project.) This allows a design/build contractor to create a design that works for what your family needs and takes your budget into consideration. If this step is ignored, you might end up with more square footage that doesn't necessarily solve the problems that you need it to.
This is the process we go through with clients to help them determine if a whole home renovation or major addition is right for them: (Read Proven Process on our website for complete details.)
Initial Conversation and site visit.
We'll schedule an initial phone call and, in many cases, a free virtual consultation via FaceTime or Zoom, with a healthy exchange of questions and answers about the project and process. This dialogue enables us to better understand the scope of the project, as well as your needs, expectations, budget and decision-making process.
Project Planning Agreement.
If we both believe we are a good fit for the project and when you are ready to move ahead, we'll ask you to sign a Project Planning Agreement and pay a nominal design-build planning fee that's applied to the final cost of your project. What you gain through a Project Planning Agreement is an accurate fixed-cost dollar amount for your project, which is far more accurate than a free estimate. This agreement entails:
Conducting a comprehensive needs analysis for the client's project and how it will tie into their existing home
Taking as-built measurements.
Preparing conceptual drawings (if required).
Client review of preliminary plans.
Working with you to establish adequate allowances for material selections (when appropriate), and the cost to prepare final drawings (as required) for your new home construction, remodeling or renovation project.
Here are some of the many items that factor into every custom project's cost – and can impact pricing dramatically:
Size of space and scope of project
Project Design/Plans/Structural Engineering
Building Permits/Zoning Requirements
Interior Design and Selection of Appliances, Plumbing Fixtures, Cabinetry, Windows and Doors, Countertop material, Tile and grout color, Flooring/Hardwood Refinishing, Lighting, Paint and stain.
Ordering materials, scheduling, and managing deliveries to stay on committed schedule
Repairs and adjustments needed to bring electrical, plumbing, HVAC, Smoke and Carbon Monoxide Detectors up to current Building Code requirements. (Bear in mind most older homes require new electrical wiring, electrical panel and HVAC upgrades.)
Managing all facets of construction
Electrical rough ins
Plumbing rough ins
HVAC rough ins
Wall Removal and structural header and beam fabrication and installation
In addition, when dealing with new additions: the slope of the lot, trees, and soil conditions; survey and site restrictions; footings and foundation; choice of exterior veneer for new construction; and any HOA requirements that must be met all factor into pricing.
While there is much to consider in any whole house renovation, it is not uncommon for these projects to start at $150,000 and go up from there, sometimes substantially, depending on all the factors discussed above. Smaller additions like screened in porches and sunrooms could start around $50,000.
For realistic information and costs for your project, trust an experienced, licensed professional contractor.