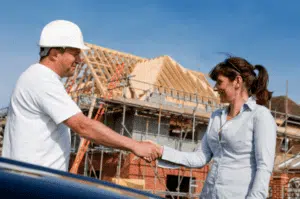 10 warning signs you may be hiring the wrong contractor
Sure. He seemed like he knew what he was doing when he knocked on your front door, said he was tackling some work at your neighbor's house and asked if you needed anything done. That was before he skipped town with your money, botched the job, let your dog escape or any of a myriad of other nightmare scenarios. While you might never fall for this classic con, all too many well-meaning homeowners do fall victim to contractors who are either dishonest or just wrong for their particular projects. Every month, we meet homeowners who tell us stories about having chosen the wrong contractor for a project, and it is very sad to hear. Too many well-meaning homeowners hire start-up companies or unqualified individuals, friends or relatives who need a job and erroneously think they can handle the project. The homeowner thinks it's a win-win – you help them out, they help you out and you save yourself money. Unfortunately, using an inexperienced person can prove costly in more ways than one – the extra time it takes as well as the money often required to fix things that weren't done correctly the first time.  Here are 10 warning signs that signal the contractor you're considering just isn't right for you.
Lack of a license.
If a company is not properly licensed to handle residential General Contracting (GC) work in your state, there's generally a reason. Likewise, if your GC is not using licensed plumbers and electricians, the work they are doing is suspect at best and, in the worst-case scenario, could even be hazardous.
Skirting the law.
If a contractor is willing to work without pulling building permits or completing the proper inspections, he's not doing so to save your time or money. It's typically because he is not qualified to pull the permit, or he knows that he is doing sub-par work that won't pass inspection.
Lack of credentials.
If a contractor is not accredited with the Better Business Bureau, NARI or other trade organization, they are not members in good standing of these critical watchdog groups. Unresolved complaints with the BBB or Angie's List should be a huge red flag that the company is not responsive to its customers.
No insurance.
If tradesmen hired by your GC do not carry General Liability or Workers Compensation insurance, any mishap could become your very costly responsibility.
Seems too good to be true.
He is the lowest bidder and it seems like a really good deal, or the construction timeline seems too short (or too long). Either of these scenarios is a red flag that signals he may be inexperienced at handling your type of project or he may be cutting corners to win the job.
Bad blood.
Be very wary if tradesmen do not have a good relationship with the contractor or with other trade professionals who will be working on your project. If a contractor is treating those he works with on a regular basis poorly, imagine how he'll treat a customer like you that he only deals with once!
Just trust me.
It's very concerning if important details are only vaguely addressed. If your contractor makes statements like, "Don't worry, you'll love the cabinets!" but you never get to select or even see them, it's a signal that you might not be getting what you expect or have paid for.
Inexperience.
If the GC doesn't seem to have expertise in your type of project – whether it's construction or renovation, planning or project management – you should be very wary. These are complex, long-term projects that require true experts to manage, not to mention successfully and efficiently navigating any issues that may emerge.
Can't we talk?
The contractor doesn't understand the importance of good communication. If he can't handle the relatively simple task of effectively communicating with clients on the front end, imagine how quickly things can spiral out of control once construction begins.
You simply do not seem to be a good fit.
Whether you are considering renovating or building, a construction project is in many ways like a marriage. You'll be in close contact and communication with your GC for the duration, and if you don't feel comfortable with him, or your personalities simply don't mesh, it won't be a pleasant process. There are many qualified, professional contractors out there; you just need to find the one who is right for you.