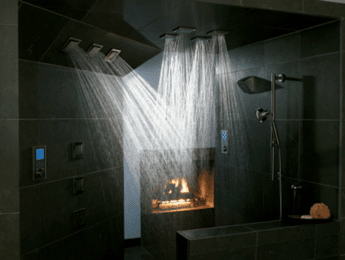 What do Spring bathroom renovations bring? New showers!
Two surveys recently came out that reaffirmed what many homeowners considering a bathroom remodel probably know – renovated showers are hot.
Why? Economics is one reason. The average person spends 8.2 minutes in the shower each day, according to The Alliance for the Water Efficiency's Home Water Works Survey. Older showerheads use as much as 4 gallons a minute, while new more-efficient models use less than 2.5 gallons. That's an average savings of more than 12 gallons per shower – or nearly 4,379 gallons a year for a single person taking one shower each day. Multiply those savings over many family members and you can see how the savings from an upgrade can add up quickly.
Yet perhaps even more than saving money on utility bills, it's space that homeowners really crave. A recent survey of homeowners undertaking master bath remodels conducted by Houzz found that 66% said they planned to enlarge the shower areas in their new space. These walk-in shower spaces are separate from bathtubs, and in many cases, are replacing tubs altogether. There are practical reasons for this, as more people design their remodeled baths with aging-in-place requirements in mind. These larger spaces also convey a feeling of luxury – homeowners can rejuvenate and feel as if they are visiting a spa instead of feeling crammed into a tiny space or fighting with a clinging shower curtain. Larger showers allow for more creative designs, eliminating typical shower doors in favor of glass walls or even wall-less configurations.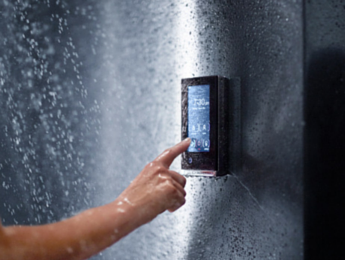 What are the features homeowners want in these expanded spaces? Intelligent options are what many buyers seem to crave. No longer do homeowners want to fiddle with water temperature; they want to be able to set a preferred temperature on a touchscreen control and know that the water will be perfect from the moment they step in. They also like mixers that control multiple water sources as well as luxury items like sound and steam. If the shower is spacious enough, double showers with separate controls for each individual are also popular options.
Kohler's new DTV, for example, promises a total sensory experience at the touch of a button. This advanced digital platform controls water, sound, light and steam via a simple electronic control panel for a completely customizable experience for up to six individual users. With features like these in your new bathroom, think of all the money you'll save on trips to the spa!