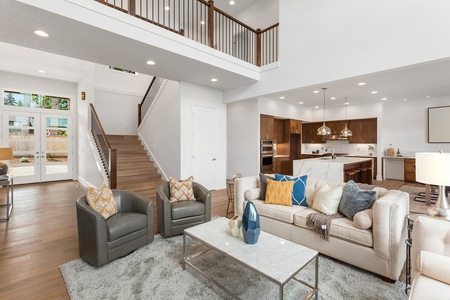 Floor overs: Finding space for a Charlotte remodel
If you need additional space but are not ready to move in today's competitive housing market, consider an investment in your current home with a floor over remodel.
It's no surprise to anyone who has looked lately that the real estate market in Charlotte is in unprecedented territory. The inventory of homes for sale in the area fell 70% from the year before, according to an April Charlotte Observer article that quoted a report by the Canopy Realtor Association using MLS data. That has led to skyrocketing prices, with the average sales price rising nearly 18% year-over-year to $370,706. Many buyers are finding themselves in bidding wars and paying more than asking price to acquire the home they want. Couple that with the increased cost of moving (just look at gas prices and you'll understand why), and you'll see why more homeowners are choosing to remodel instead of move and to make their existing house the home of their dreams.
Charlotte home remodeling is particularly appealing to homeowners who can add a considerable amount of square footage with a renovation project. Among the top choices for that are floor overs. These projects take an existing two-story family room, living room, or foyer and literally floor over the space to create additional living area on the second floor. When you consider the size of a typical family room, you can see where creating a room above it can easily add hundreds of square feet to your home. That space can be used for everything from an extra bedroom suite to a dedicated home office, study area for children, or additional, flexible living space.
If you are considering one of these additions, you should be aware that there are costs involved, but they are less than those of moving or new construction. Converting these two-story spaces into useable square footage can, in most cases, be built for about half the cost in half the time than a new, ground-up addition. (Plan on a minimum of 6 weeks construction time and pricing starting in the mid $50's plus– depending on finish – for an extra 250-350 square feet in a floor over project.) That's because new additions require a new foundation, new roof and literally everything in between. Converting a space that's already under your roof eliminates many of these basic infrastructure costs. While not inexpensive, as home values escalate per square foot, the math makes sense for more homeowners.
What you must bear in mind is that floor overs are not simple projects. They should always be handled by a licensed professional remodeler who is experienced in the intricacies these projects entail. That's because new second-story flooring systems have to be engineered. HVAC systems and venting may need to be reworked to ensure that the new spaces (and the old) are comfortable. (In many cases, homeowners may see a utility savings and/or an improvement in their comfort level since they are no longer paying for conditioned air that is often lost in these soaring spaces.) Depending on the intended use of the new space, insulation could be installed in both the new area and the existing rooms that abut them. The additional load may dictate an upgrade in electrical panels, and will at a bare minimum require new outlets and additional lighting. Obviously, the addition of a powder room or a full bath will require plumbing changes as well.
Finally, and significantly, your remodeler has to be aware of any code changes that may impact your project. For example, NC State Building Code now requires any window glazing that is less than 18 inches off of the floor be tempered glass. That often impacts large picture and custom windows that typically were installed to bring natural light into what once were soaring spaces. Knowing that these windows have to be switched out and preparing for the time and financial impact that has on a project – particularly in this era of post-COVID supply delays – is something that a professional experienced at these types of projects will be prepared for.
If you need additional space but are not ready to move in today's competitive housing market, consider an investment in your current home with a floor over.