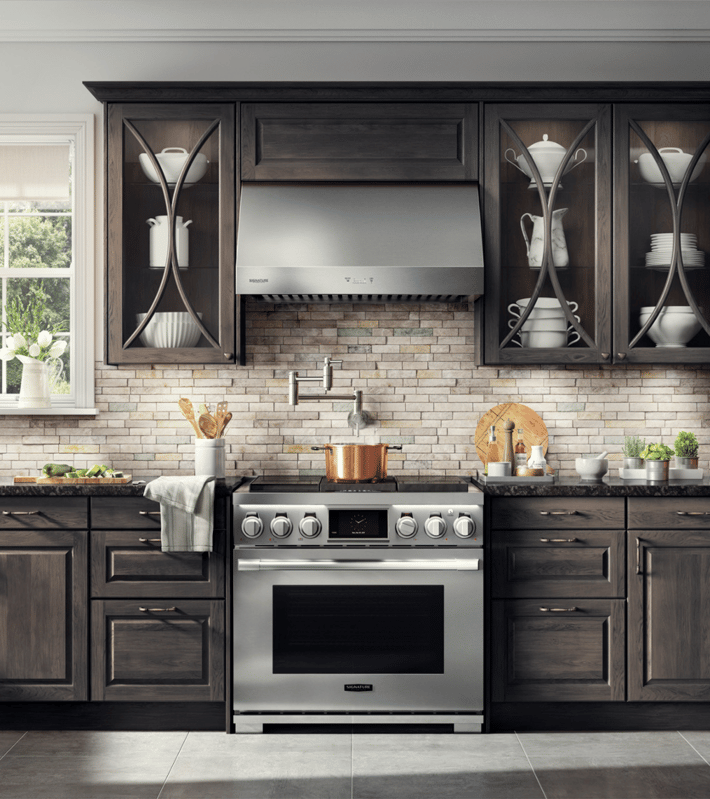 A colorful kitchen remodeling preview
Which direction colorful kitchen remodeling will go – mild or wild – completely depends on the source of the prediction this year, but they all agree on one thing – color is everywhere!
If you want your Charlotte kitchen remodeling project to be in good taste in 2022 and beyond, there are a number of kitchen remodeling trends that you might want to move to the front burner. Here are just a few of our favorites that we scoured from a tasty menu of designer predictions.
Color is in good taste.
Which direction color will go – mild or wild – completely depends on the source of the prediction this year, but they all agree on one thing – color is everywhere! It seems that homeowners (or at least kitchen designers) are moving away from white cabinets in favor of more variety. We've seen everything from bold black lacquer to soft blues and greens having an impact in kitchen design.
Mixing materials.
Perhaps because of the move away from white cabinets, mixing varied natural textures and materials is definitely a kitchen remodeling trend we'll see in 2022 and beyond. That means that combinations of wood-tone and painted cabinets, dark shades and light, wallpaper and textures are mixed together to form the perfect recipe for lasting beauty.
Closing the door.
After quite literally decades of open kitchen looks, some designers are predicting a return to more enclosed spaces. They are seeing the trend emerge in response to quarantine living – as people work from home, they are looking for a space in which they can escape the pressures of work, school and being continually connected. We like this best when there are glass partitions or a kind of open divider that doesn't completely seal off the space and return to a boxy pre-80s design that completely isolates the kitchen.
Not your grandma's cookbook.
Ironically enough, a seemingly opposing trend is connecting smart appliances and devices in kitchens, to better connect you to the world from the hub of your home. Whether the refrigerator texts you a grocery list of items you need or a monitor can access all of our grandma's recipes – as well as Pinterest's – there is much to be said for technology simplifying the everyday necessity of cooking.
New ingredients.
One interesting trend we've seen in several places is the emergence of new materials for cabinets. Although the look of cabinets has changed quite a bit over the decades, the main ingredient has always been wood. Many designers are predicting that the materials we typically see in surfaces – like stone, concrete and even plaster – will be used to create statement-making cabinets that steal the show.
No matter which of these ingredients you use in your Charlotte kitchen remodeling project, make sure they fit your taste and style. After all, they will be at the very heart of your home for years to come.
Image courtesy of Signature Kitchen Suite