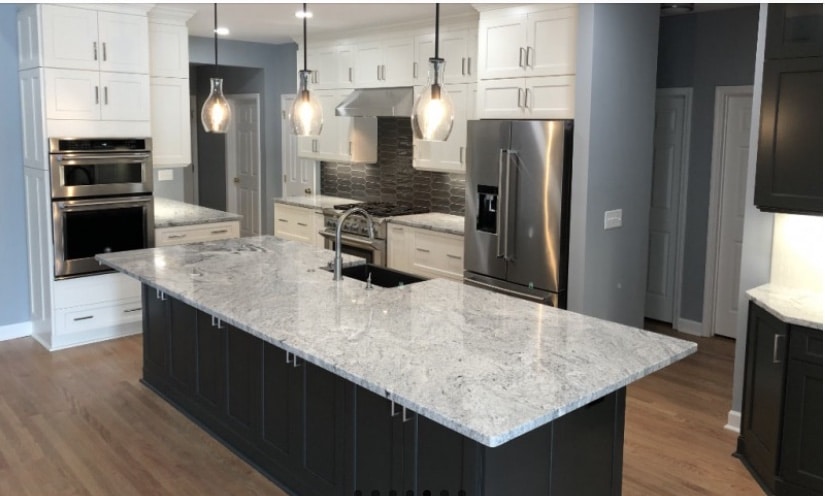 Creating an open floor plan: Bringing down the walls
Many older Charlotte homes leave homeowners feeling boxed in. Here's how we created a flowing, open floor plan designed for the way this family really wanted to use the space.
If you own a home that was built in the 1980s or before that hasn't been modernized, you might be feeling a bit boxed in. That's because homes built prior to that era favored traditional floorplans that compartmentalized spaces into separate living, dining, entertaining and food prep areas instead of the more open, flowing floorplans most homeowners favor today. The good news if you own one of these homes is that there are Charlotte home remodeling projects that a licensed, professional remodeler can tackle to give you the home your family needs today. One of these is wall removal.
Take a Lake Wylie home we recently remodeled. Our clients purchased an existing house there as a retirement residence, but were frustrated by the fact that they couldn't see the gorgeous lake just outside. To make matters worse, the home's boxy floorplan was not built for entertaining the family and friends they envisioned spending casual lake days with.
We began by creating a 24' opening between the kitchen and family room by removing several walls and a centrally placed fireplace that obstructed the lake view. We then squared up the existing angled ceiling, which created a more open feel in new, larger family room. As we often do when blending two previously separate spaces, we refinished existing hardwood floors and repainted the main living areas to create a seamless transition. The new open space is designed for entertaining while offering panoramic views of the lake beyond.
But we didn't stop there. Since the kitchen is the heart of an open floorplan, the homeowners wanted to transform this space as well. To enlarge the relatively small space, we got creative and borrowed space from the garage. We took a portion of one of the existing garage bays and used it to create a new, more functional laundry room. That freed up space in the existing footprint to create a more graciously sized kitchen. To evoke the timeless look the homeowners desired, we installed black and white cabinetry topped with granite countertops and the longest seamless island we have ever created – a massive 11' 1" solid piece of granite. Elegant pendant lights and a chandelier complete the space.
Obviously, projects like this are not small endeavors, which is why they are best left to professionals who are experienced in this space. Before walls are removed, it has to be determined whether or not they are structural, and remodeling plans must be engineered if they are. Any existing utility lines inside those walls – HVAC, plumbing or gas – much be redirected if applicable, and at the very least, electrical lines almost always have to be dealt with. Depending on the age of the home, that often involves upgrading electrical and bringing it up to current code. Careful attention also must be paid to how the new space will flow with existing areas, and transitions should look seamless. The end result of the planning and work on the front end will be an open, flowing floorplan designed for the way your family really wants to live.