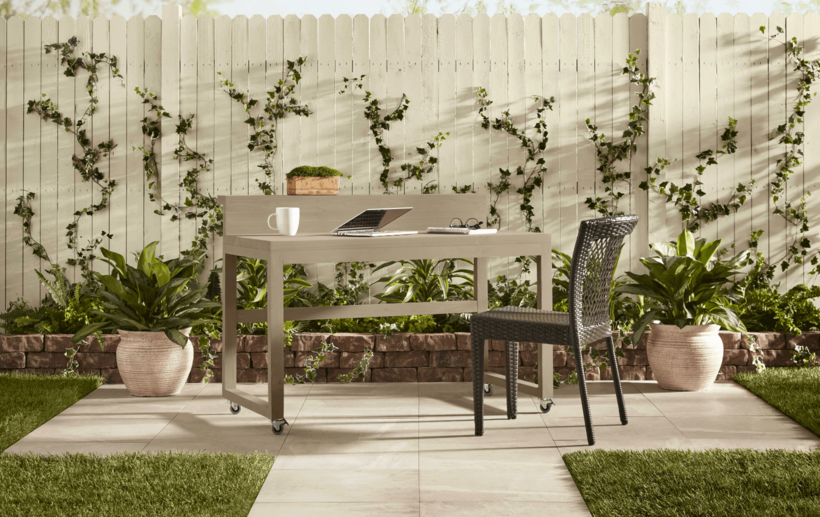 Think outside the home with an outdoor office addition
Are you still tolerating a boring workspace? Think outside the home with an outdoor office addition.
Many Charlotteans have settled into working from home on at least a part-time basis, but are you among those still tolerating a boring workspace? While many of us started 2020 making do with a haphazard workstation cobbled together out of a kitchen island or a corner of the living room, home offices evolved into truly functional workspaces in 2021. In 2022, they are quite literally ready to take the next step – into the great outdoors. In fact, the alfresco office was named the 2022 outdoor trend of the year by Cabot, the exterior wood stain manufacturer.
Here in Charlotte, our climate is particularly well suited to outdoor living and working spaces, and outdoor additions are common home remodeling projects. But what exactly is involved in creating an outdoor office addition workspace that actually works?
The first task is determining the scope of the project. An outdoor workspace can be anything from a comfortable chair and side table to a fully functioning room that provides shelter from the elements. Your budget – and the available space in your backyard – as well as how frequently you plan on using the area and what you hope to accomplish while in it will all play roles in determining your scope. We encourage you to talk with a licensed, professional remodeler who has experience in creating these types of spaces. He or she can present you with possibilities you might not have considered and provide you with realistic time and budget expectations. Regardless of the final scope of your outdoor home office addition, here are a few things you'll want to consider.
Protection for the elements.
If you plan on working outdoors frequently, you'll need a space that offers at least some protection from the elements. Depending on your tolerance for heat, sun and cooler evenings, that might mean a spot in the yard shaded by a pergola, a covered porch, or a fully conditioned sunroom. We've also seen sheds converted into climate controlled home offices. These work well because they give you a dedicated office space that's outside when you open the doors, yet still feels like a traditional office area where you could easily bring clients when necessary.
Working surfaces.
Some people only need space for their laptop and a cell phone to function, while others need to spread out files and have a place where multiple team members or clients could potentially review plans and function effectively. Depending on your needs, your work surface could be an outdoor dining area that doubles as a conference table, the bar area in an outdoor kitchen, an isolated Adirondack chair, or we've even seen outdoor desks that are designed to withstand the elements.
Outdoor Storage.
Do you plan on hauling your work materials outside every time the mood to work outdoors strikes, or do you plan on functioning there on a regular basis? Routine users will have to work out storage space for files, notebooks, pens, and all the normal office accoutrements you actually use. That storage needs to be protected from the elements, as well as from nosy neighbors, guests or children.
Technology.
We live in an ultra-connected work world, and your outdoor office needs to be as well. If you don't have solid internet connectivity outdoors, talk with your service provider to get the pieces in place to extend your network. Consider bandwidth for multiple users, and make sure you have the speed to juggle multiple applications effectively. Also, think about office equipment like printers. Consider whether you'll send files wirelessly to storage devices and printers inside your home, or whether you want them by your side, which would entail more of a dedicated space. Don't neglect cell phone reception; if there's bad cell service in your yard, make sure to plan your office location around it.
Privacy.
This is a huge factor in working outdoors. Consider your own family's use of the space first. If you have a gorgeous outdoor living area by the pool that your kids use every day in the summer, that area is probably not going to offer you the ability to effectively make Zoom calls or speak confidentially with clients. Likewise, if your neighbor's landscapers are notorious for working several days a week, you'll want to choose a spot on the other side of your property or a shed with doors you can close when the need arises.
With just a little planning, you can be working in your own outdoor office addition this fall.