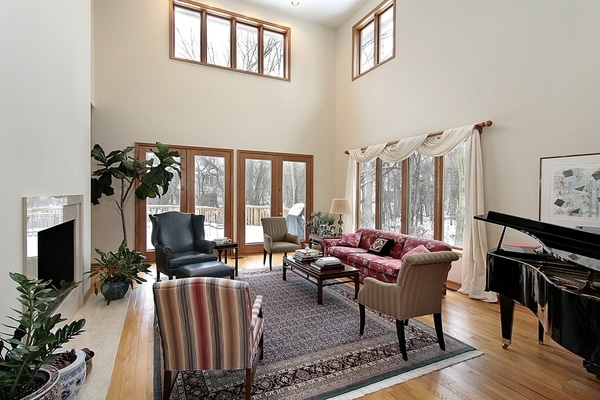 Need extra space? It might be hiding in plain sight
Looking to create space in your current home? If you have a ceiling foyer or living room, a floor over may be the perfect solution to create space in the existing floor plan.
One of the main reasons that people give for wanting to move into a new home is a need for more space. Maybe your children are growing up and need room to spread out. Perhaps you are working from home and need a dedicated home office space. You could be taking on a new hobby and require room to spread out. Or perhaps the pandemic and life changes have older parents or adult children moving in with you.
Regardless of your reasons for needing more room, you should understand that moving is a costly endeavor that should not be undertaken lightly – and one that can be avoided in many cases with a Charlotte home addition. If your home was built in the 80s, 90s, early 2000's and even more recently, and boasts the soaring two-story living rooms and/or foyers that were all the rage then, we can help you secure more square footage with a floor over. As the name implies, a floor over means carving a second-story living space out of these two-story spaces. The benefits of doing so are immense on many levels.
First, converting these interior spaces is more cost effective than constructing a new addition from the ground up. Foundations, walls and ceilings are already in place, so you are literally just building a floor. As you can imagine, however, constructing a floor is not a simple task, it involves creating a structurally engineered space that is tied into the existing HVAC system (or an expanded HVAC system), insulating the new floor for sound control, redesigning the flow of upstairs rooms or hallways, adding wiring (and plumbing if a new bathroom is planned) and changing upper-level windows, if needed, adding a dormer or roof if originally vaulted for head room, or otherwise bringing existing spaces up to code.
Because of the complexity of these conversions, they do come at a cost – starting from the mid $50,000's (for an approximately 17' x 17' floor over with no other changes needed) and going up from there depending on the amenities, level of complexity, and size involved. However, that is significantly lower and more practical than building a new addition. In some cases, you might not be able to add on to your existing home, due to either property setbacks or neighborhood restrictions. Since these spaces are inside your home, none of those exterior considerations come into play. That's also significantly less than the cost of a move in a very competitive housing market, plus Realtor's fees, loan origination and closing fees, property inspections, taxes, insurance, HOA fees, the downpayment, and the actual costs of physically moving your possessions. Plus, there are the social costs of a move if it takes you further from friends, family, work, church and school.
By staying in your existing home and opting for a floor over, you also may see a savings in energy usage, since these soaring spaces can be costly to heat and cool. Well-planned and insulated spaces also give you more privacy and quiet, since sound tends to carry or even echo in these two-story spaces. Most importantly, you are gaining potentially hundreds of heated and cooled square feet that can add significant value to your home and functional space for your family's life.