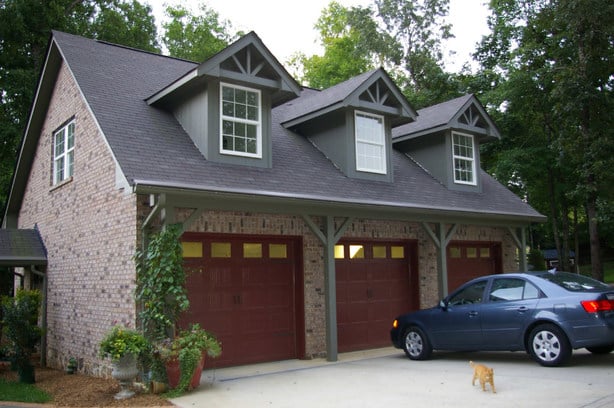 Need more space? Create it with a garage addition
Looking for a creative way to add functional square footage to your home? Car garage additions with a loft or a room above can be a fantastic solution.
As home values continue to escalate in Charlotte, more folks are looking toward additions as a way to add functional square footage they need while remaining in a home they love. One practical way to do so is through a one- or two-car garage addition with a loft or a room above. These garage addition projects are particularly popular in older homes built at a time when garages were not a necessity or in newer construction residences where garages where simply not built.
There are many nuances you need to consider with garage additions, which is why it is critical that you work with a licensed, professional remodeler who is experienced in these types of projects. The first issue they'll address is whether it is permissible for you to build a garage on your property. They'll get a current survey of your property to determine exactly where your property lines are and how any zoning restrictions or required setbacks impact your ability to build. Next, they'll look at any covenants or requirements placed on the property by your homeowners' or community association. In many neighborhoods, these bodies can dictate the permitted height of a structure, the exterior materials it is clad in, and the overall square footage it contains. They'll also secure any needed building permits.
These steps are critical because you don't want to make a substantial investment in a structure only to later find that it can't be built or has encroached on someone else's property (which we have unfortunately seen happen with other unlicensed contractors building unpermitted projects.)
Next, they'll work with you to design exactly what you envision while setting realistic expectations about your budget. Since you are essentially building a miniature house, complete with a foundation, interior and exterior walls, a roof and an HVAC system and utilities, costs can add up. A realistic budget for a two-car garage addition with an above office or loft above may start in the $150,000 range and go up from there depending on how you finish the space. For example, adding a bathroom and kitchenette in the space above the garage to turn it into a studio apartment will cost more than building a relatively open loft above the garage. However, most homeowners find that costs of adding this space are less than the monetary and intangible costs associated with moving into a new, larger home in today's competitive market.
Regardless of how you envision using the space, Palmer Custom Builders will work with you to ensure that it is properly built, insulated and has air filtration systems in place to prevent garage chemicals from leeching into living areas.
Perhaps the best part of garage additions (other than finally having a place for your car!) is the blank canvas they present. We've seen homeowners use them as home offices with private entrances; family game rooms or man caves with pool tables and bar areas; play space away from the main living areas for rambunctious children – which has becoming increasingly important as parents work from home; spacious hobby areas; separate living areas for adult children, aging parents or guests; or even as floored and conditioned storage space that allows you to clear space in the main home. No matter what you envision, a licensed professional remodeler with experience in this space can put your dreams on the fast track.