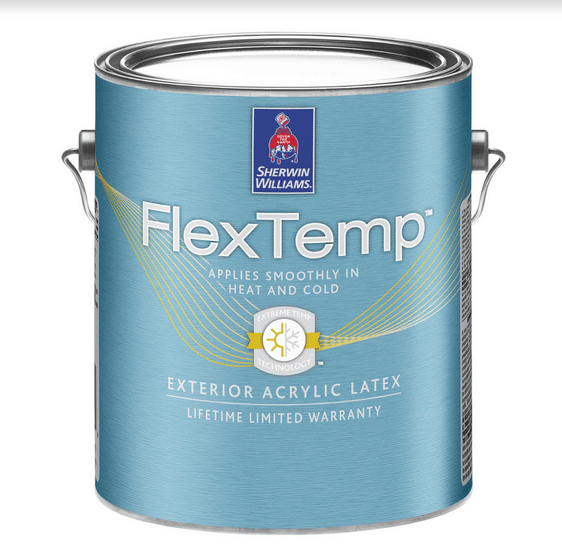 Paint in (almost) any weather
Since we don't all have the luxury of waiting for the perfect 75 degree day to paint, we've found this exterior paint that provides the ideal finish—in any weather.
One of the problems most homeowners have with exterior painting is that it is best done in ideal weather conditions – which may or may not be when you actually have the time, ambition and ability to paint. Paint when it's too cold, and you might have to wait twice as long for the first coat to dry. Paint when it's too hot, and the paint dries too quickly – creating the possibility of a cracked or blistered surface. But since we don't all have the luxury of waiting for the perfect 75 degree day to paint, Sherwin-Williams has come up with an inventive solution for Charlotte home remodel projects: FlexTemp™ Exterior Acrylic paint.
This innovative paint features Extreme Temp Technology that provides "a long-lasting, smooth appearance and excellent adhesion without adjusting the application technique." It can be applied in temperatures ranging from 35°F to 120°F. And before you say that you never need to worry about that high-end temperature in Charlotte, consider just how hot your deck feels when the summer sun has been hitting it all day.
As Rick Watson, director of product information and technical services at Sherwin-Williams, explains: "The revolutionary FlexTemp coating features temperature adaptive properties that can withstand extreme temperature fluctuations, outperforming our standard conventional exterior paints. As a result, FlexTemp gives professionals more flexibility under safe painting conditions to prevent costly weather delays and avoid productivity loss during hot and cold months."
Most importantly for homeowners, this exterior paint features a 100% acrylic formula that provides a smooth, even finish that's easy to apply. Since it's designed to be applied in any weather, it sticks to the surface you are painting and boasts that it is resistant to flaking, peeling and even weather over the long-term. The paint is available in flat, satin and gloss sheens. It also can be tinted in Sherwin-Williams VinylSafe® paint colors, which extends homeowners' color options to some darker colors that are formulated to resist warping or buckling when applied to stable vinyl siding.
FlexTemp Exterior Acrylic paint is available at your local Sherwin-Williams store or through a qualified, professional Charlotte remodeler.