The vinyl stereotype has changed, thanks to some innovative and durable vinyl plank options that are definitely not your grandmother's flooring.
For decades, when it came time to redo flooring during a Charlotte home remodeling or home addition project, the most desirable choice was either hardwood or carpet. That was because folks favored either the soft feel of carpeting or the upscale durability of hardwood. Since carpet tends to trap dust and allergens, hardwood rapidly became the primary choice for health-conscious homeowners.
Vinyl flooring was a bit of a taboo for Charlotte remodeling – something that your grandma might have had in her kitchen and what you definitely did not want in your home. That stereotype has changed, however, thanks to some innovative and durable products that are definitely not your grandmother's flooring.
The change is being led by vinyl plank flooring that effectively mimics the look of wood floors (not to mention how well it mimics tile as well). Improvements in material construction and better printing processes (so that every plank doesn't look exactly the same) have given these planks the scale and appearance of wood with some benefits that many homeowners prefer.
First, the cork backing on these products provides an extra layer of cushioning that many find much more comfortable to walk on than hardwood. That's particularly important for those who may be dealing with some physical challenges. Since vinyl is softer and more water-resistant than hardwood, it also tends to be better for households with pets. It's easier to clean up the inevitable messes when they occur and it isn't as prone to scratching under the normal weight of claws. In fact, we at Palmer Custom Builders have repeatedly recommended this option for homeowners who have cats with hairball issues and larger dogs that are more likely to mar wood floors.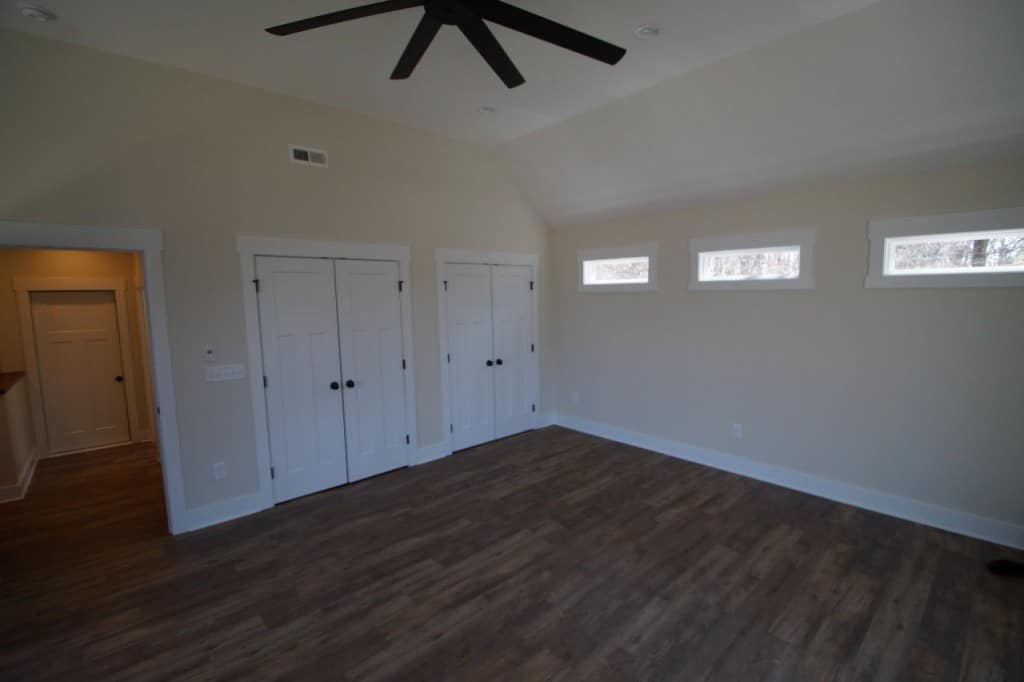 Finally, the vinyl plank flooring is simply more durable. Vinyl has been used in restaurants, schools, office buildings and other commercial applications for years due to its longevity under continual use.
With so many pluses, vinyl's only real negative had been a one-dimensional and almost cookie-cutter sameness to the planks. That's completely changed with new offerings like industry giants Shaw and Armstrong that beautifully mimic the real look of hardwood. Offerings in both smooth surface and and wood grained planks range from traditional to whitewashed and even rustic finishes like weathered barn wood as well as exotics.
So before you automatically default to hardwood for your next home remodeling project, take a look at vinyl plank flooring and see if it might be a practical and functional choice for your family.