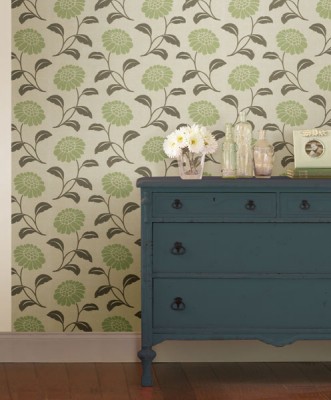 If you picture a dark, dreary and dated drawing room when you hear the phrase "floral wallpaper," you may be living in the past. That's because savvy homeowners and interior designers have begun flocking to wallpaper as an alternative to flat, monochromatic walls and even the textured paint finishes that were so popular just a few years back.
Today's wallpapers don't bear many similarities to the staid designs of yesteryear. Dramatic and bright colors are in, as are stylized designs that are right at home alongside the most modern décor. Leading the trend are bold, artistic botanicals that breathe new life into rooms by adding visual depth and texture. These new-fashioned florals elegantly capture homeowners' desires to bring their outdoor living spaces and the beauty of the natural world inside. Pair these striking papers with the clean lines of contemporary or transitional furnishings for a unique twist. Some of the most elegant room settings feature bold black or white furnishings set against deep tones of teal, black and red on the walls. Visit Sherwin-Williams to see some of the latest looks.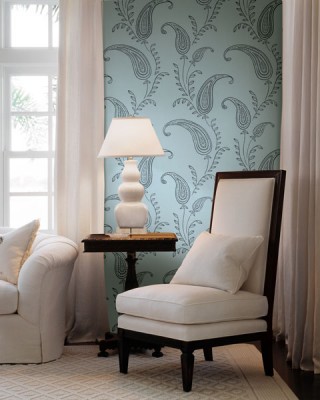 Going hand-in-hand with the new floral papers are tile, trim and fixtures that borrow botanical inspiration. Manufacturers like Kohler and Moen are offering sinks, faucets and even commodes with floral accents that range from mild to wild and can subtly echo a theme started in an adjoining room.
But what if you are emotionally attached to grandma's wallpaper? If the heavy paisleys and French and Asian inspired florals of yesteryear appeal to you, don't be afraid to incorporate them into your décor today. Designers are pairing historic patterns with transitional pieces to achieve an eclectic yet homey feel that transports homeowners back to simpler times. Just take a quick glance at F. Schumacher & Co. and you'll be immersed in traditional elegance set alongside artfully reinterpreted patterns that are beautifully suited to any style of residence. Ultimately, that feeling of being at home in your space and surrounding yourself with the things you love is what we're all seeking in our homes.