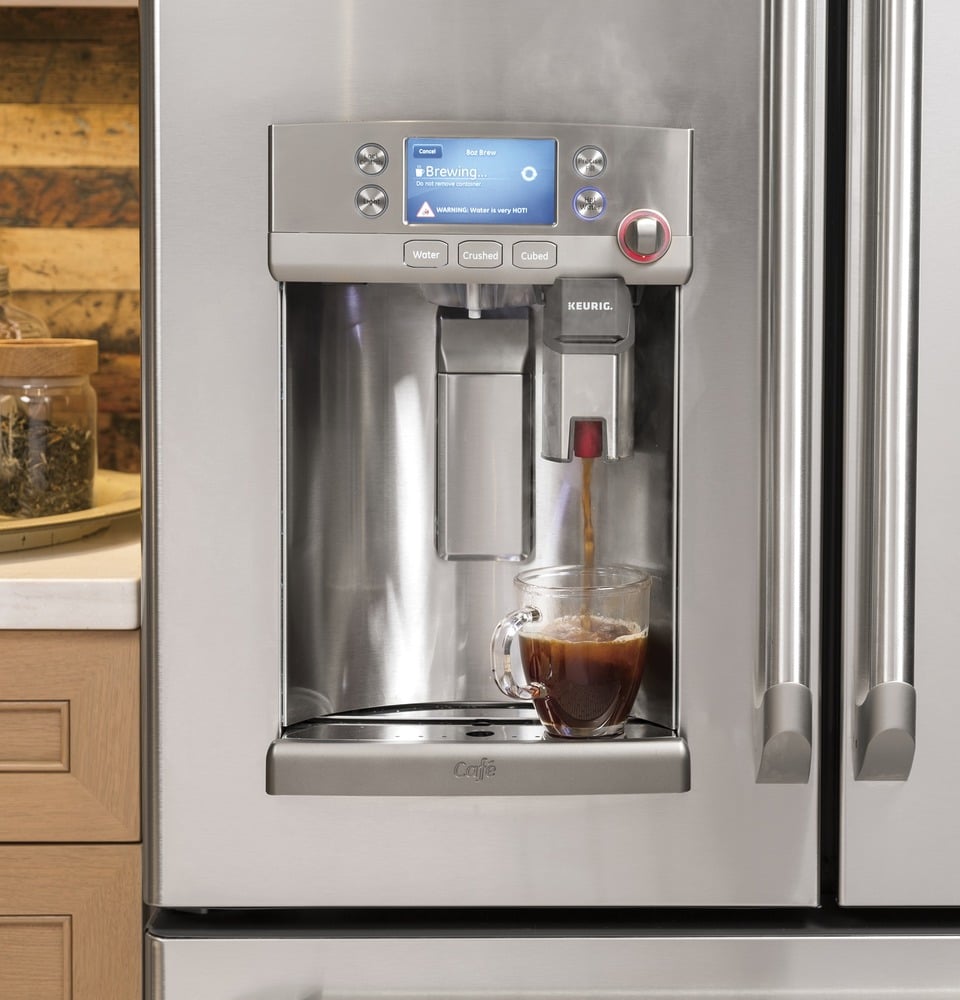 Last minute holiday renovations
Have you made your wish list of holiday renovations and checked it twice?
Image credit: GE Appliances
Have you made your wish list of holiday renovations and checked it twice? While it may be too late to begin a major remodeling project before guests arrive, there are some simple Charlotte home renovation projects you can undertake (with the help of a professional remodeler) that will make a tremendous difference in how your home functions during this season – and throughout the year. Here are just a few of our favorites.
Upgrade your appliances.
An outdated refrigerator that lacks ample storage space can be a nightmare during holiday entertaining. Fortunately, upgrading your refrigerator – or many other appliances that don't require switching out utility lines – is a simple fix that takes anywhere from a few minutes to an hour. Want to make entertaining even easier? Upgrade to a new, high-tech refrigerator that features a Keurig single-serve brewer right in the door and you won't even have to worry about fixing coffee for your guests in the morning. (Plus, new models are connected to Alexa, giving you the ability to control variables with your voice or via connected devices.)
Fix your fixtures.
Changing a faucet is another quick fix that yields a wonderful return on your entertaining investment. Consider a hands-free model to ease the mess of holiday baking. Touch-free faucets with temperature settings also make it simple for your youngest (or oldest) guests to clean up after themselves without you having to worry about the water getting too hot.
Perk up your powder room.
Since powder rooms are usually situated in the center of a home's public spaces, changes in this room are more likely to be seen by most guests. Unlike full bathrooms where you have to deal with the mechanics behind showers and/or tubs, powder rooms have a smaller amount of fixtures to deal with. In theory, this relative simplicity makes them much better candidates for a quick fix (unless you have your heart set on special order or custom cabinetry). Upgrading your vanity and adding a stylish sink and faucet can make a huge difference in how this room looks and feels.
Get floored.
While not a minor undertaking, replacing flooring can still be done in a matter of days. If you have dated carpet, cracked hardwood or peeling laminate, the holidays are the ideal excuse to upgrade your look. Not only will this change make your home look better, it can make you and your guests feel better – particularly if you are removing older carpet and pad that may have years of allergens trapped beneath its surface.
Light it up.
Another relatively easy adjustment (that is best left to professionals) is upgrading your light fixtures. Particularly over the holidays when your home is filled with guests, proper lighting is essential to keeping everyone safe. Exterior lighting around driveways and walkways, task lighting in kitchen prep areas where multiple chefs are stepping in to assist, and automated night lights in guest bathrooms and bedrooms can help prevent accidents while showing your home in the best light.
We hope these ideas make your Charlotte home more inviting for your guests this holiday season – and better for your family long after the decorations are put away!