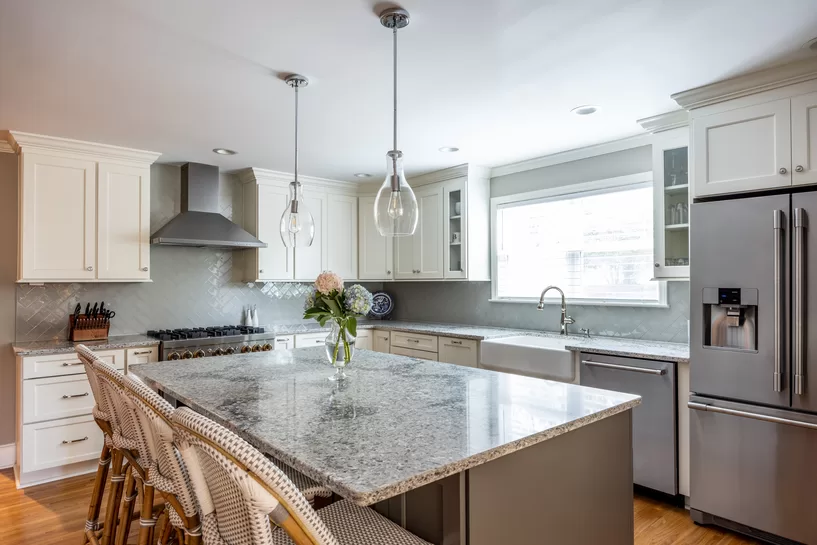 Charlotte kitchen remodeling design in 2023
Renovate Your Charlotte Kitchen to Increase Functionality
We've heard the expression; the kitchen is the heart of the home. It is the place where we like to gather, whether it is for a party or to share the news of the day while cooking dinner. In the past two years, the kitchen has taken on even more activity as the spot to lay out the high school science project, or to quickly transform into a home office for zoom meetings, doubling as a standing desk. Our ingenuity certainly grew during the last few years, out of necessity, but the changes in how we work, study and gather also brought to light the inefficiencies in our kitchens, from cluttered counters to ineffectively designed cabinets and cooking spaces. If you can relate, consider some of these updates to your next Charlotte kitchen remodel.
Kitchen Island Functionality
The kitchen island is the central element of the kitchen and has a host of practical benefits if designed efficiently. It provides extra storage space, meal prep space, seating for casual dinners, and doubles as a great workspace for projects and desk space for a laptop. If you're wanting to redesign your island, or add one to your kitchen, there are different styles to choose from, based on the space you have. For a smaller kitchen, a fluted island creates "a beautiful feature around a curved form, adding texture, warmth, and contrast to the space, while also improving the traffic flow and ergonomics,' says Kitty Lee, Director of Kitty Lee Architecture, based in Australia. According to another Better Homes and Gardens design expert, Oana Sandu, lead designer, Blakes London, the waterfall edge is a dramatic style that continues the countertop from the horizontal down the vertical side of the island to the floor. A large slab of marble that is well-veined makes for a beautiful result. One thing to keep in mind, says Sandu, "It's important to think about the flooring and how it will complement your choice of worktop, usually a contrast works best." Other versatile countertop options include quartz, which is durable against spills and can double as an artist's workspace and a standing desk.
As for storage, depending on the size of your island, deep cabinets and drawers can be the perfect spot to store those extra flower vases or seasonal coffee mugs. And according to David Pollard's The 'Post-Lockdown' Kitchen, "plan the front, or kitchen, side of the island for as much daily-use storage as possible. Being at the center of the kitchen space, it's perfect for holding school lunch supplies, daily silverware, a microwave, a beverage drawer, and garbage-can pull outs. Keep the heavy-duty cooking and baking supplies on the perimeter with the range where the cooking functions happen." Pollard also suggests leaving the sink, faucet and cooktop out of your new island design because one large surface is easier to clean, more versatile and provides a more beautiful and on-trend look to your kitchen.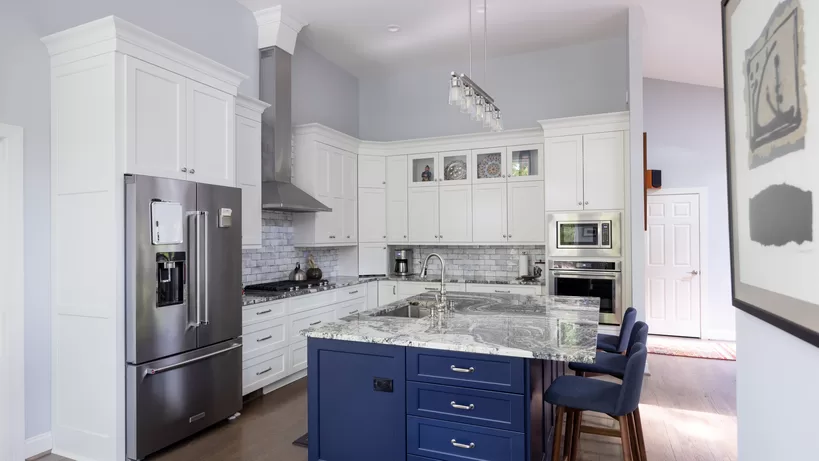 Kitchen Cabinets and Colors
Current trends in kitchen design also include limiting the stainless-steel look that has been prevalent for the last several years. Refrigerators and other appliances are being covered with cabinet panels to bring a warmer tone to the kitchen, and the panels are also a more durable option for an island base than gypsum board. The cabinet panels also provide an opportunity to introduce a new shade into your kitchen's new color scheme. We all want to spend time in spaces that make us feel happy. That's where color comes in. Consider painting the cabinets or your new island a deep blue or an earthy sage green that compliments your walls and appliances and provides some peace and tranquility at the end of the day.
Cut the Clutter
Spending more time at home has brought a greater sensitivity and impatience with clutter. It's one thing to shut the door to kitchen clutter on your way to the office, but when your kitchen IS your office, it is a bit harder to ignore the clutter. Here again, efficient design is the key to a happy work/home environment – and storage space is your friend. Hidden garbage bins with an easy pullout, and charging/docking drawers to hide all those devices that need charging, and would otherwise end up on the kitchen counter, instantly tidy up the view into your kitchen. Perhaps the best thing you can add to your kitchen space to de-clutter is a walk-in pantry. It's a great spot to store those big pieces like the mix-master or crock pot that you don't use every day, plus there can be space assigned to house the toaster oven, microwave or coffee pot so they are out of sight but still easy to access.
Dump the Kitchen Desk
Although the built-in desk near the kitchen always seemed like a great idea, it usually becomes the dumping ground for mail and other miscellaneous clutter, and let's face it, who wants to sit facing a wall? The trend this year, according to David Pollard, is converting "these old desk spaces to beverage bars, pantries or closed storage for mail and electronics recharging." Being able to close off the space quickly and easily to keep the space looking tidy is a nice benefit to this redesign.
Bring in the Light
As homeowners transform their backyards into outdoor living spaces, opening up the rear wall of the kitchen to have a more expansive and brighter view of that space is another trend growing in popularity. By incorporating extra storage space in the pantry and island, there's an opportunity to eliminate traditional upper cabinets to allow for more windows and a glass door or sliding doors opening to the back yard, allowing the homeowner a beautiful view while working at that functional new island.
Where to Begin
If a Charlotte kitchen remodel is at the top of your to do list for 2023, consider some of these helpful tips from industry experts, and look through some of your favorite design magazines to get inspiration. For more design ideas that are trending this year, check out On Trend Charlotte Home Remodeling Ideas for 2023. Once you have a list of what you're looking for, let us know how we can help. Serving Charlotte since 1986, Palmer Custom Builders can guide you through every step of your Waxhaw, Weddington, Marvin or Charlotte kitchen remodel. Your plan and our expertise will result in the kitchen you've been dreaming of.