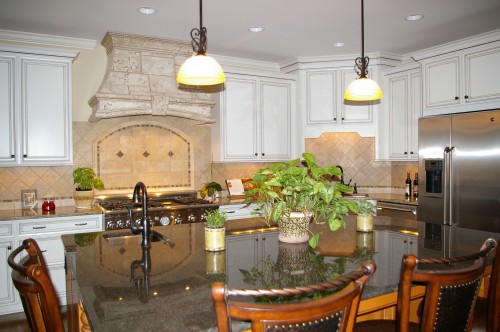 Every year, The National Kitchen & Bath Association asks its member designers to share the trends they have incorporated in their own projects and which they feel will have an impact on the year ahead. This year, more than 350 designers took part in the survey. Here is their feedback on kitchen design along with our take on how these national trends are manifesting themselves right here in Charlotte.
Choosy About Cherry
While cherry had been the wood of choice in kitchens across the country, designers were slowly moving away from it in terms of cabinetry. Only 69% of those surveyed had recently specified it by the end of 2011, down from a high of 80% in 2010. In Charlotte, homeowners have been ahead of the trend, utilizing a wide variety of woods such as maple, oak – and even exotics like alder and bamboo – in creative kitchen designs.
A Darker Outlook
While cherry may be fading, that's about the only thing that's getting lighter in kitchen finishes, as medium and dark stains increase in popularity. In stark contrast to that are painted finishes, where white continues to be the hue of choice. Also gaining in popularity are distressed finishes, whether in natural or painted surfaces. This is a return to a trend that we first saw in Charlotte kitchens several years ago.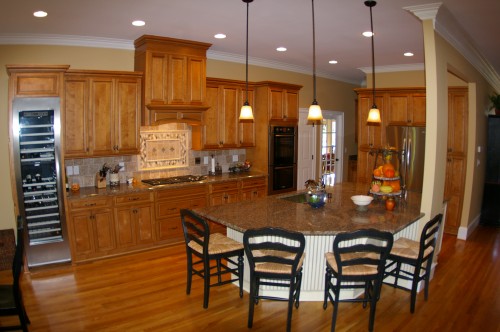 A Glimmer of Glass
As prices have become more affordable and colors and styles more diverse, glass tiles have increased in popularity as a backsplash material. In fact, more than half of all designers polled has used it in 2011, putting the material in a solid second place behind natural stone. While inititally in Charlotte glass was reserved for contemporary residences, we've recently seen it being used in homes that run the gamut from traditional to Mediterranean. In these varied styles of homes, a touch of glass mixed in with more traditional backsplash materials effectively updates the look without breaking the bank.
Lighting the Way
Energy costs are having a tremendous impact on the way we think about our homes. That's obvious in building materials and methods and it is even manifesting itself in seemingly smaller choices like lighting. Despite a higher initial cost, LED lighting has had a huge increase in popularity – increasing in designer use over 20% in just two years – because of it's longterm savings. In Charlotte, we're seeing homeowners make use of LEDs in creative ways as effective task lighting. It's worth noting that compact fluorescent lights (CFLs) aren't nearly as popular, with the poorer quality and color tone of the light and the presence of mercury in the bulbs cited as the main reasons.
Pulling for Convenience
When it comes to kitchen faucets, tradition has definitely taken a back seat to convenience as most designers opt for pullout kitchen faucets. (More than 93% of new kitchens boast these!) Fortunately, manufacturers have responded by making them as beautiful and functional as traditional versions and available in a wide range of styles. Here in Charlotte, this trend has led to a reduction in the demand for pot fillers (faucets placed over or near the cooktop) since pullout faucets allow you to fill a pot while it is sitting on the counter instead of lowering and then lifting it out of the sink.
Throughout 2012, we anticipate that we'll continue to see an increased demand for design elements that combine practical, energy-saving and timesaving features in a beautiful and stylistically appropriate package.